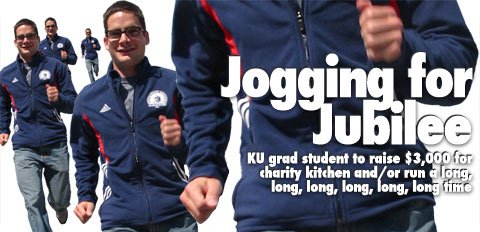 What does the Jubilee Cafe have in common with ultra-marathon running?
Why, Richard Friesner, of course.
"It's a challenge personally," says Friesner, a KU grad student who will run nonstop until he raises $3,000 for the local charitable kitchen.
"Towards the end my gait will be horrible. I'll probably just be shuffling my feet or doing something that might look like running."
At most, Frieser will run 225 miles in the course of three days. Beginning Wednesday, he'll loop back and forth across Jayhawk Boulevard, resting only a couple hours a day to catnap during the hottest afternoon hours.
Unless, of course, he hits the $3,000 mark first.
"There's a lot of cost involved in these meals," Friesner says of the cafe, which serves free breakfast Tuesday and Friday mornings from 7 to 8 a.m. at First United Methodist Church, 946 Vt.
Past Event
Friday, May 5, 2006, midnight to midnight
Wescoe Beach, 1445 Jayhawk Blvd, KU campus, Lawrence
All ages / Free
"To me, the Jubilee Cafe is really worthwhile because it lets you live the life of Christ," Friesner adds. "The homeless and working poor are looked down upon by society. It really gives you an opportunity to learn about their stories and their lives."
Starting Wednesday morning, volunteers will collect donations at a tent on Wescoe Beach. The booth will be staffed 24 hours a day and will chart the progress of the fundraising drive.
Friesner, a dedicated long-distance runner, is seeking to surpass the $600 he collected for the cafe last year by running in a 24-hour race in Phoenix, Ariz.
"I thought this would be a good way to bring it home to Lawrence and make it a bigger deal," he says. "It would be quite an accomplishment."
The money will help the Jubilee Cafe during a time when it is struggling to secure funds. The kitchen costs about $300 a week to run and relies on an all-volunteer staff.
Persons interested in donating to the fundraiser can visit the booth at Wescoe Beach May 3 though May 6 or send a donation to:
Richard Friesner 1404 Alumni Place Lawrence, KS 66044 (checks should be made out to Jubilee Cafe)
Persons interested in volunteering for Jubilee Cafe can call 864-4073 or simply show up on Tuesdays and Fridays between 6-8am.
More local volunteer opportunities available at rhvc.org and at lawrence.com/volunteer.
"Sometimes there are so many volunteers that they want three people to fill up a saltshaker, and sometimes there aren't enough," Friesner says. "Some people come in once a semester and some people come every time. It just depends on your level of commitment."
For Friesner, who will leave Lawrence at the end to May to begin a job in Orlando, Fla., the stunt offers a fitting way to say goodbye to an organization that helped enrich his college experience.
"I'm going to miss the people and the feeling you get when you're there," he says. "The people that are in your life can make the difference - and that's definitely true at the cafe."