Kansas University commissioned an opera about saloon-basher Carry Nation to commemorate its centennial in 1966. That opera was performed four times at KU, exactly 40 years ago Friday, Saturday, Sunday and today.
Here is a story that appeared in the Feb. 9, 1966, edition of the Lawrence Daily Journal-World:
By Marian Warden
A chance meeting between a Columbia University faculty member and a New York City freelance advertising copywriter has proved to be the "lucky accident" which this spring will culminate with the world premiere of the Kansas University Centennial opera.
The "lucky accident" occurred in the spring of 1963 at a New York cocktail party attended by Douglas Moore, former head of the Columbia University Music Department and now composer in residence at KU, and William North Jayme, now a 40-year-old New Yorker best known as the author of terse commercials.
At the time of this particular party, Moore already had been commissioned to write an opera to celebrate KU's 100th birthday. He had an "operatic idea" suggested by Thomas Gorton, dean of the KU School of Fine Arts. But Moore didn't know whether or not the life of Carry Nation, turn-of-the-century saloon smasher and Prohibitionist, could provide enough material for KU's Centennial musical production.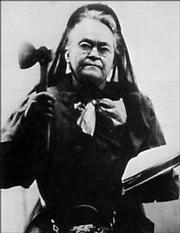 Jayme had other ideas, and he didn't let lack of experience hold him back. He began doing research on the life of Carry Nation, and later he became librettist for the two-hour, two-act opera which will premiere April 28 in University Theatre at KU.
The KU Centennial opera is Moore's seventh operative composition. It is Jayme's first such effort. And it sounds like a show which is destined to be an astounding success.
Moore, who is KU's first composer in residence, arrived in Lawrence Tuesday afternoon to begin duties as Rose Morgan visiting professor at Mount Oread. As he unpacked his bags in the Rose Morgan house at 11th and Mo. Sts., he discussed the plot of the operatic production which will premiere at KU before it is presented by the San Francisco Opera Company June 14 and 17.
The show will "open as advertised," Moore said with a grin. "An axe-wielding saloon-smasher will appear on the stage during the prologue. Then the curtain will rise on the first of seven scenes, and each will re-create events which led Carry Nation to become a likeable fanatic."
Moore said Jayme's research revealed that Carry Nation's life was filled with tragedy. She grew up in a poverty-stricken home during the post Civil War period. She married Charles Gloyd, a medical doctor with a "secret drinking habit." Their marriage wasn't happy, partly because Gloyd's "secret" became common knowledge, and partly because Gloyd did not want the responsibilities that came with the birth of a baby. After Gloyd's death, Carry married Daniel Nation, a wandering preacher, and this marriage ended in divorce.
The KU composer in residence said the KU Centennial opera "will show what lies behind fanaticism. The audience will feel sorry for Carry," Moore predicted. "They also will like her."
Completion of the KU Centennial opera marks what is almost sure to be Moore's seventh operatic success. His first opera was "White Wings" in 1934. He won the Pulitzer Prize in 1951 for "Giants of the Earth." His "Devil and Daniel Webster" premiered in 1938 and has become something of an American classic.
Other operas by Moore include "Ballad of Baby Doe" and "Wings of the Dove," as well as "Gallantry," which the KU visitor describes as "a real soap opera." It premiere in 1957 and is a burlesque on television serials. The setting is a hospital, and the plot revolves around a nurse and her efforts to repel advances of amorous doctors.
Moore smiled as he recalled the "Gallantry" plot. "There's a little ham in each of us," he said as he described his work as a member off the Cleveland Playhouse repertory company for four years in the early 1920's.
His first love, though, always has been music - not acting. Moore said his "musical imagination" began working when he started taking piano lessons at "the ripe old age of 8." He said he always wanted to make things up and change music, rather than play it as the composer intended."
He described himself as "one who imagines music and then starts writing notes." He also said "I play the piano, but I would not classify myself as a pianist. My standards are fairly high."
The KU composer in residence earned the B.A. degree at Yale College in 1915 and the bachelor of music degree at the Yale School of Music in 1917. He studied in Paris and at the Cleveland Institute of Music; then joined the Columbia faculty in 1926 and became department chairman in 1940.
Moore retired from the chairmanship in 1962, but remained on the Columbia faculty until last year. Since then he has been busy with "Carry Nation," and he is quick to point out that "Carry" is the correct spelling of Mrs. Nation's first name. "She made a pun out of it," Moore explained. "Her full name was 'Carry A. Nation.' That's what she wanted to do - carry a nation away from the evils of drink."
These days Moore is looking forward to working with the cast of about 35 persons, plus a 60-member orchestra, during "Carry Nation" rehearsals. The opera will be presented April 28 and 30, as well as May 1, with a professional cast, and April 29 with an all-student cast.
Appearing in the show will be Kenneth Smith, new chairman of the KU Voice Department; and John Reardon, Beverly Wolff and Patricia Brooks, all of New York City.
Between opera rehearsals, Moore will deliver a Humanities Series lecture Tuesday, March 15, at KU. And he and Mrs. Moore are looking forward to seeing their daughters, Mrs. Bradford Kellerher and Miss Sarah Moore, who will come here fore the "Carry Nation" opening night performance.
Moore and his wife already are saving the Kansas weather and the Kansas landscape, and they are quick to point out the joys of living in Lawrence.
"It is wonderful to be away from all that snow," Moore commented. "Here there are no subways and no subway strikes. I like Lawrence - the people, the KU theater.
"What more could I ask?"