Mixing modern rock and electronica in equal measure, Apollo 13 answers the eternally burning question: What would it sound like if Lenny Kravitz collaborated with The Chemical Brothers? The group features the "American Idol"-ready vocals of former Band That Saved the World frontman Shannon Savoie as well as top-notch musicianship from bassist Will Dinkel, guitarist/keyboardist Mike MacFarland and drummer Danny Rojas. Apollo 13's sophomore album "Lovebomb" will be toasted Friday at The Bottleneck. Savoie and Dinkel dropped by our podcast studio to preview the record and discuss the art of independent music-making.


› Get the podcast
› Listen to the mp3 of the podcast
› Preview the album, "Lovebomb"



Interview highlights sans music
lawrence.com: If you could pick one lyrical theme that unifies this record, what would it be?
Savoie: Well, I'd have to bring up our first record ...
So you wrote your second record about your first record?
Savoie: Kind of.
That's sort of lame.
Savoie: Well, thanks. We got the opportunity to do the second record from a songwriting contest, so we just let ourselves write. It was last summer. We just had fun with it and just let each song come to fruition without any reservation. We really had a blast ...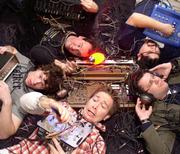 So the thing that enabled you was money?
Savoie: We won a free pressing of a disc, so that's what motivated us to make one.
Dinkel: It would have expired at the end of March, so it had a deadline.
What are the tools specifically that have allowed you to make such good-sounding records at home?
Dinkel: Switching to digital. As we've built it up over the years, we've had a couple songwriting contests that we've won. Through prizes and such we've been able to get studio monitors, microphones, cables - all the necessary stuff. It used to be kind of a hair-pulling experience to use this studio. That's why it's called Apollo 13.
Savoie: Scotch-taping things together.
Past Event
Friday, May 12, 2006, 10 p.m.
Bottleneck, 737 New Hampshire, Lawrence
All ages
How else is your name a mission statement for what you guys are doing?
Dinkel: There's something that Jim Lovell - the commander of Apollo 13 - said when they noticed a problem: "We are venting something into space." We kind of use that as a catch phrase.
Savoie: I prefer to look at it like we know where we're trying to go - we just don't necessarily know if we're going to get there.
It's the journey not the destination.