Ken Weaver is a writer whose stories have gone as high as the moon, as far back as the very origins of mankind and all the way to the bottom of the world.
Weaver, 90, is a resident of Lawrence Presbyterian Manor today - living close to his son Robert, associate dean of Kansas University's College of Liberal Arts and Sciences. But he spent much of his career producing stories for National Geographic, the little magazine with the yellow border that most people can't bear to throw away.
He was a National Geographic staffer for 33 years, spending more than 20 years as science editor.
These days he makes being 90 years old look easy and could still pass for a schoolteacher. He's tall and trim with neatly combed gray hair and is usually dressed like he's got somewhere to go. He uses words like "poppycock" and "fiddlesticks," says "hearty" when describing a big meal and "to the manor born" when referring to those who are born clutching silver spoons.
But he started out the son of a poor New Mexico preacher who left home in 1933 to come to Kansas and McPherson College in the midst of the Great Depression.
"Before my senior year at McPherson my father said I really ought to take a lot of courses in education, because even though jobs were scarce, teachers could usually find work," Weaver recalled.
It was good advice.
That education turned into a junior high job in Topeka, then an American government teaching job at Lawrence's Liberty Memorial High School under principal Neal Wherry. Today, Weaver and his wife, Modina, are friends and neighbors with Wherry's daughter, Phyllis Talmadge.
Photo Gallery
National Geographic memories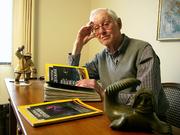 "I thought the world of Neal Wherry," he said. "He was very kind to an inexperienced government teacher."
It wasn't long, though, before bigger things beckoned.
Young enough
In 1941, Weaver plucked a writing job with a scholastic publication that took him and his wife to Washington, D.C.
"It paid $1,800 a year, and I thought we'd be living the life of Riley," he said.
After two more writing jobs, one with the government and another for The Kiplinger Letter, "I heard they were hiring at the National Geographic."
Today those words would create a stampede.
Weaver applied and was interviewed not by someone from personnel but by the magazine's associate editor, Ted Vosburg.
When the interview ended Vosburg said he liked Weaver and his resume and, by the way, how old was he? Weaver recalled "my heart went into the basement" when he confessed to being 36.
After a long pause Vosburg allowed that 36 was close enough to being young, and he got the job.
"Ted Vosburg, who later became editor, was a partisan of mine the whole time he was there," Weaver said.
In 1952, the former school teacher started his magazine career in National Geographic's legends department. Legends are what most publications call captions. Because many who opened the magazine looked only at the pictures, legends were taken very seriously.
As Weaver puts it, "They had formulas you had to go by : they were just not anything you chose to write."
His legends boss was Monty Southerland, whom Weaver describes as "profane as could be, didn't put up with incompetence and did his job well : had a brass cuspidor in his office and smoked roll-your-own cigarettes."
He found that the legends director was not the institution's average employee.
"It was an old-fashioned, quiet, relatively small staff that had gotten quite aged," he said.
One of the aging National Geographic writers was Leo Borah, who had written Weaver's high school journalism textbook. His office was two doors from Weaver's.
"He was quite elderly and spent most of his day writing doggerel (light, rhyming verse)," he recalled, " and was quite good at it."
The dress code was jacket and tie. Short sleeves didn't pass muster. Seating in the company cafeteria was segregated, with men on one side of the room and women on the other. There was a smaller dining room for the editor and his guests.
Searching
Ken Weaver eventually made it out of the legends department and was made a staff writer. His first published story, in 1954, was about the periodical cicada.
By the time Weaver retired as science editor in 1985, he had 37 stories published in the magazine.
While sitting in his Lawrence living room, turning the pages of a leather-bound book containing his stories, Weaver talks about his career.
¢ "The Search for Our Ancestors" took him to excavations and skull and bone collections connected with early man all over the world. He and the magazine devoted four years to the research, illustrations and production of the piece. Weaver commissioned scientists to write for the magazine and worked with artists to create paintings on the subject.
"It excited me very much : when I read where anti-evolutionists don't believe in evolution because of the gaps," Weaver said. "Well, those gaps aren't that big. They're rejecting evolution out of hand."
But sometimes, traveling with ancient skulls be dangerous. Legendary National Geographic photo director Bob Gilka worked with Weaver for many years.
"As I recall," Gilka said from his home in Arlington, Va., "Weaver had been given a prehistoric skull by a scientist in Poland or Czechoslovakia. He was stopped at the airport and the customs people didn't think anything that old should be taken out of the country.
"Weaver gave them the scientist's phone number, customs called him and minutes later they told Weaver he could take the skull and get on his plane. The scientist told Weaver later that he'd told customs it was made of plastic. But it was real."
¢ Magazine editor Melville Bell Grosvenor - the innovative grandson of Alexander Graham Bell - thought the magazine should be more involved in the space program and assigned Weaver to the task. He began by covering the unmanned Gemini flights and stayed with the program through 1969 when man walked on the moon and beyond.
NASA used 13 tracking stations situated around the world to follow manned orbits for the space program. Weaver visited 12 of them for a story, literally traveling around the world. "The State Department warned us not to go to Zanzibar, so we complied.
"I got to know some of the astronauts pretty well," Weaver said.
He received a letter after his Apollo 11 story from a woman suggesting that instead of going to the moon man should stay home and watch television "the way God intended."
Going South
"When I was there," Weaver said, "the magazine left it up to the writers to decide how long you'd stay in the field to do a story and the amount of money spent was left up to you."
That has changed. Today there are seven stories in the "book" compared with the four or five previously.
But the old ways helped Weaver go on some grand adventures.
¢ After helping edit an admiral's story on the South Pole, Weaver was invited there by the U.S. Navy.
"When we arrived at the actual pole, it was 65 below zero. We warmed up by going to the laboratories below the ice," he said. "I have a picture of me standing at the pole, holding a National Geographic flag, but can't find it."
¢ While doing a story on the U.S. Air Force, Weaver rode in most of their planes except the spy plane, U-2.
"I was the first civilian to cross the Atlantic in an F-100 jet fighter," he said. The nonstop flight with midair refueling took nine hours.
¢ "Oh," he said, looking at a full-page photograph of a native Peruvian wearing ornamental bird feathers, "I once interviewed this Peruvian Indian chief who was quite a fellow."
A couple of years later a missionary brought the chief to the United States; they dropped by to say hello to Weaver in Washington, D.C.
"That was quite a surprise," Weaver said.
So what was the most common response over the years when he introduced himself as a writer with National Geographic?
"Most said the same thing : 'Wow.' They almost always said 'Wow,'" he said, laughing. "And I wish I had a dollar for every 'wow' I heard."