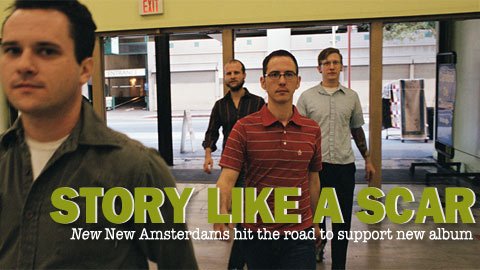 Fresh off an appearance at the Coachella Music Festival, The New Amsterdams are heading out for a two-week tour to support their March release "Story Like a Scar." Former Get Up Kids frontman Matt Pryor heads up the group, which has gelled into a stable five-piece with the addition of a touring lap-steel player. Lyrically, the new album is honest and revealing, dealing intimately with artistic frustrations and the struggle to balance career with family. Pryor and New Ams drummer Bill Belzer dropped by our podcast studios to discuss "Story Like A Scar" and the band's goals for 2006.

› Get the podcast
› Listen to the mp3 of the podcast
› Preview the album, "Story Like A Scar"



Interview highlights sans music
lawrence.com: So you went to Nashville to make this record? How do you feel about it now that it's done?
Pryor: I think it's pretty good. It's hard because it's been done so long. We finished it in August, so for us the songs are almost a year old : By the time it's new to everybody else, we're totally sick of it.
Belzer: I do randomly hear this record, and I'm proud of what we did together.
The thing that caught my attention was how much of Kansas was put into this record, both in storylines and characters:
Pryor: Which is ironic, because we recorded it in Tennessee.
I don't know if "ironic" is the right word.
Pryor: No, it's not. "Condescending" possibly.
Well, most of Nashville is. Can you tell us a little bit about the track "Turn Out the Light"?
Pryor: We just made a video for it : It took forever to edit it. They kept writing these long dissertations on the themes of the images in the video. I just kept writing them back going, 'Cut that part out it's stupid. Just keep the stuff that doesn't suck.'"
Belzer: It's an interesting video because we're canoeing during a good deal of it and I get to display my Boy Scout prowess.
Pryor: I don't recommend holding a guitar and steering a canoe at the same time.
Can you tell me a little bit about your state of mind while you were writing this record and how that's changed in the year since then?
Pryor: The place I was in when we were writing this was pretty positive and exciting. The 12 songs that we recorded in Nashville were really the first songs that we wrote with the whole band : The more I think about this record, the more I think of it as a document of a time when things were fresh and new and we were all excited to play together.
Belzer: I was getting the hell out of the cubicle.
I heard that The New Amsterdams are playing at Coachella?
Pryor: Already did. It was good. We played on the main stage : right after this string quartet that did Tool and Iron Maiden covers. They were awesome. (view photos)
Was it as big and intimidating as it would appear?
Pryor: Festivals are festivals, unless you're playing the headlining spot on the main stage and you're looking out at 50,000 people.
Belzer: It's like band camp with a Heineken sponsorship.
Pryor: My face was on the 30-foot-tall jumbotron screen though.
What's on deck for you guys in the coming month or two?
Pryor: We released an album online called "Killed or Cured" that was 10 songs that you could download for free. We're re-recording it and it's going to a proper release as a double CD, but for the price of a single CD. It'll have the original version and the version with the band, which is way different.
We've also got a new record that's about half written. I'm going to be picky with this one. It's not just going to be the first 12 songs that we write - it's going to be the best 12 songs that we write.
More like this story on Lawrence.com