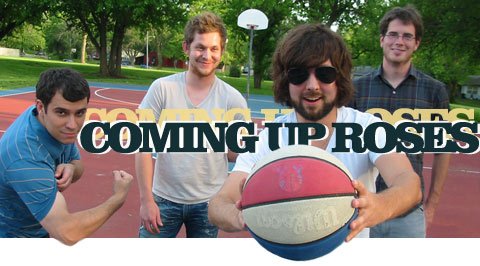 Great things take time - fortunately, Colin Pepper Halliburton is a patient guy. After receiving an acoustic guitar for his 21st birthday, Halliburton - no relation to the multinational corporation - set to authoring an extensive catalog of songs. He enlisted friends Joe Rankin (drums), Ehren Starks (keys) and Paul Winn (upright bass) to fill out the band, which began playing shows last year as The Roseline. Matching accomplished musicianship to Halliburton's introspective narratives, the band exhibits a subdued sound in the vein of Neko Case, Ryan Adams and/or Damien Rice. The group unveils its debut full-length "A Wall Behind It" on May 26 at The Jackpot Saloon.

› Get the podcast
› Listen to the mp3 of the podcast
› Preview the album, "A Wall Behind It"



Interview highlights sans music
lawrence.com: So you recently got back from Nashville to try and score a six-figure record deal?
Halliburton: Everyone is familiar with MySpace - it's ruining lives across the world as we speak. I had posted some solo songs up there in the very beginning when I was still 'Colin Pepper'. Some really sleazy LA record guy heard them and contacted me through MySpace and got my number and called me. We've talked for months and he talked a lot of poppycock and claimed he made Alanis Morissette who she is.
Rankin: Which is exactly who we want to be. That was ironic.
Halliburton: He was like, 'Your song Evil reminds me of total Johnny Cash American Recordings. As much as that sounded ridiculous, I think I totally ate it up. We went to Nashville because he was going to be there to see us for a little showcase. End of the story is: we spent hundreds of dollars getting there and getting back and he couldn't find the club.
Starks: We were stalling and stalling and he's calling the promoter trying to get directions to the club. Then he just all of a sudden disappears.
Did he ever call to apologize?
Halliburton: No. I think Paul Winn got drunk and text-messaged the word "turkey" to his phone.
Where did you go to do the record and how did it turn out?
Halliburton: We recorded it at Black Lodge Studios in Eudora and I think we had a great experience. It was really rushed due to our budget. I think we recorded and mixed the whole thing in eight days. We had a couple overnights that were ridiculous. Once you get to 4 a.m. : you're delirious.
You are a newcomer to writing songs? You started about two to three years ago?
Halliburton: Yeah, that's about right : I guess I just never had the confidence. I never knew how to play guitar until I got a guitar for my 21st birthday.
Did you ask for it?
Halliburton: Yeah. I was stuck in the desert for a year in Santa Fe going to art school and losing my mind. I was totally alone and I thought, "Maybe an acoustic guitar could be my friend."
Starks: It took a lot of encouragement to get him to play a show. I used to play some solo piano shows at this coffee shop and one day I just booked Colin without his permission so that he had to show up and get his first gig under his belt : I was shocked, especially at quality of the songs considering he really had no musical background besides having good taste.
How did the band come together?
Halliburton: Ehren was gone in Italy for the first four months. Me, Paul and Joe would jam together. Not "jam" together that sounds terrible. We would "play our songs" together. In my kitchen, we didn't have PA or mics or anything so I think that sort of was our sound pretty quiet. That's why Joe plays brushes on a lot of stuff just out of necessity. Then Ehren got back from Italy and we brought him in : Ehren is the catalyst for all things productive and good.
Ehren, you've done some time with The Belles and Architects also. Is this your main project now?
Starks: Yeah, definitely. I'd kind of sworn off touring and playing in bands, but having the chance to play with longtime friends is a lucky opportunity.
Are you in a healthy committed relationship, Colin?
Halliburton: I am. I have been for almost two years now.
It sounds like it. It's a good healthy-committed-relationship record.
Halliburton: I think there are a lot of songs that sort of question the strength of said relationship, but I think I always try to redeem it by the bridge at least. Obviously, she's going to hear it. But also it comes from just having a faith in it working out.
More like this story on Lawrence.com