Lawrence artist Bounnak Thammavong wants to make pretty sculptures. Pieces that catch your eye, make you stop and look. Tempt you to walk around them, consider what he had in mind when he sculpted them.
But if you want to know the story behind the work, he's happy to share that, too.
Thammavong emigrated from Laos to eastern Iowa with his parents when he was 3 years old, and most of his art reflects the schism between the two cultures.
His welded steel and copper piece called "Along the Road in Laos," which has been selected for this year's Outdoor Downtown Sculpture Exhibition, melds his dad's memories of growing up in Asia with his own recollections of coming of age in the Midwest.
"My father and I were walking down a dirt road in Iowa, and I was pointing out the silos and milkweed pods and stuff. Basically he would say, 'That's kind of like what I saw along the roads of Laos, but instead of milkweed pods, we saw lily plants near the rice paddies and the temple would be poking over the horizon,'" Thammavong says. "So the Buddhist temple and the lotus blossom kind of inspired that piece."
Photo Gallery
Art tease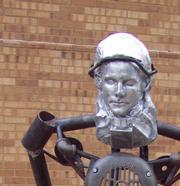 Detail shots of the sculptures, their names and creators are shown below. Your job is to find the pieces, in all their glory, scattered throughout downtown Lawrence.
That's the Laotian side of things. As for the Iowa element, the way the lotus blossom wraps around the base of the temple spire mimics the look of mikweed pods peeking around the base of farmers' outbuildings in the fall.
You couldn't possibly piece together that back story by looking at Thammavong's sculpture on a downtown Lawrence street corner, and that's OK with him. The eight artists in the 19th annual yearlong show just want to get people looking - and talking.
"It's almost like freedom of speech," says Tonganoxie sculptor Stephen Janesko, who's showing a welded steel and concrete piece called "Universe." "You can express yourself and not really say a word. It can be really personal, even though it's public. And some people may like it or dislike it.
"That's the greatest thing about it is that people will react."
'Universe' unfurling
Terry Oldham, director of the Albrecht-Kemper Museum of Art in St. Joseph, Mo., juried this year's show, paring 44 proposals by 22 artists down to the final eight. The artists, each of whom received a $750 honorarium from the city, hail from Lawrence, Tonganoxie and locations as far away as Idaho and California.
Their efforts stand out in Oldham's mind, weeks after he mailed back the results. Among the standouts is Janesko's "Universe," which Oldham recalls uses railroad spikes in an "innovative" way.
More about the show
That innovation came from a normal, laid-back night in Janesko's studio in 1997. He was staring at a pile of railroad spikes.
"And then I pop a couple of beers and start looking and relaxing, and then I'm like, 'Wow, this is neat,'" he says, referring to the double helix-style DNA swirl he imagined rising from the heap.
He welded the spikes into a slightly ominous-looking chain and then added a central armature that holds a stainless steel sphere.
"That was like the nucleus of it all," Janesko explains. "It's my interpretation of this universe starting to form."
'Open to explore'
Andrew Hadle's universe has included art for most of his life. The Lawrence artist, who graduated last weekend with a sculpture degree from Kansas University, started taking art classes as a child in Riley.
Although he usually works on a smaller scale - crafting gear-operated wooden toys and bronze figures that rarely top 18 inches - Hadle went big for this show.
"I knew that if I wanted to have something downtown that someone would be confronting on a regular basis, it needed to have a large presence," he says.
Take the Tour
What: Walking tour of the 19th annual Outdoor Downtown Sculpture Exhibition Guide: Juror Terry Oldham, director of the Albrecht-Kemper Museum of Art in St. Joseph, Mo. When: 5:30 p.m. today Where: Begins at Lawrence Arts Center, 940 N.H. A reception will follow the tour
His larger-than-life-size "Future Man" certainly fills the bill. He estimates the steel and cast aluminum fellow weighs about 400 pounds.
"I put him to the test," Hadle says. "I kind of climbed around on him and stuff just to see what he's capable of. I think he'll hold his own."
Thoughts about the rapid pace of technological change inspired the piece, which he describes as a portrait of man as a post-modern antique that will rust after sitting outside for a while.
"I think it's kind of interesting how, through technology, things are always outdating themselves quickly," Hadle says. "The other day I tried to buy a new chip for my digital camera, and I found out they updated the memory cards and they no longer work in my old camera."
What never ceases to be useful, says juror Terry Oldham, is putting artwork in front of the public to enjoy and scrutinize.
"I would always hope that people would be open - open to explore new art, different art," he says. "You know if you try and compare Michelangelo's 'David' with Claes Oldengburg's badminton birdies at the Nelson, that's apples and oranges.
"So enjoy them both. Don't try and compare. Don't try and say this is better than this. Just enjoy."
More like this story on Lawrence.com