If ever there were proof that Free State High School choral music director Pam Bushouse is one of the most beloved teachers in the district, it might be this:
Junior football lineman Caleb Stephens says, if forced to choose, he'd give up his gridiron career in a heartbeat to sing in her choir.
"Football is my life, but choir is going to take me so much farther than football - not because of my talent, but because of the love," the hulking athlete says. "She teaches us to take care of not only ourselves, but the people around us in our choirs. It's a big family."
Bushouse is leaving that family - in body, if not in spirit - after 31 years. Saturday marked her first day of retirement.
"I think it's time for a new adventure," says Bushouse, 54. "I don't want to be teaching when I'm too tired to do it or burned out or whatever the catchphrases are. I want to be doing what I want to do because it's awesome, and I want to do it well."
'Something great'
That's been a trademark, students and colleagues say, of Bushouse's tenure in the Lawrence school district, which began in 1977 at West Junior High School.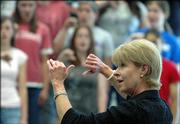 The Sapulpa, Okla., native - who received her master's in music education at Kansas University after earning a bachelor's degree in the same field at Oklahoma State University - made a lasting impact on her students at the junior high, including David Johnston.
He and his twin brother, Peter, recall with pride that their class took their favorite choir director with them in 1987, when they moved to Lawrence High School and Bushouse filled in at LHS during a transition year for the choral program.
"I would liken it to a major athlete taking his high school coach with him up to the college level," says David Johnston, director of marketing for KU. "It just made the transition so much easier."
Bushouse appealed to everyone, Johnston says, but she also garnered a great deal of respect.
"She was your friend, but we called her 'Mrs. Bushouse' because she could command the room when she needed to," he says. "Despite her small stature, she had great stature in her field and made us feel like we were part of something great."
Bushouse carried that tone with her to Free State High School when it opened in 1997, starting from scratch and forming four choirs: Men's Choir, Women's Choir, Concert Chorale and Chamber Choir. From the beginning, Bushouse worked with LHS choral music director Cathy Crispino to make sure students at both schools received the same opportunities.
"Pam has always made sure that the two high schools have been supportive of one another," says Crispino, who started at LHS the same year Bushouse moved to FSHS. "We may be adversarial on the playing field, but when it comes time for making music, we respect the efforts of one another and we look forward to the times that we can come together and sing."
Pride of the program
Bushouse, a petite bundle of energy who leads riser aerobics to help her students warm up during rehearsals, seems slightly embarrassed by personal praise. She often deflects compliments to "the reputation of Free State."
And she adores her students.
"I can't pinpoint a most-proud moment because a lot of those very proud moments occur in rehearsal, in my classroom," she says, gesturing to a room full of trophies from national choir competitions and photos of students who have made the All-State Choir. "It doesn't take a performance to make those awesome."
Even so, there are some highlights. Like the Chamber Choir's magical performance at the Kansas Music Educators Assn. conference this February in Wichita.
"I had never seen that auditorium full for a regular concert at the convention. It was packed," Bushouse says. "It was literally standing room only, and they were standing in the hallways outside trying to hear the Chamber Choir sing."
"And the kids just sang exquisitely, and it was so cool," she continues, choking back tears, "because it was such an affirmation of the work we do."
Dee Hansen, president of KMEA, remembers that packed auditorium, too, and acknowledges that Lawrence's music program is known for excellence throughout the state.
"And Pam certainly has played a large role in elevating those expectations through the years and establishing the quality of work that we find in the Lawrence school district," Hansen says.
'So blessed'
Retirement will free up time for Bushouse to catch up on reading, exercising and spending time with her family. And, at least for a while, it will give her time to rest. Between preparing for the KMEA conference, a Florida choral competition, state music contest, "Encore" performances and regular concerts, Bushouse has had little time to catch her breath this spring.
It's worth it, though, when she gets e-mails from Free State alumni with fond memories of the program, or when she flips through the scrapbooks her students have been making for her as she prepares to depart.
It's full of sentiments like the ones expressed by football player Caleb Stephens, or junior Chamber Choir member Quinn Wasson, who calls Bushouse his "second mom."
"She teaches us how to be better singers, but she also teaches us to be better people," he says. "And I think that's what a true teacher does. They cover all facets of life, not just music."
Hilary Morton, an LHS and KU graduate who did her student teaching at Free State and has co-directed "Encore" ever since, will fill Bushouse's substantial shoes next fall. Bushouse is grateful that a familiar face will lead the program forward.
She'll stick around Lawrence, continuing as director of Choristers, the Lawrence Children's Choir feeder group, and working as a guest clinician in the area.
And although she feels strongly that it's time for a change, she'll miss nearly everything about teaching.
"You get everything when you teach," she says. "You get the students, you get to teach your favorite content, you get to work with their families and get to know their parents."
"Thirty-one years is a long time to teach children," she continues, "and I have been so blessed."
More like this story on Lawrence.com