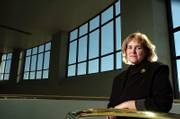 On a basic level, Karen Christilles' job is to make sure theater, music and other performance-based art forms are seen and enjoyed by as many people as possible.
Christilles says, "If a painting is hanging in a dark room, it's still a painting when it's not being viewed. Theater, unless it's being viewed, does not exist as an art form. It's a rehearsal."
A West Virginia native who earned a master's degree in theater at Kansas University, Christilles first joined the Lied Center in 1994 as the assistant box office manager before rising to her current job as the Lied's associate director.
"I've always been an artist. There's never been a time in my life when I've thought of myself as anything other than that. Now my medium is presenting," the 43-year-old Christilles says.
Among her achievements: She developed the annual Civic Dialogue Initiative with Haskell Indians Nations University to examine cultural issues between native and non-native people through the performing arts.
She organized Adventures in Imagination, the Lied Center's business-education partnership that enhances writing and creative expression for students and teachers in the community.
One of her proudest moments was commissioning a live collaboration that united the experimental jazz ensemble Turtle Island String Quartet with the more traditional classical group Ying Quartet.
The offspring of that musical one-nighter ended up being the album "4 + Four," which won a Grammy this year.
"As arts administrators, we sometimes lose sight of our creativity both in the workplace and in our personal lives," says Tim Van Leer, executive director of the Lied Center.
"Karen's dedication gives all of us at the Lied Center and everyone she works with a better understanding that what we do is our responsibility to our community and to ourselves."