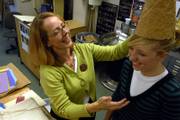 When Laurie McLane-Higginson started teaching in the Lawrence school district in 1982, she was the only art instructor for the city's 17 elementary schools.
"I saw each kid four times a year," she recalls. "When I came, it was like Christmas. They were so excited."
McLane-Higginson talked the district into hiring a second teacher the following year, and within the next few years - through advocating with the Lawrence Committee for the Advancement of the Visual Arts - just about every elementary school had its own art instructor.
"We were in the right place at the right time with the right energy, pushing it forward," says McLane-Higginson, 54. "My mentor at KU taught us that, no matter what, if you're an art teacher, you're always going to be advocating, educating your public as to what the reason is for children to have art."
McLane-Higginson moved to West Junior High School in 1994 and, in 1998, to Free State High School, where she teaches three-dimensional art and serves as department chairwoman for fine arts - all the while creating her own jewelry, ceramics and textiles. Her students keep her going.
"The kids are incredible," McLane-Higginson says. "It's fun to see the light go on for them ... It's wonderful to have kids come back and say, 'Thank you so much. I'm still making art,' or, 'I'm going to be an attorney, but what I did in art class was a great building block for me.'"
Bonny Burke, a 2005 Free State graduate now studying journalism and English at Kansas University, says it was always clear that McLane-Higginson cared about her students, both academically and personally.
"Her caring encouraged all of us to pursue our interests in creative ways - whether or not they were directly related to art," Burke says. "She encouraged us to use the lessons we learned in art in all areas of our lives."