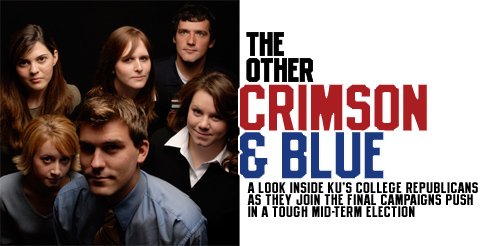 It's rush hour on a chilly Thursday evening, just a few days before mid-term elections.
At the busy intersection of 23rd and Iowa, cars line up to head back toward wherever home is.
At one corner of the intersection stands a bundled-up group of people flapping and waving Jim Ryun signs. Every once in awhile, a car honks in approval. Or maybe, considering Lawrence's voting record, in condemnation.
In any case, most just drive by.
Among the group is Beka Romm, a member of KU College Republicans (KUCR). This sign-waving is just the beginning of her final push for Republican victories on election day.
"I live for this weekend," she says before rattling off the events she's planned.
Friday, she'll make signs for the upcoming Bush rally. Then, she'll attend a meeting with some of her Republican friends to plan for the rally. Saturday, she's promised to participate in a literature drop for some Republican candidates. She's a little embarrassed to admit that she's also dropping some literature for Barbara Ballard, the Democratic candidate for the 45th District State Representative. But Ballard is a friend of Romm's and, as Romm is quick to explain, is pretty conservative for a Democrat.
Then there's Sunday. The big day. President Bush is coming to Topeka and nearly all the members of KUCR are heading down to show support.
Romm has already met the president. When she was 15, she was at a summer political camp in D.C. One day, while visiting the White House, she took a wrong turn on her way to the bathroom and-literally-bumped into President Bush.
"Those trips to D.C. really cemented what I wanted to do," Romm says. Which, she adds, is anything involving politics.
Romm grew up in a tiny town north of Salina and was home-schooled by her father, a Republican political enthusiast who assigned her readings by the Founding Fathers instead of Faulkner or Seuss. He also taught her constitutional law at an early age.
Romm says, "I always campaigned for as long as I can remember."
In a sea of blue
For Romm and others campaigning for Kansas Fepublican candidates, the president's visit could be clutch.
Jim Ryun is running a tight race against his Democratic opponent, Nancy Boyda. His office's own polls show Ryun trailing two points less than a week before election day.
If Boyda topples the long-standing incumbent-which, as Bush's visit would indicate, is a strong possibility-and other Democrats around the country fare as well in their elections as recent polls predict, liberals could gain control of Congress for the first time since 1995.
That's just what a majority in Lawrence want. After all, Douglas County has long been abastion of blue in Kansas, a historically red state. KUCR, a group with about 40 regular members, is-unlike few locales in the state-a minority in Lawrence.
But that doesn't intimidate KUCR member Bill Walberg.
Walberg, a sophomore, grew up near San Francisco, another historically liberal area. His mother, he says, is "a hardcore Republican" and his father is a Democrat and a member of the Sierra Club. So Walberg is no stranger to heated political debates.
"I love it, personally," he says. "I really enjoy talking politics with people who oppose me because it just gets my adrenaline going. I grew up in the San Francisco Bay area, which is 70 percent Democrat, 30 percent Republican. Then I come to KU, which I thought was conservative originally, but I've found it's the only blue county in Kansas:I'm still trying to understand Kansas politics."
Romm says being a Republican in Lawrence can be lonely, and brutal.
Especially since the last election, Republicans have had to weather a string of scandals.
The Downing Street memo, the handling of the war in Iraq, photos from Guatanamo prison camps, the administration's leak of a covert C.I.A. agent's name, the events surrounding the resignation of Mark Foley, and fraud, bribery, and other lobbying indiscretions tied to Jack Abramoff.
Each scandal has been protracted over weeks, and together have taken a heavy toll on the party's image.
"Sometimes getting hammered with it all the time does make you feel down, like you're the only person that's a Republican," she says.
Romm says even professors at KU take issue with her conservative views. One professor, after viewing her Facebook profile, began to put Romm down in class for being a Republican.
That, Romm says, was "honestly a little weird."
The good fight
KUCR chair Renee Klinges says that "because there are so many liberals in Lawrence, those who seek out the Republican group tend to stick with it longer and attend more meetings."
Members meet every Tuesday in the Kansas Union. Usually, they invite a speaker and hold issues debates on topics like negative campaign ads or what to do about North Korea. They also share info on candidate campaigns and organize booths to register students to vote.
In 2004, the Journal-World reported that KUCR was targeting exclusively sororities and fraternities, where students may "be more sympathetic to the Republican cause" as opposed to manning general voter registration booths on campus.
The story quoted KUCR then-president Justin McFarland: "If you're registering a lot of Democrats, it's not worth it."
But Klinges says KUCR has since changed that practice because, she says, it's important for everyone to vote.
"Now, we pretty much set our voter registration right in the middle of campus. We'd like for you to vote, and it's important to get involved," Klinges says.
KUCR isn't all politics. It's a social outlet, too. There was a Halloween party last week, and this week, members are getting together to track election results.
"It's kind of a fun time to get together and have issues debates," Romm says, adding that KUCR members don't always agree.
"Within the group, the Libertarians and moderate Republicans may really clash."
"I think it's really good for all college students to learn how to:fight without being too aggressive or too mean, and then, after the debate's over, to all go out to Buffalo Wild Wings," Romm says.
"If more congressmen knew how to do that in Washington, D.C., we'd be a lot better off."
Relishing the challenge
Walberg describes himself as socially moderate and fiscally conservative. He's into trickle-down economics, doesn't fully buy into evolution or global warming, and, coming from California, wants tough laws against illegal immigration.
"They take almost $1 billion from California taxpayers," Walberg says. He adds that, in California, if you drive far enough south, there are "signs on the side of the road with a family running. I don't know if that was a joke, but it was a real road sign."
This fall, Walberg has worked at the Dole Institute of Politics at KU. He's planning to volunteer for a Republican phone bank, calling registered Republicans and Independents to encourage them to vote.
He has also marched in a few parades for Phill Kline, the controversial attorney general candidate up for re-election against Paul Morrison, who has a 13-point lead going into the election (according to a Wichita Eagle Poll).
In Lawrence, you'd be hard-pressed to cross town without spotting a pro-Morrison or anti-Kline bumper sticker-"Phill Kline is watching you" is popular.
When explaining why he's not very involved with Kline's campaign anymore, Walberg chooses his words carefully-a necessary talent for an aspiring politician.
"I don't really want to associate, put a partisan thing:I'm kinda neutral on that. I don't want to jump blindly on some guy's bandwagon," Walberg says.
But there are many members of KUCR working to re-elect Kline.
Klinges is particularly involved. Between classes and at night she stuffs envelopes with candidate info and drops Kline literature at doorsteps around town. She also makes campaign calls to independent voters.
Those calls can be tough, she says, because many people glean their candidate info from negative campaign ads. And many people in Lawrence are quite anti-Kline.
Klinges says that promoting a Republican candidate in Lawrence as opposed to, say, Manhattan, where she grew up, is definitely harder.
"But it's also a challenge," she says. "I love a challenge."
Living the dream
Walberg admits that the race this year between Democrats and Republicans is close. Too close, maybe. But, when you're in politics, you've got to be optimistic.
"There's two sides to the coin," Walberg explains. "If we win:I'm hoping that we will win the election, House and Senate. But if we don't win both, then we're not tied down really to anything that happens in the next two years."
That, he says, could set Republicans up to win the 2008 presidential election.
Lately, for Republicans, no news has been good news. But, Walberg points out, John Kerry's recent snafu (he told a group of college students to study hard or they'd get "stuck in Iraq") "might have handed the election to the Republicans on a silver platter."
"That was probably the worst thing the Democrats could've done," Walberg says. "Worse than a scandal. You just do not talk about the military during a time of war."
Last Sunday, Walberg, Romm, and a few other members of KUCR joined 7,000 people at the Kansas Expocentre for the Bush rally.
They arrived early and worked hard. Walberg worked with the spirit squad, cheering and revving the crowd up for the main event. Romm lent her cheery voice to an on-site phone bank.
Late in the day, when the President finally made his entrance, the KUCR members waved their Jim Ryun signs and homemade Phill Kline signs with pride.
In his speech, Bush addressed everything from the war on terror to Saddam Hussein's death sentence to tax cuts and the economy. But mostly, Bush addressed his fellow Republicans and told them why their party needed to win Tuesday's election.
"I'm revved up," Walberg said after the speech. "I'm ready for Tuesday to come now. I have a lot of optimism. If 10,000 people showed up tonight, and if those people tell 10 other people to vote, that's 100,000 people that will vote Republican Tuesday."
Romm was similarly rapturous after Bush spoke. "I was like, just campaign all weekend and then you can campaign Tuesday," she said. "Now I'm like, hmm...skip class? Not do homework? Campaign a little more?"
This week, the KU College Republicans will find out if their dedication and fervent optimism pays off at the polls. But no matter how the elections turn out, Walberg says seeing the President made it all worth it.
"I've lived a dream," he says. "I could die happy tomorrow."