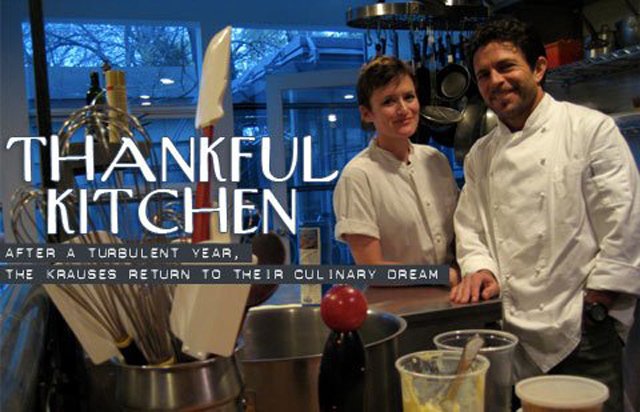 Tuesday, November 14, 2006
After selling their acclaimed Topeka restaurant, The New City Cafe, Molly and Robert Krause bought a house in East Lawrence and had Dan Rockhill make it over-including a 30-seat glassed-in dining room on their patio. The Krauses built a commercial kitchen, obtained a catering license, and got cooking.
Word of their mastery spread rapidly. After six visits, Kansas City Star food editor Lauren Chapin wrote a glowing review, which caught the attention of the Lawrence Zoning Commission. The Krauses' home was zoned for private catering only, not as a commercial restaurant.
The foie gras hit the fan. A cease and desist order from the Zoning Commission forced the Krauses to move to a commercial venue, the then recently vacated Meat Market at 811 New Hampshire. When their lease expired last summer, the Krauses chose not to renew. Home is where the heart is, and the Krauses appealed to the city for a zoning variance, to allow them to resume serving world-class dinners to the public in their home.
Street Level strolls east to visit the Krauses in their home kitchen to talk about red tape, culinary mishaps and triumphs, and being thankful through hard times.
Subscribe to Street Level podcast in iTunes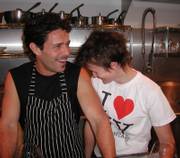 lawrence.com: What's going on?
Robert: Just cooking. Making this celery root and vanilla bean puree.
For any restaurateur, the ideal situation is to work out of your home.
Robert: I don't know if that's true. A lot of people are in the food business because they want to do more volume and make more money.
It's the ideal situation for you, though?
Robert: Right. One of the main thrusts of our business is: How are we going to do the best job that we can? It's more about having a concept and finding a way to execute that at its highest level. And the way we can do that is by serving a small number of people, having a controlled atmosphere to do it in: We can afford to be open only four nights a week and only serve 30 people a night.
Are those the stipulations that the City is talking about for your conditional use permit?
Robert: Yup.
When will it be up for a decision?
Robert: I think they have it on the agenda to vote on it January,
One of your biggest objectors was your next-door neighbor.
Robert: And we're buying his house. On his request.
So it worked out well, if the vote goes the right way.
Robert: If it does.
What's hot in food nowadays? What's the new balsamic vinegar, the new foie gras?
Molly: I'd say pork belly. You see pork belly a lot these days.
I'm sick of foie gras. You see it everywhere.
Robert: :For a couple years, we had it on every menu. But now, I don't think of it that often. When I do serve it, it's generally as a passed, one-bite hors d'oeuvre. I think that's about enough, really.
Molly, what about desserts? What are you working on these days?
Molly: I've been doing takes on cheese courses. :My goal is to transform the cheese into something other than what it is, like a foam or a custard. I've been working on a savory Manchego cheesecake that I like.
Robert: There are more cool projects than there's time to do.
In town, where do you eat out the most?
Robert: Zen Zero more than anything. For one, our girls like it. And we're not looking to spend a bunch of money. All four of us can have a pretty big meal, eat something that's reasonably healthy: for 30 bucks.
Molly: We've had some good pizzas at Teller's lately.
Robert: And you know, overall, I like to be treated nicely.
Molly: You do?
Robert: Hah! Matt Hyde [Teller's GM] treats people really nice.
(Timer goes off. Molly pulls a half-dozen milk chocolate mousse cakes out of the oven.)
What are the Thanksgiving foods of your childhood, your nostalgia?
Molly: Well, turkey-it's all about the stuffing. Vats of gravy. Robert's complaint at my family's Thanksgiving is that there's never enough gravy. A can of jellied cranberries that's sliced and fanned nicely; green bean casserole, mashed potatoes. Pretty normal fare.
People don't realize that when you cook for a living, it's such a treat to have others cook for you. And so many people are intimidated by cooking for professional restaurant people.
Molly: You're right; they don't understand.
Do you not get invited to dinner because you're the Krauses?
Robert: I think so:. But most of our friends never get to eat our food. They just hear about it.
When people talk about Krause Dining: "Oh, it's expensive!"
Molly: I read in one publication: $100 a plate. I wanted to write a letter to the editor. You get lots of plates of food for $100-if that much.
Governor Kathleen Sebelius used to come to your place frequently. Didn't she get knocked down by a country and western singer one time?
Robert: No, a roadie. After a party, I was up at the bar talking with Kathleen and Gary, and this guy rolls by with some equipment and ran over her leg. And literally, sent her down to the ground. And he turns around, not knowing who she was, and basically was saying: "Watch out where you're standing."


Molly Krause's Manchego Cheesecake
Manchego Cheese is a sheep's milk cheese from Spain. It is increasingly available at local grocery stores and can nearly always be found at Au Marche and The Merc. This is a savory cheesecake-not a sweet dessert. A wonderful appetizer that pairs well with almost any wine, fancy enough for special occasions but easy to make. There are a few steps involved, but nothing out of the grasp of the motivated home cook.
Manchego Cheesecake Custard
2/3 cup heavy cream
2/3 cup milk
4 ounces Manchego cheese, cut into 1 inch pieces
2 large eggs
1 large egg yolk
salt and pepper
4 small ramekins or aluminum foil baking molds

Place the cream, milk and cheese in a saucepan and bring to a simmer. Turn off the heat, cover the pan and let the flavors infuse for one hour. Preheat the oven to 250 degrees.

Whisk the eggs and yolk together in a medium bowl. Reheat the cream mixture until hot. While whisking, gradually strain the cream mixture into the eggs. Season with salt and pepper.

Divide the custard into ramekins and place in a roasting pan. Add hot water to the roasting pan to come up halfway up the sides of the molds. If using aluminum molds, place a baking sheet over them to hold them down. Cover the pan with aluminum foil and bake for 30 minutes, or until the custards are just set. Remove the molds from the water bath and refrigerate for at least 2 hours and up to 2 days.

Graham Crackers
1 cup all-purpose flour
1 1/4 cup whole-wheat flour
1/2 cup firmly packed brown sugar
1 teaspoon baking powder
1/2 teaspoon baking soda
1/2 teaspoon salt
1/4 teaspoon cinnamon
1/2 cup cold unsalted butter, cut into small pieces
4 tablespoons honey
1 tablespoon molasses
1 teaspoon pure vanilla extract

Preheat the oven to 350 degrees. In the bowl of an electric mixer, mix together the flours, brown sugar, baking powder, baking soda, salt and cinnamon. Add the butter and mix until the mixture resembles course meal. Add the honey, molasses, 1/4 cup cold water, and the vanilla. Mix until the dough comes together in a ball, adding up to an additional 1/4 cup of water if needed.

Place the dough on a floured work surface and roll with a rolling pin to 1/8 inch. Use a round cookie cutter, slightly larger than your custard mold, to cut circles of dough. Transfer rounds to a parchment lined sheet pan. Score rounds by pricking several holes in each cracker with a fork.

Bake until brown, about 10 minutes. Let crackers cool on the baking sheet before removing. You will have more than you need for this recipe to snack on.

Assembly
Both components may be prepared the day before serving. When ready to serve, remove custards from the refrigerator. Run a small paring knife around the edge of each custard, dip molds briefly into hot water, and unmold each custard onto a graham cracker. Serve with chopped hazelnuts or your choice of fresh fruit if desired.