Wednesday, November 15, 2006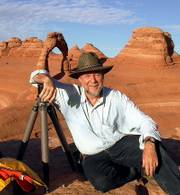 While Bruce Dale was shooting exclusively for National Geographic, he had more than 2,000 photographs published in its Society's books and magazines. His assignments took him to more than 75 countries and to most parts of the United States.
On Thursday he'll travel to Lawrence where, at 7 p.m. at the Lawrence Arts Center, 940 N.H., he'll talk about his spectacular career. Admission is free and open to the public.
His presentation will include photographs ranging from "The People of Cumberland" to a roadrunner's ("Beep-Beep") encounter with Dale's remote-controlled chicken on wheels. He'll also include a segment on how best to use digital cameras.
After shooting film for more than 30 years, Dale made the transition to digital cameras with ease. He now travels to major cities across the United States and Canada explaining the finer points of digital photography under the sponsorship of Nikon cameras.
Dale presents his information with outstanding photography and delightful humor.
After his talk, Dale will take questions from the audience.