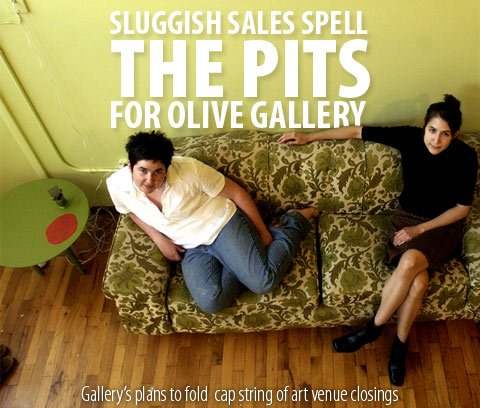 Friday, November 17, 2006
When Olive Gallery and Art Supply opened in April 2003, the young owners envisioned a home for emerging artists and cutting-edge work.
"We wanted to show Lawrence something new and something different from the other art venues in town," owner Jill Kleinhans says. "We wanted to make art accessible for everyone."
For three and a half years, the gallery has done just that from its quirky roost at 15 E. Eighth St., showcasing work by up-and-coming artists while selling art supplies and handmade goods.
But despite their best efforts, Kleinhans and her staff aren't making enough money to sustain the Olive. A "For Lease" sign will appear in the store's window any day, and the doors will close for good on Feb. 28, unless someone new is willing to buy and revive the business.
Co-manager Jon Allen says the closing represents a personal loss for him.
"But on a larger scale, it will be a big blow to Lawrence," says Allen, who has been running the Olive with co-manager Janie Hammerschmidt since Kleinhans moved to Los Angeles this fall. "Places like the Olive are a huge part of what makes Lawrence unique compared to other towns across the Midwest."
The Olive's demise marks the latest in a string of Lawrence gallery closings in the past few years. Other casualties have been the Grimshaw Gallery, ad astra galleria, KOJO and Fields. The trend makes Kleinhans wonder how Lawrence earned its reputation as the "City of the Arts" (read related story).
"I'm not buying it because the people certainly aren't buying," she says. "Talk is cheap. Attending art openings for the free wine and cookies does not constitute support of the art scene. It costs money to have a thriving arts scene. Lawrence just isn't ready to fit the bill."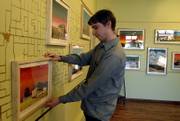 On the other hand, she says, the gallery business is difficult everywhere.
"Art is a tough sale, especially in post-9/11 times," she says. "Art is too often viewed not as a necessity, but as a luxury."
A good start
The Olive has played host to about 45 exhibitions by Lawrence and area artists, most of them young and new to the scene.
Paul Flinders is among them. His January 2005 show, "a bird i wish i were," was the Kansas University student's first solo exhibition. Since then, he has had another show at the Olive, and in October he made his Kansas City debut at the Apex Gallery.
"The Olive has played a large role in the development of my artistic career," Flinders says. "They went far beyond hanging my work in the space. They brought my work to the people in a way that I couldn't. They worked hard to spread the word. They carefully choreographed my work into the space so that it flowed seamlessly. They introduced me to the Lawrence art crowd and other Lawrence artists."
The gallery rotates in new shows monthly, with opening receptions on the first Saturday of the month. Those receptions rarely fail to expand into all-out parties, complete with live music and patrons spilling out the front door.
"Some people absolutely love us, and we have them to thank for surviving this long," Kleinhans says. "We were voted Best Gallery by the readers of Lawrence.com for three years in a row. But others just don't get us."
More about the Olive Gallery
Love for the Olive
When Kleinhans and friend Bailey Kivett opened the Olive in 2003, they thought their business plan was foolproof. They'd offer contemporary artwork that they considered a little edgier than the usual fare at Lawrence galleries, and rely on sales of handmade consignment goods and discounted art supplies as steady income.
Both owners were 22 at the time and still KU art students. In order to open the business, they got funding from a friend of Kivett's family, Halstead emergency room doctor and painter Gene Marsh. (Kivett moved on a few years ago, but Marsh still co-owns the business with Kleinhans.)
Although the opening receptions always have been packed - and some artists' work has sold better than others - sales just never gained enough momentum to cover the expense of running the gallery.
"We absolutely loved what we do, but when the bottom line comes into play, it's just not cutting it," Kleinhans says. "Everybody can love us, but they need to show us a little more."
The gallery has scheduled its final three exhibitions: a group show in December, work by Andrew Hadle in January and a Josh Adams exhibit in February.
Kleinhans says the spirit of the Olive will live on with her.
"I plan to start up something 'Olivesque' out here in LA within a few years," she says. "It seems like this art community is a little more well-supported."