Monday, November 20, 2006
In the wake of the viciously satirical comedy ÂBorat,Â- Christopher GuestÂ's low-key Hollywood send-up ÂFor Your ConsiderationÂ- seems downright quaint. The writer/actor/director may be lampooning the late-year movie awards season, but he refuses to condemn the actions of his self-absorbed targets outright. Instead, he regards his oddball characters with the same warmth and affection that audiences have for his stellar cast, most of whom have been Guest regulars since 1996Â's ÂWaiting for Guffman.Â-
Not much has changed in ten years, thankfully not the talented group of actors who are like his own personal repertory theater company. However, one significant difference between this and past Guest outings like ÂBest in ShowÂ- and ÂA Mighty WindÂ- is that he and co-writer Eugene Levy have dropped their typical mockumentary style in favor of a more straightforward narrative.
Gone are the interview segments where characters sit for a camera crew and reveal their quirks. The format may be slightly different, but their peculiarities, however, remain. GuestÂ's comedy has always focused on fringe personalities, like movie publicist Corey Taft (John Michael Higgins), who throws out all kinds of non-sequiturs about his mighty Choctaw heritage and the Âtiger, pig, ass and nightingale in every actor.Â- If film sets are filled with people like this, no wonder they are ripe for parody.
Movie
For Your Consideration
***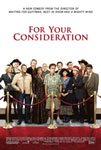 While it doesn't have the wicked bite of some satire, Christopher Guest's Hollywood send-up "For Your Consideration" features the director's regular ensemble cast in a non-mockumentary tale of an independent movie that picks up some early Oscar buzz. Catherine O'Hara herself is garnering the same kind of attention for her sympathetic turn as an aging movie queen in this subtly funny film.
Guest himself plays Jay Berman, the director of ÂHome for Purim,Â- an independent period film about a Jewish family reunion. More concerned with whatÂ's for lunch than his movie, heÂ's a virtual non-entity during filming. This is not the case for Victor Allen Miller (Harry Shearer) and Marilyn Hack (Catherine OÂ'Hara), two neglected middle-aged actors who start to garner Oscar buzz during the filming and dream of the attention it would bring their stalled careers. Rather than poking venomous and easy fun at Hollywood stereotypes, ÂFor Your ConsiderationÂ- shows how all the awards-hype changes an undeserving, terrible little movie into a terribly undeserving Oscar contender.
OÂ'Hara shines in an endearing performance that could have been hammy in lesser hands. Marilyn has the self-centered heart of any actor worth her salt, as she is irked when the guard at the studio gate doesnÂ't recognize her. She is also full of self-doubt, like when she pretends to not be too interested in having a stagehand confirm her Oscar talk on the Internet for her. ItÂ's ironic to think her sympathetic portrayal of a fading star may very well translate into a deserved real Oscar nomination early next year. The only negative to her part is that, with all the other characters typically involved in a Guest film, she doesnÂ't have enough screen time.
But donÂ't get me wrong- part of the fun is seeing what roles each well-loved ensemble member will end up playing, and when Fred Willard shows up as an ÂEntertainment Tonight"-style TV anchor, itÂ's funny because heÂ's too old for the part and funnier still that heÂ's dolled up in a blond faux-hawk to appeal to the MTV generation. While his part (as usual) is one of the loudest in the movie, most of ÂFor Your ConsiderationÂ- is very subtle indeed.
For a fictional feature, thereÂ's a conspicuous lack of music. When there is conflict, itÂ's seldom played out onscreen, and Guest relies on its absurd resolution later for the joke. ÂFor Your ConsiderationÂ- is about the little details; the way an actor delivers a line, and naturalistic performances that actually play down punchlines. This type of observational humor has a rhythm of its own, and usually gets funnier with repeated viewing.
While the movie doesnÂ't have the wicked bite that even ÂGuffmanÂ- had, it still has dry wit to spare and serves a better-balanced dish, simultaneously loving and loathing its main characters. Guest was smart to lose the mockumentary contrivance, and as a result, his film feels somehow fresh and familiar at the same time. It is out of step in its own unique way, like an old Woody Allen movie.