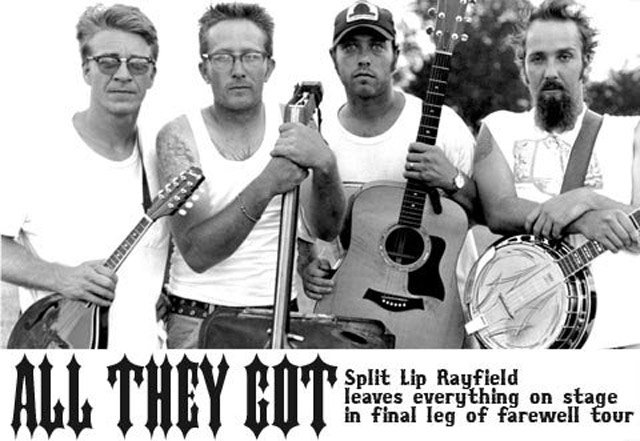 Monday, November 27, 2006
Nearly a decade ago, a new band began to pick, pluck, and wail on a Wichita porch.
Their goal was simple: to score free beer.
Many years, many beers, and four albums later, the band is on what's billed as its last tour of the country. After the final show in December 2006, the storied hillbilly hardcore band Split Lip Rayfield will retire.
Following the difficult news earlier this year that guitarist Kirk Rundstrom's cancer was untreatable, the band has been on the road-to visit friends and fans, as much as to play shows.
One of their first stops was a familiar one: the campgrounds at the Walnut Valley Festival in Winfield.
"We hadn't been there two years previous, so I think there was a lot of anticipation from old Pecan Grove freaks who missed that aspect of the campground," says Eric Mardis, banjo player. "And maybe a little bit of a myth or legend was arising out of the whole thing for people who hadn't seen it."
Audio clips
Split Lip Rayfield Farewell Tour
"They said it was a record Stage 5 attendance," Mardis says. "It was definitely our Stage 5 record, and we've had big crowds there before.
"It just felt more epic this time than it has in the past," he says.
The rest of the tour hasn't been much different: venues packed full of crazy, sweaty people amped-up to see the band. But this year, says Mardis, there has been less "raucous, freak-out party action" than on previous tours.
HI-FI podcast on Split Lip's farewell tour
"It's kind of slowed down as far as the extra-curricular activity is concerned. I think the focus has been on the shows enough that getting over-served at the bar and having a hangover the next day doesn't make any sense."
This change of attitude should come as no surprise, considering the strain that the tour has put on Rundstrom.
"Doing these shows has really hurt me," Rundstrom says. "I love playing and I'm glad I'm going back to these places: I know all these people in these cities in America, and it's good to go see them and say 'Hi' to them. But once we're done with that, I'm going to address my health problem on a full-time basis. I can't continue to keep playing. It hurts too much."
Past Event
Friday, December 1, 2006, 8 p.m.
Liberty Hall Cinema, 644 Massachussets Street, Lawrence
All ages / $15 - $18
Farewell
As the farewell tour enters its fourth month, with the band routinely packing venues comparable to the Bottleneck, Split Lip has gotten a glimpse at what might have been.
"On the road there are often people who have seen us a lot less, or a lot of first-timers, because the word-of-mouth thing is still spreading," Mardis says. A year ago, "we were riding this incredible wave of momentum: If we could've kept on the track that we were on it would've been hard to say what would've happened."
Past Event
Friday, December 29, 2006, 9 p.m.
Bottleneck, 737 New Hampshire, Lawrence
18+ / $5
But despite the obstacles they've encountered along the way, Mardis says the band is very satisfied with how far they've come. "I think it's a strong little legacy that we threw together. I never would've thought it back when we started-we were a front porch kind of a thing. And now:"
Marveling at the lengths to which fans go to see their shows-including flying 4000 miles from Alaska to their most recent gig in Portland, OR-Mardis reflects on their accomplishments.
"I'm really proud of the studio records and the progression of them if you listen to the first Split Lip Rayfield album, I'm a pretty bad banjo player at that point. And then the last one I can really see the progression of all of us getting better at playing and singing and writing and doing the stage thing. And it all comes from just playing a shitload on the road."
This progression can also be heard in an upcoming one-disc retrospective, which will include live recordings as well as the "weird B-side stuff" they did for Bloodshot Records.
Nothing is final
Post-Split Lip projects are numerous for each of the band members. Bassist Jeff Eaton will continue his screen-printing business in Wichita, Pride of Gumbo. Mardis has several music projects in the works-his bandsSatan's Jeweled Crown and the Eric Mardis Group, as well other bands he contributes to like The Hearers and Scroat Belly. He's also thought about hooking up with a Lawrence Community Theater musical. For his part, Gottstine's got his band the Sluggos, and some other plans.
"I think I'll live off the land, become a frontier wilderness man-hunt deer, drink their blood, things like that," Gottstine says. "And maybe work on my golf game. That's what I need to do, play some golf with my kid."
For someone who says he plans to attend to his health "on a full-time basis," Rundstrom has a lot going on after Split Lip hangs it up.
Audio Slideshow
Split Lip Rayfield on the road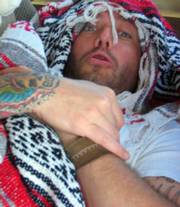 There's some Scroat Belly shows, and Rundstrom just finished recording his fourth solo album and will be promoting its release before the end of the year. So where does retirement fit into all this?
"I'm trying to do a few things here and there that I need to do. We're doing CD-release shows at the Bottleneck and Fishhouse Studios in Wichita," he says. "So I'll do those shows and a couple more Scroat Belly shows, but after that I'm pretty much just going to try to work on my health."
For someone whose life is as intrinsically connected to music as Rundstrom's, it's easy to understand that the decision to concentrate on anything else would be a difficult one to make.
Audio Slideshow
Split Lip Rayfield, Stage 7 at the Walnut Valley Festival, 2006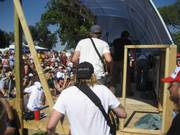 At this point, nothing is final, and as Mardis puts it, "I don't think that anyone is throwing in the towel on any aspect of it. We weren't even really supposed to be doing these shows, but it just keeps on building.
"The music is a really strong force for Kirk to keep tapping into, so if he says, 'Okay this is my last show,' and then in a couple weeks he's feeling really good and wants to go down to the Anchor in Wichita and play a show, who's to say that he shouldn't?"