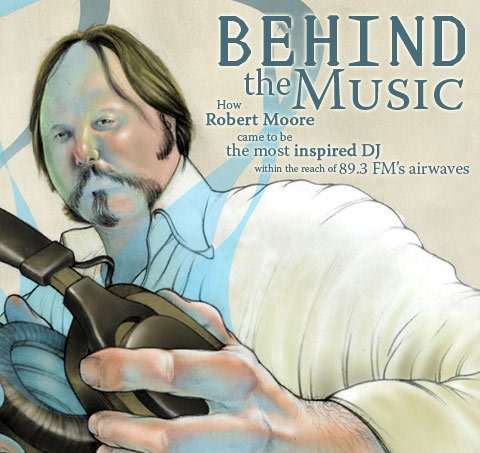 Monday, November 27, 2006
Robert Moore is putting the punk into public radio.
As a music DJ on 89.3 FM, Moore has the methodical urgency of a news anchor and the mellow on-air presence of a late-night jazz announcer.
But his free-form music show, Sonic Spectrum, sounds less like an NPR program than a pro version of KJHK, complete with obscure tracks and the occasional F-bomb.
"Doing a whole hour on Bon Scott of AC/DC doesn't seem to happen on many public radio stations," Moore says. "But I grew up a punk rocker."
For three years now, Sonic Spectrum has been a two-hour FM oasis for area music lovers.
Maybe it's Moore's deft blending of accessibility with music-snob credibility. Maybe it's his candid interviews or his unmistakable, genuine interest in the music. But mostly, it's likely the music itself.
From honky-tonk to hardcore, from blues to classic rock, with some hip-hop and local music in there, too, Sonic Spectrum is as free form as its name implies. At times, the sets dip, but never dive, into obscurity.
"If I did an hour on Norwegian death metal I'd probably lose my audience," Moore says. "That doesn't mean I don't like it."
Past Event
Saturday, December 2, 2006, 10 p.m. to 2 a.m.
New Hampshire St. Bistro, 811 New Hampshire, Lawrence
21+ / $2
On Saturday, Moore will shed what little constraints he has on NPR's airwaves for his first DJ set in Lawrence.
In person, as on air, Moore hardly fits the narcissistic on-air personality stereotype. Conversations that threaten to focus on him quickly shift back to the music or the artist.
Perhaps that's what makes his show's interviews-or "conversations," as he calls them-so engaging. There's no hype, and flattery is replaced with the sincere curiosity of a long-time fan. Instead of a stale, formulaic band interview, he gets to know the musicians as people. He's gotten drunk with the Delgados. He chilled out in his minivan with Sam Beam from Iron and Wine.
"I don't give a damn about their touring dates or who produced this record," Moore explains. "I just want to talk to them about what they do and who they are. I think I approach it as just being a music fan, not a journalist or a guy who hosts a show."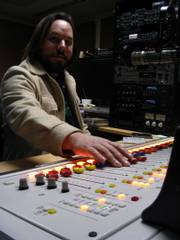 Though he's somewhat reserved, Moore's opinions on all things music are pointed and inspired. For example:
¢ On music reviews: "I could give a damn. Reviewers to me, especially Pitchfork, they're like nerds with attitudes. Who the hell gives them the power to make or break a record? The public has given them the power which just shows how a bunch of sheep are out there:Naah, Pitchfork is a bunch of shit."
¢ On iPods: "I really held out on the whole iPod thing. I never downloaded music ever. It just seemed too impersonal.[Now Moore has an iPod that holds 4,000 of only his favorite songs. I generally keep mine on shuffle. It's exciting when it'll play a song that at times, I'm like, wow, that totally works. That inspires sets. It definitely has a soul of its own."
¢ On illegal music sharing: "I think it's shite. I think they're petty thieves:if you really love the band that much, then spend your freakin' 10 bucks and pay for that art. They worked their ass off to make it. They deserve to be paid for it. They're getting ripped off by the record company to begin with. Why would they want to get ripped off by the fan?"
Salad Days
Audio clips
Robert Moore's Sonic Spectrum
Moore's love of music recently led him to start a record label-Oxblood Records-with his friend Megan Hamilton, formerly of the breakout Kansas City band Frogpond. He also sometimes teaches music history at the Kansas City Art Institute.
Though Moore is now thoroughly entrenched in the KC music scene, he isn't a native to the area. His formative years were spent in L.A., with the music biz in his backyard.
Moore's father-Patrick Moore, who grew up in Grinnell, Kansas, a tiny town out west-says from an early age, Robert was obsessed with music.
"When he was young, I'd say he was maybe four or five years old, we had a Roger Miller plastic disc. He wore two of those out:he played one of 'em till the grooves wore out and then we got him another one," Moore says. "And he and I both loved Johnny Cash."
Those early influences inspired many Sonic Spectrum playlists.
"I kind of grew up on that good, tear-in-the-beer songwriting," Robert Moore says. "Obviously, a lot of the artists I still play today have similar lyrics. But they're not always honky-tonk."
As Robert got older, his tastes broadened. He tuned into K-ROQ and discovered Devo in middle school. In high school, he played with a hardcore band called The Grim.
"When he played his music, it wasn't any good until it shook the house," Patrick Moore says. "So he played it loud and I was constantly asking him-probably wasn't asking him, I was yelling at him-'Robert, turn that music down!'"
Moore later scored a promotions gig at IRS records, an indie label that boasted R.E.M., the Buzzcocks, and the Cramps. Then, at 22, he landed what he thought would be his dream job-working A&R; at Virgin. But the corporate mentality of "money first, artist second" quickly turned Moore off to the whole industry.
"I wasn't ready for that. I wasn't ready for the money or the freedom with the money and signing bands and being out in clubs all the time on their dime. It just wasn't a good thing," Moore says.
"I enjoyed the partying end of it with the bands more than the business end of it. And then as time went on, I was realizing that some of these bands I'm signing are never going to have their albums see the light of day and I'm telling them don't worry about it," he says.
"I couldn't lie, I couldn't deal with it. I just didn't want it that bad."
Fast forward a few years, and Moore's landed in the Midwest, finishing up a degree in communications at Park College. He only intended to stay a couple years, but after getting married, having a kid, and falling in love with Kansas City, Moore decided to stay. And besides, he says, "L.A. is a freaking armpit."
To taste oxblood
Moore didn't immediately fall in love with KC's music scene. In fact, in the '90s he didn't care for it at all.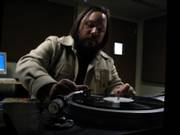 "I was asked once why I don't play more local music and I was honest. I said just because it's local doesn't make it good. I'm only going to play something good whether it's local or international."
Now, he says, "it's finally very diverse. It's brilliant. I can think of 20 bands that could easily be signed and deservedly be signed:.I get questions from label people and promotion companies all the time about the scene. They hear so much about it. There's definitely buzz."
Moore says the K.C./Lawrence cultural renaissance is partly what inspired Oxblood. The label's signed one local band, American Catastrophe, and is working on a compilation featuring Moore's favorite local groups-Ghosty, the Roman Numerals, the Architects, and White Whale, to name a few. The CD, which will be released in February, features new tracks recorded exclusively for the compilation.
Moore says he hopes his label's first effort will bring more national attention to area artists. To that end, he's investing in some promotion, and plans to send hundreds of discs to college radio stations around the country.
If Moore learned anything partying with Guns 'n' Roses and Jane's Addiction at Virgin, it's how not to treat an artist. So Oxblood's goals include fulfilled promises, profit sharing, and tour support.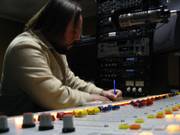 Music defines life
Despite his passion for music, Moore admits that working with it, thinking about it, and listening to it all day can wear thin after awhile. His off time is often very, very quiet.
"My spare time is reading. Either that or I like to get out of town. I'm really into bird watching, so I'll go up to Squaw Creek up north. There's a natural flyway so I'll check out birds there or go hiking," Moore says.
Just last week, he says he spotted 50 bald eagles and a rattlesnake.
Moore also is a single dad to his nine-year-old son Cole, named after John Coltrane, who clearly takes after his father when it comes to Halloween costumes (last year he was Angus Young from AC/DC) and taste in music (the Smiths, the Cramps, and, of course, the Man in Black).
"He grew up on Johnny Cash. That's probably his favorite, too. That's passed down from my dad to me to him," Moore says.
Somehow, Moore has managed to weave music into most of his life, professional and private.
"Music just defines life on any given day or any given mood you have," he says. "Making a mix tape is like writing them a letter about what's going on in my life:that's basically the way I approach Sonic Spectrum, is just a mix tape for my friends who are listeners."
More like this story on Lawrence.com