Thursday, October 5, 2006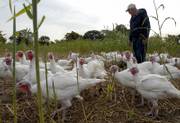 I believe in the family farm.
In fact, I think we should buy as many foods as possible within a 100-mile radius of our homes. By supporting the rural community, we not only help our neighbors, but we also arm ourselves with knowledge about what exactly our families are ingesting.
That's good news given the recent E. coli spinach outbreak and the widespread use of pesticides and herbicides. It's troubling that in most cases we have no idea where our produce comes from or how it gets to our plates.
One way to remedy that is by taking your family on the Kaw Valley Farm Tour, where you'll also learn what it takes to run a farm in the 21st century.
When Mother Nature is your boss, employment can be a gamble. The weather rarely cooperates from year to year - it's too hot or too cold, too wet or too dry. Or there's some new disease or an infestation of bugs. Even that litany of variables isn't the most challenging aspect of keeping a family farm afloat. Instead, it's the competition: corporate farms.
To stand a chance against the large government- and corporate-owned operations that have changed the rural landscape, most family farmers have to be extremely flexible about their livelihoods. Many are spending less time on their tractors and more time playing host to hay rides, petting zoos and corn mazes.
Past Event
Saturday, October 7, 2006, 10 a.m. to 4 p.m.
(One-off place), Lawrence
All ages / $10
But you still can get a taste of a bygone era - when farmers could spend an entire day in the field without ever seeing another soul - during the Kaw Valley Farm Tour. This year's tour boasts 14 farms and loads of "agritainment." You can view a working elk ranch, milk goats, make soaps, listen to live music and come home with an armful of nutritious, delicious bounty.
Sharon Vesecky, co-owner of the Vesecky Family Farm, says the tour gives guests an opportunity to see the rural way of life.
"Some will reminisce about farm memories; others want children or grandchildren to experience a little bit of farm living and see how food is produced," she says. "On our farm, participants will see broad-breasted white turkeys and heritage turkeys. We will have a quilting demonstration, a petting zoo, and a lot of fresh air and rural atmosphere."
Darrel Zimmerman, owner of Zimmerman Kill Creek Farm, hopes visitors will have an appreciation for the work he does on his farm.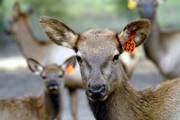 "That is really quite rewarding when people express gratitude," he says. "Those visitors will also experience an award-winning historic barn, thousands of pumpkins, a blacksmith, a saw mill, basket weavers, Civil War re-enactors and horse-drawn wagon rides."
At Screamin' Oaks Farm, owner Roxane McCoy has planned activities to lure young and old, from cookie decorating to learning how to make a bar of goat milk soap or spin mohairs. Visitors also will be able to check out the milking process in the farm's Milk House.
Farm tour participants are peppered throughout the county, promising scenic country drives from farm to farm. So load up the family, pack a few picnic blankets and empty your camera's memory card. The weekend should be a great way to make memories and get caught up in the slower pace of the rural lifestyle.
- Jennifer Oldridge, a Kansas University graduate, is an avid gardener who previously operated a landscaping business.