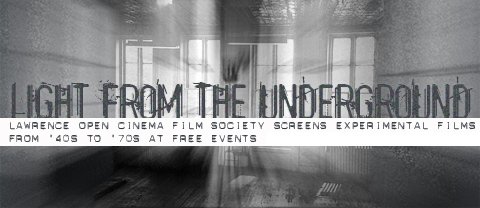 Rich Housh is helping to bring some of the best-known experimental films to Lawrence.
Still, he doesn't expect the average Joe to know anything about them.
"It's silly to call them famous experimental films," Housh says. "None of it is well-known. It's still pretty fringe."
Housh and his fellow members of the Open Cinema Film Society are hoping to make the medium a little more mainstream with Light from the Underground, a three-day festival screening 15 experimental films from their original 16 mm format.
"These things are definitely in and of themselves worthy of watching," says Jon Allen, a founder of Open Cinema who is helping organize the screenings. "They're pieces of art in and of themselves, but for whatever reason they don't get as much exposure. I think it's that they fall through the cracks. They don't quite fit in an art museum, and they don't quite fit in a movie theater."
The festival kicks off at 8:30 tonight at Love Garden Sounds, 936 1/2 Mass., with a screening of Michael Snow's "Wavelength," a 45-minute film set in a loft apartment. The camera gradually zooms closer into its shot until it is focused on a photograph on the wall across the room; meanwhile, sound tones gradually increase over the same period.
Offerings later in the weekend, which will be screened at Alderson Auditorium in the Kansas Union, include:
¢ "At the Academy," by Guy Sherwin, which uses film leaders - portions of film that typically precede a feature to help projectionists with timing and focus - to create a work of its own.
¢ "The Flicker," by Tony Conrad, which creates a strobe-like effect with alternating dark and light images.
¢ Several animations by Harry Smith, a filmmaker who also is known for his anthologies of American folk music.
The films were rented - with help from a $500 grant from the Lawrence Arts Commission - from the Film-Makers' Cooperative in New York.
"They're pretty hard to get your hands on," Allen says.
'Different social function'
Housh considers the question carefully: What's the value of watching experimental films?
"I was thinking about this, and I knew that question would come up," says Housh, who is getting his doctorate in film at Kansas University and who studies experimental films. "Not to sound corny, but the nature of cinema is escapist. You get lost in the story. The nature of cinema is an escapist environment."
He argues that the average Hollywood film is designed to lead to emotional escapism.
"I think what's interesting about these (experimental) films is these are trying to do the same thing on a more physical, gut level," Housh says. "They're hitting you directly, in a very visceral way."
He notes that "The Flicker" gives a warning to those prone to seizures.
"I think it's neat to see a film in a different social function," Housh says. "If I go to a movie at Southwind (Theaters), when people are walking out, they're wondering, 'Did you think they'd get back together?' or 'I wondered if that guy would get shot.'
"With these films, it's, 'Were your eyes involuntarily twitching?' It's a different effect."
Challenging films
The folks with Open Cinema hope to make Light from the Underground an annual event. But it depends, in part, on how people respond to the films.
"We're just presenting them as-is," Allen says. "We're not going to talk too much about them. We want to show them and have (the audience) draw their own conclusions.
"These are considered modern art. A lot of times at a museum, a piece of art has writing on the wall explaining it. Some people need that to justify these pieces, but a lot of times I don't think it's necessary and almost better not to have that thing there to affect your experience. That's the way we want to present it. We don't want to tell people why they're important."
Some of the experimental films, Allen says, have led to important filmmaking techniques that influenced major feature films.
But he says the experimentals themselves have entertainment value.
"The value in watching them is it opens your eyes up to different ways of perceiving film," he says. "It challenges your perspective on film and what the possibilities are.
"They are challenging to the viewer, but at the same time anybody can enjoy them. I think a lot of them are enjoyable movies. It's delightful to watch people play with film in intelligent ways."
More like this story on Lawrence.com