Black and white threads hang limp from the working end of an unfinished shawl on Diane Horning's loom.
"That piece has been on there since January," Horning says, pointing to the studio space in the corner of her downtown shop, Diane's Artisan Gallery.
She stopped weaving the garment a few weeks after she found a hard spot in her left breast, went in for testing and discovered she had an extremely aggressive form of breast cancer.
The tumor was big - about the size of a plum - and Horning started chemotherapy immediately. Surgery was on the horizon.
But she was determined to keep her gallery open. Although she cut back store hours, she made sure to post the new times on the door. She printed postcards for the upcoming January gallery walk.
"I was going to do it, and then I got really sick. I think I had a flu bug on top of the chemo," Horning recalls. "I decided, this is crazy. I just need to concentrate on me."
So she closed the gallery.
Now - five months removed from a mastectomy - Horning is ready to open the doors again. She's trimmed her commitment, setting hours on Thursday, Friday and Saturday only. But she hopes to increase that time as she continues to heal.
She says people, not art, have helped her most during her ordeal.
"And having this gallery meant that I knew those people," she says. "I probably would have been in much sadder shape if I hadn't had this place before my diagnosis."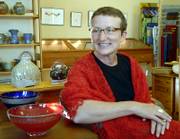 'A fighter'
Horning opened the gallery at 801 1/2 Mass., above Round Corner Drug Store, in May 2004 after moving to Lawrence in November of the previous year. Her husband, Al, had been transferred to the area by his company.
Pottery, glassware, wood turnings, woven garments and jewelry created by fine craftspeople from Lawrence and across the country occupy the store. Horning says the artists have been extraordinarily supportive through her illness, sending e-mails and cards, dropping off meals at her home and assuring her they'd keep their work in her shop.
Larry Brow, a Lawrence ceramics artist featured at the gallery, says what he's missed most about having it open is seeing Horning there. Beyond that, though, he loves the space.
"Because it's unified by Diane's excellent taste, all the objects interact well together. I think in our own lives our houses can fill with many things that are there more or less accidentally - good or bad," he says. "Diane is very thoughtful and intentional about the work in her gallery."
Brow has had several friends with breast cancer, and he worried about how Horning's body - she's a petite woman - would handle the disease.
"But I didn't worry about her spirit," he says. "I knew that she would be a fighter."
Baby steps
He was right. Throughout four months of grueling chemotherapy, Horning never missed a treatment. In fact, she drove herself to her appointments.
"I'm 52, about to be 53, and I'm healthy otherwise, so I think I was lucky," she says. "But it's not fun. You're pretty much knocked out. Increasingly, as the months go on, you get sicker and sicker."
Her husband, Al, remembers weeks when his wife could barely get out of bed. But she persevered with the support of friends and family.
"She's tough. She's always been tough," Al says. "She tackled this like she tackles everything else in her life. ... I'm anxious to see her energy return and for her to be healthy again. Going back to work is just an outward sign that everything else is coming back, too."
During her surgery in mid-May, doctors found more cancer in Horning's lymph nodes than they expected. So she took oral chemo for three months. Now she's wrapping up her last few weeks of radiation treatment.
"I'm cancer-free, but it's still very early," she says. "The real test will be three years out, five years out. And that would be hard if it reoccurred, but then you just deal with it then."
Horning admits she's a little impatient about her recovery. She wants to shed the weight she gained, but she can't walk as far or do yoga as vigorously as she once did. But she's eating healthy and staying as active as possible. And she feels a difference when she climbs the steep steps to her shop.
"I would come up here when I was in the middle of chemo and recovering, and I would basically pull myself up," she says. "I noticed the other day that I wasn't doing that anymore. It's the little things."
Feeling better
Although Horning enjoys making her own art at the loom, she says it wasn't hard for her to stop when she got sick.
"It would have been harder to keep going," she says. "Weaving has been an addiction for me, and it wasn't. It just wasn't important. You just totally change your priorities."
She figures her cancer experience - facing her own mortality - will change the kind of art she creates. Perhaps she'll explore different techniques that she hadn't made time to try before.
"I'm not going to be weaving forever," she says. "I need to do some new stuff."
As for other new adventures, Horning and her husband traveled to Portland, Ore., this summer for their daughter's wedding and took a side trip to wine country, where she actually wanted to visit art galleries again. She also dragged her family to every gallery she could find last week while in Houston for a breast cancer walk.
"I knew I was feeling better when I got interested in art again," she says. "I knew life was coming back."
More like this story on Lawrence.com