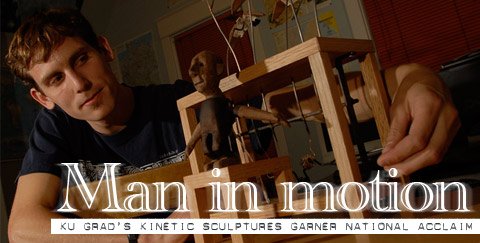 It all started with a wooden duck that quacked and pooped.
A talented 17th-century clock maker built the creature, which did most things a real duck would do, including eat and "digest" food.
The magic behind the motion hid in a box underneath the duck's body. Inside, a series of gears worked to power the bird.
"I saw that and thought it was so cool," says Andrew Hadle, a May graduate of Kansas University's sculpture program.
So he started researching kinetics and developed his own system for animating wood-carved figures with the turn of a crank. One of the results was a small body of work featuring important modern artists acting out some of their more eccentric or unfavorable characteristics.
In "Picasso and Barbie," the famously promiscuous Spaniard paints a portrait from a model, in this case a scantily clad blond doll in a suggestive pose. A crank on the piece powers a network of exposed gears that move the artist's arm up and down, as if painting, and turn his head back and forth from the model to the canvas.
Other sculptures in the series depict an aged Henri Matisse cutting paper in bed and Jackson Pollock vomiting one of his signature splatter paintings.
"I think what I was trying to do with that is kind of give fine art a punch line," says Hadle, 25. "It's taking these serious art icons and removing them from the art history books for a little while. ... I think it's kind of adding that human quality to something that's maybe more iconic or untouchable.
"They all are, in a way, telling a joke."
Stand-out student
And Hadle's getting the last laugh because his chuckle-inducing creations have earned him a spot among 22 winners of the 2006 Outstanding Student Achievement in Contemporary Sculpture Award, given by the International Sculpture Center, which publishes Sculpture magazine.
It's quite a distinction. Jurors selected Hadle's "Picasso" sculpture from a pool of 377 nominees from 142 schools.
"I was pretty jazzed about it when I found out," he says.
Hadle is in Hamilton, N.J., this weekend, where he and the other award recipients' winning pieces are on display through April 29 at Grounds for Sculpture. He's also featured with the other winners in a spread in the October issue of Sculpture magazine.
"(That publication) is an authority in the field. It's a place people look to for information, current trends and current thinking going on in the sculpture world," says Matthew Burke, the KU assistant professor of art who nominated Hadle for the honor. "Andrew is one of those kids who just stands out and is an exceptionally hard worker."
Johannah Hutchinson, director of the International Sculpture Center, says students submit a lot of kinetic art to the competition, but this is the first time she's seen one of the moving pieces win.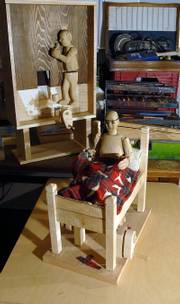 "His work is very playful," she says of Hadle. "'Picasso and Barbie' is sort of funny, but it's also playing with the idea of the artist and the model, and what we think of as the traditional perfect woman. It's very engaging, and I think that's why the jury liked it, because it was lighthearted and sent a message as well."
Jurors for this year's competition were Lynne Allen, artist and director of the School of Visual Arts at Boston University; Marsha Moss, independent public art curator and consultant; and Beverly Semmes, artist and educator.
"These people have a broad understanding of the field of sculpture," Hutchinson says. "They've seen a lot of student work, so they know if something's new or creative."
Promising start
Hadle doesn't just make toys. His portfolio also includes cast bronze figures, paintings and comic strips.
His larger-than-life-size steel and cast aluminum "Future Man" - weighing in at about 400 pounds - stands at the corner of Ninth and Massachusetts streets as part of Lawrence's 2006 Outdoor Downtown Sculpture Exhibition.
But that heft is a departure from Hadle's tendency to work diminutively. Most of his pieces don't exceed 18 inches tall.
"I generally work rather small, just because things eventually kind of pile up," he says. "It's better to pile up little things than big things."
That's especially true now that Hadle is out of school and working in his own studio. He rents a space at the Arts Incubator in Kansas City's bustling Crossroads Art District, where he had a show in May. Although he puts in 40 hours a week at Paul David Restoration, he tries to spend his weekends in the studio creating new work. Eventually he'd like to go to graduate school and land a gig teaching art at a university.
He's off to a promising start, says John Hachmeister, a KU associate professor of art who teaches sculpture and is one of the directors of the Arts Incubator. He notes that Hadle is the first KU student to win the International Sculpture Center honor since its inception in 1994.
"He's really tapping into something about how we're looking at this idea of art history as this monolithic, didactic identity - and it isn't," Hachmeister says. "Also, there is so much that is so serious. I think everyone found it refreshing to find someone who could have vibrancy and happiness in his work."