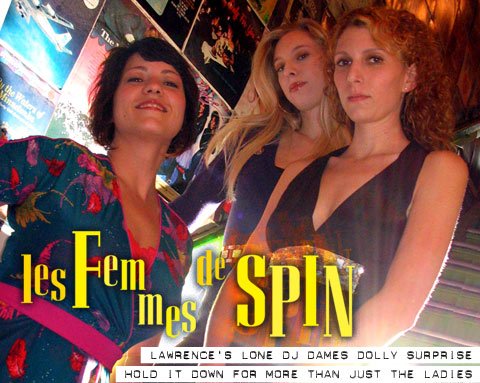 By day, Megan Dudley is a typical 20-something Lawrence townie. She bakes bread at Wheatfields, shops thrift stores and hits the floor at local dance nights whenever she can.
By night, Dudley becomes DJ Do-Right, one-third of Dolly Surprise, the only female DJ act in town. She spins some obscure Bonnie Raitt and Robert Palmer between newer disco punk cuts from artists like Chik Chik Chik (!!!)
So far, she says, crowds are digging it.
But Dudley says she knows the typical Lawrence music snob (read: a dude) wouldn't immediately pick up what she's puttin' down.
"No one's ever said anything to me to, like, put me in my place," Dudley says, "but I can kind of sense it. I think guys just assume that I'm gonna want to play cliche chick music.
"But when I bust out with the Beastie Boys or something they're like 'whoa, I can't believe you're into this'!"
Past Event
Saturday, October 14, 2006, 10 p.m. to 2 a.m.
Eighth Street Tap Room, 801 N.H., Lawrence
21+ / $2
The misconception that girls only want to dance to Madonna, Prince and Michael Jackson songs couldn't be further from the truth, says Kate Furst, a.k.a. DJ Furst Bass of Dolly Surprise.
In fact, Furst says, she became a DJ so she could dance to the music she likes, and she thinks many other girls like, too.
"We used to get ready to go out at each other's houses," Furst says. "We'd bring over our new records we'd bought recently. We'd play 'em and dance to them, and they were real fun dance songs :we'd be going out to dance nights and we weren't hearing anything like that :We were just thinking, we have all these record collections - why don't we start our own dance night and we could share this music with other people?"
So Furst, Dudley and Meghan Brozanic, a.k.a. DJ Gloria Vanderbilt, formed Dolly Surprise, a group that claims to be "Lawrence's only dance night hosted by women" - a label that requires some clarification.
Audio clips
Dolly Surprise DJs talk about DJing as females in Lawrence
Brozanic says some people think Dolly Surprise Dance-A-Rama is strictly for the ladies. But it's not.
Dolly Surprise keeps genres and artists freshly mixed to please even the most fickle dance-floor divas and divos by sticking to a tag-team technique. Each DJ plays three songs, then gets off the stage to dance, drink and mingle. Brozanic says they like to mix quirky songs with more accessible crowd favorites from Madonna or Kanye West - just so long as they're not predictable, played-out hits.
Each DJ in Dolly Surprise brings her own specialty to the turntable: Brozanic loves little-known disco gems, Dudley digs modern musicians like Beck and unexpected artists like Joni Mitchell, and Furst has a passion for funk and '80s music.
As Furst talks about Dolly Surprise's first gig back in February, her cell phone begins to chime. Billy Ocean's '85 classic "Caribbean Queen" is her chosen ring tone.
"We love Billy Ocean," Furst admits. "We're kind of into some of the kitschier stuff."
Dolly Surprise spins songs other DJs wouldn't touch with a 10-foot pole, like a Sesame Street song where The Cookie Monster sings about his cookie being hustled away to another disco. The girls also have a fondness for '80s Moog synthesizer records and classic rock - Steely Dan and Hall and Oates are show staples.
Jeremy Sidener, manager of The Eighth Street Tap Room, says that seeing younger kids dancing to Top 40 '80s hits and other musical oddities he heard in his youth is a bit strange. But he liked Dolly Surprise's taste enough to book their first shows at The Tap Room.
"And then they left me high and dry," Sidener says, referring to the group's move to the Gaslight. "And now they came crawling back."
Starting Oct. 14, Dolly Surprise will inject some of their trademark kitsch into Second Saturdays at The Eighth Street Tap Room, where they will host Dolly Surprise Dance-A-Rama every month.
Ladies' night
Dolly Surprise never set out to be the only female DJ act in Lawrence. It just sort of happened. There are countless DJs performing on any given night in this town. But only three of them are women.
"There was another one ..." Furst says, thinking hard.
"No," Dudley says. "She moved."
Brozanic says she worries that because the group is the only one of its kind, people might see it as a gimmick.
"I think male DJs can draw a more regular crowd," she says.
Gabriel Booth, who does most of the booking for the Gaslight, thinks otherwise.
"The DJ scene is mostly dominated by males," Booth says. "I think they attracted people to them because they're girls."
And though the members of Dolly Surprise say it's hard for them to book gigs because they're "chicks," Sidener says he had no qualms about handing them a regular gig.
"It's not that hard to put a record on the turntable and push a button," Sidener says. "I'm surprised there aren't more girls doing it."
Sidener points out that in England, female DJs are very common. He's not sure why they aren't common here, but he does know that there are plenty of female DJs out there "that haven't stepped up to the plate," such as those that work at KJHK but don't perform outside the studio.
Brozanic and her fellow Dolly Surprise DJs say they were intimidated to start up the group with minimal experience. Sure, Brozanic and Furst had had experience DJing for KJHK. But spinning records face-to-face in a bar or club is different. It takes balls. Well, sort of.
Furst says she gleaned her courage from a former KJHK station manager Meredith Vacek, who now lives in Seattle.
"In a town full of men, she helped start Dance Dance Revolution and Shameless and art shows at her house. (All) of her best friends are men and they're all involved in the same stuff and then there's her. And no one else is doing this," Furst says, adding that Vacek had sexism "horror stories" about getting gigs booked in Lawrence.
"She just helped us take charge and be assertive. Not aggressive, or passive in the least, but assertive," she says.
Despite that attitude, members of Dolly Surprise have a few sexism stories of their own.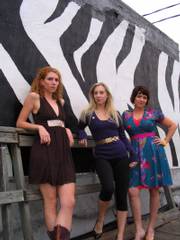 There was the time when they were all but guaranteed a spot on the weekly DJ roster. They went in for an appointment, but were promptly told the spot had been given to, Furst says, "less qualified men." The same venue offered them a different night, then retracted that offer, too.
Furst says she told them, "It seems like you give breaks to men but you're not giving us a break," to which the booker replied, "Well, yeah, that's pretty much the way we do it."
And then there are the occasional creeps that show up to Dolly Surprise Dance-A-Rama strictly to ogle. Brozanic says "random old drunk guys" sometimes come up with peculiar pick-up lines like "I can see up your dress" when she's onstage.
She says they also get "the rich yuppies that stumble in like, 'here's my card, we'll help you out'."
Sexism is one problem. Struggling to book shows is another.
Just last week, the group was set to perform at the Ladytron aftershow at the Gaslight. It would have been their biggest gig to date. But just three days prior, the show was handed to another local DJ. Granted, Furst admits he is more experienced and probably better known. But Furst, Brozanic and Dudley say they couldn't help but be disappointed.
The Music Women
Brozanic, Furst and Dudley are constantly on the lookout for new records. They say they love to scour The Social Service League Thrift Store, Half Price Books, and the dollar room at the Love Garden, for cheap, rare albums.
They're the type of girls that, in the case of a fire, would choose to save their vinyl collection over their shoe collection. But they'd still scale the fire escape in candy-red pumps.
Emily Hadley is a record collector, too. She remembers combing through racks at Recycled Sounds and Music Exchange in Kansas. She also spent four years working at the Love Garden, where she says she learned the majority of record collectors are men.
"I never knew a single girl that went to Recycled Sounds or Music Exchange," Hadley says. "I don't know if I've ever seen a girl in Music Exchange."
Even though Love Garden's clientele was more male than female, Hadley says the staff there "had a real sense of wanting to keep a balance. They didn't like it if there were too many guys or too many girls. The last thing we need is to have a story run by guys, filled with guys."
Hadley, who also DJed at KJHK in her college days, says she isn't sure why "girls are left on the sidelines" when it comes to the local music scene. But she doesn't find the fact surprising.
"Unfortunately, I think it's just kind of a fact that when you get really involved in an activity or organization, women tend to be less represented," Hadley says, adding that maybe men are conditioned from the start to be more assertive than women.
For whatever reason, Dolly Surprise are an anomaly in Lawrence. Furst says they're just waiting for some friendly female competition.
"We want guest DJs. Especially female," Furst says. "I want to see more female musicians in Lawrence. And more female DJs."
Despite that plea, Furst says Dolly Surprise wasn't formed to combat sexism. Dolly Surprise was formed to combat boredom, uniformity and bad music.
"We're trying not to make it seem like we're taking the feminist approach," she explains. "We're just wanting to have a good time and help other people have a good time, too. And dance, get up and dance!"
More like this story on Lawrence.com