Photo Gallery
Style Scout: Kelly N. Dvorak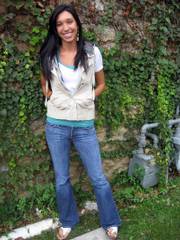 Kelly N. Dvorak
Occupation and/or major: 75th Street Brewery, Journalism
Hometown: Overland Park
Time in Lawrence: 2 years
Age: 19
Where were you when scouted?
Signing copies of the Women of the Big 12 Playboy issue she appeared in.
Favorite clothing store?
Urban Outfitters
Other stores you frequent?
Nordstrom, Guess, Forever 21, Abercrombie, Target - I like their jewelry, it's cheap.
How would you describe your style?
It changes - depends. I like to think I can pull off more than one style. If I'm going out I dress sexier than if I'm going shopping on Mass. I guess, anywhere from casual/cute to late-night : late-night dramatic, how's that?
Favorite trend for this season?
This fall? I like jackets and vests and layering things. Accessories and color, too.
Least favorite trend right now?
I HATE headbands. And I HATE leggings. Headbands look childish. They remind me of when I was in third grad and we wore the puffy ones that matched every outfit. And leggings are just unattractive. I've never seen anyone in them and was like "That looks good."
Where do you get your haircut?
Beauty Brands on Clinton Parkway. I just got it cut a few days ago because we took our composite picture for sorority - Delta Gamma.
Favorite coffee shop in Lawrence?
I like Milton's but I don't get there very often because I'm so busy working.
Favorite bar in Lawrence?
I go to the Hawk a lot. And the Ranch - so I can see all my friends and get my dance on. I like Quinton's whole vibe and it's probably my favorite. I like the upstairs.
Is there anything you'd like to see more of in Lawrence?
More parking on campus and around campus. I've basically taken over my boyfriend's house at the Reserves, so I drive and parking sucks because you have to pay. I hate parking meters - I never have quarters. More shopping would be good, too. There's only like one place to go here - Mass. Street. I like Britches and other places, but everybody has the same selection. We need a Zona Rosa outside of town - like over on Sixth and Wakarusa in that huge field.
More like this story on Lawrence.com