Thursday, October 12, 2006
It's not the type of role Sarah Bezek had any experience with.
A girl is dealing with the death of her mother and, at the same time, trying to start a new relationship with her father, who is gay and has been out of the picture.
"I didn't find it that difficult to get into it," says Bezek, a 16-year-old actress from Baldwin. "But it's not something I'm familiar with. Both of my parents are alive and together. But everyone seems to understand the story. The message I get is relationships take time, they hit rough spots, but it can always get better."
That's the message behind "Turns," the latest play written by Lawrence playwright Ric Averill. It opens Friday at the Lawrence Arts Center, 940 N.H., and runs through Oct. 22.
"It's more of a drama than a lot of the stuff I write," says Averill, the center's playwright in residence. "A lot of the shows I write are centered around some sort of educational theme, or they're biographical, or they're based on a fairy tale or some sort of adaptation. It's refreshing to write just a nice slice-of-life piece."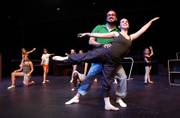 In the play, Bezek's character, Marta, is still grieving from her mother's death and is preparing to audition for an upcoming dance production. Her father, Timo, suddenly comes back to town and wants to be part of her life after being gone for five years.
Timo, who returned to town with his partner, decides to restart his dance career as a way to reconnect with his daughter.
Averill says it's nice to present a play that involves some gay themes without the entire play focusing on those themes.
"Even people who have religious difficulties (with homosexuality) have a certain ability accepting that lifestyle," Averill says. "When it's within your life, you deal with them on the terms of where they are, and that's what the play does very much."
Joseph Serrano, the Kansas City, Kan., actor who plays Timo, says "Turns" tackles bigger issues than most of the other children's theater he's been involved in.
Past Event
Saturday, October 21, 2006, 2 p.m.
Lawrence Arts Center, 940 New Hampshire St., Lawrence
All ages / $7.50 - $10
"This is still appropriate for middle school kids," Serrano says. "But this has a lot more weight to it. The play, as a whole, is about relationships, forgiveness and second chances. It's a fantastic message for all kids."
Averill says he got the idea for setting the play around a dance production when he started ballet lessons at age 50.
"I admired the discipline kids had, and the relationship between the kids and the ballet teachers," Averill says. "They work extremely hard over there in classes."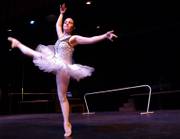 "Turns" started off as a script for a short film before Averill adapted it for the stage. He plans to submit it to children's theaters in Minneapolis, Seattle and Omaha, Neb., for consideration, and he still has hopes of turning it into a film.
The Lawrence cast involves a mix of adult actors, child actors and child dancers. Serrano says the cast has been motivated by working with Averill.
"It's great to work on original works like this," Serrano says. "This is great because the director wrote it. We're helping him polish it off."
Averill says he's especially proud of "Turns." He says he's been e-mailing friends encouraging them to come to the show - something he doesn't always do.
"This," he says, "is where my art is at right now."
More like this story on Lawrence.com