Bill Snead is scared of heights.
Still, in March 1963, he edged out onto a rickety scaffold 258 feet off the ground to photograph a worker installing copper sheathing on the Kansas Statehouse dome.
Shot with a wide-angle lens, the resulting picture shows two men at work: the roofer and Snead, whose jacket and camera fill the bottom of the frame - proof that he had serious guts.
Or that he was more afraid of getting scooped by his talented colleagues at the Topeka Capital-Journal than he was of high places.
"Someone would have gotten to it the next day. They would have seen him up there, but they would have gone on top of a hotel with a telephoto lens and shot him up there working. And I knew no one was going to do this," says Snead, a Lawrence native and senior editor at the Journal-World. "But if it hadn't been for that competition, I would never have done that in a hundred years because I was terrified.
"The bottom line, whether you're writing or shooting, you've got to want it. I mean you've got to really want it."
Snead should know. His tenacity took him from a pup shooting his first sports picture as a Lawrence High School senior to a seasoned pro snagging shots of rock stars, refugees, presidents, celebrity criminals and major moments in world history for the likes of United Press International, The Washington Post and National Geographic.
Bill Snead slideshow
Bill Snead discusses his photographs. See audio slideshow »
Now he's home again, taking photos and writing stories about people and places in Kansas.
On Friday, a retrospective exhibition opening at the Lawrence Arts Center takes a look back at Snead's storied career. "Bill Snead Photographs: The First Fifty Years" kicks off with a reception from 7 p.m. to 9 p.m. and remains on view through Nov. 28.
"Although he doesn't consider himself to be an artist - he obviously and rightly considers himself to be a photojournalist - I think that in photography there is a tradition of the highest quality photojournalism also being considered works of art," says Rick Mitchell, arts center gallery director.
"When you do a really good print and you frame it and you put it on the wall in an art space, it changes it somehow. You look at it in a little different way. It goes from being an illustration of a story to sort of standing on its own."
'Storytelling pictures'
As much as Snead's photos stand alone as works of art, they also tell stories.
There's Mother Teresa, barely 5 feet tall, addressing a prayer breakfast from a podium in Washington, D.C. Snead shot it from the side, where it's possible to see the platform the Nobel Peace Prize-winner had to stand on to see the audience.
Photo Gallery
Bill Snead Retrospective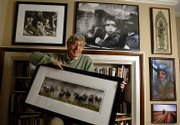 There's the intensity pouring out of the bright white eyes of a black-faced coal miner, one of two workers who refused to walk out on strike at a Virginia coal company.
There's a line of Kurdish refugees whose expressions read exhaustion, fear, hunger, pride as they await medical treatment in an encampment in the Zagros Mountains at the Iraq-Turkey border.
There's the billowing wheat field in Western Kansas, whose green expanse is broken only by two teens in white caps and gowns - the lone members of a dying rural high school's senior class.
"His strength is he just makes good pictures that are storytelling pictures," says photographer Rich Clarkson, who hired Snead at the Journal-World in 1954 for 75 cents an hour. "Inherent in all of them is journalism. They aren't just pretty pictures. They're pictures that tell you something."
Moving on up
Snead will tell you he's been lucky. He says so in the opening paragraph of the book created to accompany his exhibition.
He knew from the time he snapped his first photograph at age 17, during a 1955 Kansas University basketball game in Hoch Auditorium, that he wanted to be a photojournalist. That shot was published the next day in the Journal-World and later moved on the Associated Press photo wire.
Past Event
Friday, October 20, 2006, 7 p.m. to 9 p.m.
Lawrence Arts Center, 940 New Hampshire St., Lawrence
All ages / Free
"I was hooked," Snead recalls.
For nine years - first in Lawrence, then at the Topeka Capital-Journal - Snead worked under Clarkson and says he has the "emotional scars to prove it." Clarkson demanded the best and got it from his staff.
"You didn't come in and sit in a chair and wait for an assignment," Snead says. "You'd go out and get in your car and not just cruise the town; you'd go someplace with an idea in mind. And a lot of times, what you got doing that was better than any assignment you got that day."
Snead's work began getting noticed. He accepted an offer in 1964 to run the photo department at the Wilmington (Del.) News-Journal, where he covered assignments in South America and Vietnam and shot the Beatles at a press conference in Philadelphia.
Three years later, United Press International hired Snead to run its photo bureau in Saigon, Vietnam. During his only full year in the country, there were more casualties recorded than in any other year of the Vietnam War - keeping the story, and his photos, on page one.
Pulitzer finalist
Back in the states, Snead spent a couple of years shooting decidedly more tame work for National Geographic before taking a gig in 1972 running the photo department at The Washington Post, a few months before the Watergate scandal broke.
It was during his 21-year stint at the Post that he took a series of photos that nearly won him a Pulitzer. He was vacationing in Europe in 1991 when he heard a BBC report of a half-million Kurds being bombed and gassed and driven out of Iraq into the mountains of Turkey, where they were just as unwelcome.
Snead headed to the mountains, where 1,000 Kurds were dying each day. He transmitted photos every night, and the Post was the only American newspaper with a photographer on the scene.
Via satellite phone, Post editor Ben Bradlee said, "Snead, you're kicking the Times' ass."
Snead couldn't have been more proud.
His vacation experience taught him a few things about great photojournalism: You often have to do it on your own time.
"And if you're not capable of coming up with original ideas, you'll never rise above ordinary," he says.
Big fish
After that banner year at the Post - Snead was named White House Photographer of the Year and was a runner-up for a Pulitzer Prize - he came back to the Journal-World to run the newsroom.
Now, as senior editor, the 68-year-old handpicks stories that he hopes will resonate with readers - stories about rural life, cancer battles and colorful characters. His camera is digital now, and he often records audio and video to accompany his stories online.
It's a different world, and it keeps him on his toes, never feeling like a big fish in a small pond.
"Honest to God, I don't think about this stuff," Snead says, pointing to the new book that contains selections of his life's work in photos. "I've got a story to write for Sunday that I'm battling with, and that's all I'm thinking about.
"I honestly don't think, 'Well, why am I at this Little League game when I've been to the World Series?'"
- Contact <a href="http://www2.ljworld.com/staff/bill_snead/ ">Bill Snead</a>, Lawrence Journal-World Senior Editor
More like this story on Lawrence.com