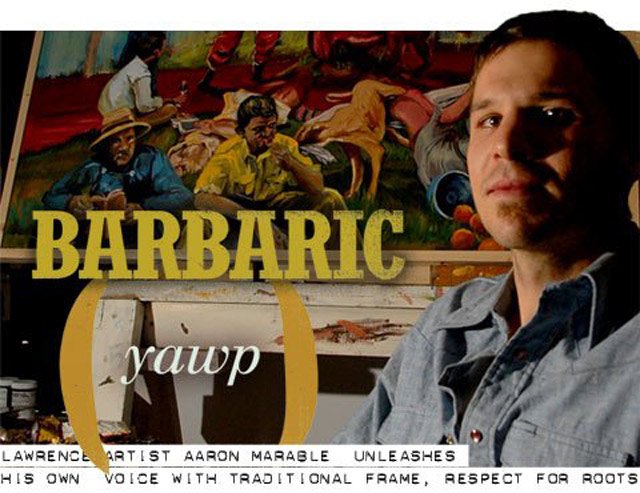 Aaron Marable is unshakable.
In this world that scoffs tradition and history, we're constantly reinventing the rules. The mantra's steady hum numbs us: Make it new, noticeable, a large bang on the limited attention span of the national mindscape. Art drives this infernal machine, crashing Big right into us every time we try to wade in. Look at my Installation! Hear my Loud Noise! It's in your face, full of slick innovation and flawless execution.
So little passion.
Such cold communion.
Then Marable saunters onto the scene with paintbrushes and panels and strikes a blow somewhere between what you knew and what you want. Someplace visceral that doesn't leave you bored.
Someplace where art is supposed to hit you.


A Portrait of the Young Man As an Artist
"The man that can't visualize a horse galloping on a tomato is an idiot."
-Andre Breton
Past Event
Friday, October 20, 2006, 7 p.m. to 9 p.m.
Lawrence Arts Center, 940 New Hampshire St., Lawrence
All ages / Free
Marable's imminent show is a testament to his remarkable ability to hold his own among the realities of being a painter in this contemporary age. Despite a full-time job, he's in his studio six hours a day. Despite working in a medium declared dead (then resurrected, then declared dead again), he's a painter. Despite painting's looming, centuries-long history, he's prepared to work it more, finding new solutions and avenues to take it.
"Aaron Marable: Paintings" opens Friday at the Lawrence Arts Center. It's a sprawling collection populated with smaller themes, interests, and takes. Like electrons moving rapidly around a solid core, these paintings feed and bounce off the others' energy, coalescing into a whole mass that works as an accomplished body.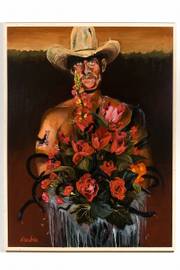 "Lonesome Cowboy Bill," an intimate portrait of a cowboy holding a bouquet of funeral flowers and snakes plays against "Beauty Rides Alone," a sweet, pretty-in-pink play at role reversal. These sympathetic idealizations then hover in the tension of "Benton's Breakdown," a nightmarish blend of icons in a bucolic setting weighted by a Guernica-esque violence presented as possibilities in a parallel time.
Again, Marable is unshakable.
Brought together, these paintings have the potential to fragment into a confusing and misleading show, one where the intent of the artist is lost during his search for a style. Instead, Marable's deft hand and firm love of the medium holds each scene together and ties one painting to the next.
The oldest of five boys, Marable was raised in Robinson, a tiny Kansas town (pop. 216) northeast of Lawrence. His religious family eschewed contemporary, television-driven culture. The boys were expected to read books instead, to go to church, and to see life without the dysphemistic slant of modern pop culture.
The evolution of a painting
Aaron Marablediscusses "Benton's Breakdown."
View audio slideshow (8 min.)
Perhaps this background, unmarred by society's hunger for the new, is why painting dug into him early and led him through a BFA at Ft. Hays State University. It may also be why he recognizes growth as a slow evolution.


The Vision After the Sermon (Marable Wrestling With the Greats)
"They are such fossils! I mean that constructively. Is not the very earth we stand upon built from the bones of the past?"
-Campbell McGrath, "The Secret Life of Capital"
Extended conversation with the artist
Aaron Marablediscusses many of the paintingsin this show.
View audio slideshow (40 min.)
Rather than face down art history, two generations of art-world laborers have set course in myriad directions in search of a new millennial language. The result is yet to be fully interpreted; however, this chaotic Babel has left most observers unable to hear or see what the hell is going on.
In contrast, Marable finds painting's history inspiring.
"It just makes sense with a lot of what I come from," he says. "The history of painting looms so large, but it's what a lot of people think of as art. It's the mighty yawp." (See Whitman's "Leaves of Grass.")
Marable's relationship with painting seems to be something he would have been forced to reckon with if he'd chosen, say, performance art instead.
"It's essentially my acceptance of my aesthetic, my sense of tradition being really important, it's this part of me," he says. "I came to realize all the artists I respected so much, it was not what they painted, but the process itself, the stroke-that's what makes the painting so powerful."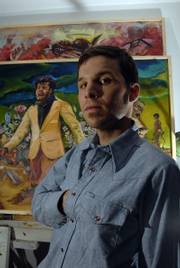 Being outside the current trends can also enliven an artist's direction. Similar to the weight of atmospheric pressure our lungs require, creativity breathes best when pushing against outside force.
"I feel like so much of the postmodern work is such disregard for [tradition], and this determination to do something new regardless of how strong it is," he says. "I think that change, true change, comes in baby steps."
Yet his appreciation for history doesn't motivate him to regurgitate old standbys. Marable is an artist with his own voice, a painter focused on giving gravity to new narratives by rooting them in what has happened before. Like Newton, he acknowledges that he is standing on the shoulders of giants. Marable's list of influences is long: Sargent, Clemente, Goya , Schiele , Velasquez , Manet , Winslow Homer , Wyeth , Basquiat , Bonnard , Courbet , Lucian Freud , and early Diebenkorn - to name but a few, and without mentioning the poets, filmmakers, and musicians who also populate his well.
It's no wonder that talking to him is like having tea with a pinball: books are shown, paintings are moved, music starts and stops, poems are quoted, parables are told. Your mind is pushed and led all over the intellectual landscape, then somehow brought back and handed to you as a solid score. The dynamism of Marable's work is the direct result of an artist who successfully blends tactile breadth with intellectual fury.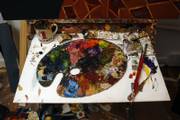 Excavation
"Listen: sometimes when you go to speak about life it's as though your mouth's full of nails but other times it's so easy that it's ridiculous to even bother."
-C.K. Williams, "The Sanctity"
Arts Center visitors familiar with Marable's work will note the subtle change in his style over the last couple of years.
He still works with realism, depicting scenes and recognizable characters who often populate bustling narratives. Yet his forms are more cohesive: whereas in the past his characters held together mysteriously by some frantic energy, the newer works flow together more easily. They don't feel as if they may blow apart if the magnetic field subtly shifts.
"I think it's a lot to do with just the practice of painting, the action of it-it's developing. And it has to do technically with the approach, in terms of laying it down," Marable says. "The figures are able to be more incorporated in their environment."
"I think before it was just a matter of being a young painter, and not caring to do it because I didn't feel it was important because there were other strengths in the painting that people should focus on," he continues.
Stylistic evolution is something Marable consciously contends with. There is "the overall need to push this realism as far as I can, to a point that still interests me," he says.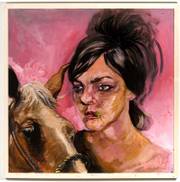 The masculinity and energy of Marable's work is easily compared with the mid-stream hollers of the 1950s New York School painters (De Kooning, Pollock). Yet rather than trip into the macho grandeur of 1980s art stars Basquiat or Schnabel, Marable's work is tempered by Goya's seductive naturalism.
Unlike Goya's yawp, however, Marable doesn't use realism to show us the news. In many cases, he's taking it deeper within, turning the topic in the room from the literal to, say, the current of violence in the human condition.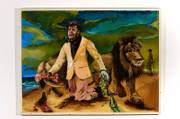 Hayden Carruth's poem "When Howitzers Began" inspired Marable's painting "Cripple Creek":
"...yet they were / stunned and again / stunned / and again and / again stunned, until their / lives loosened.... "
The image, in both the poem and the painting, are of fish killed in a river.
"I think there tends to be a preciousness attached to humanity," Marable explains, "So I like the idea of personifying these animals and giving them a voice, and also using them as examples of what we do to one another.... I think that painting is about the violence of man, especially considering our current situation. You can take it as literally as you want to, that you have shot a fish in the creek. And you can push it further, that fish represented Christianity. Before the cross, Christians were recognized by the sign of the fish; Christianity was nonviolence."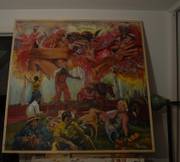 These multiple interpretations yield themselves to a mind vibrant with examples. This is the vitality of youth-the energy and masculinity and eagerness and tension of being young and alive, unable to stay in your own skin.
But don't expect Marable to stay right here, settled into narrative compositions. Growth, after all, is an inevitable engine.
Marable alludes to it best: "There's something very nonobjective and abstract in the near future."
More like this story on Lawrence.com