Stephen Johnson may have grown up in Lawrence, but he learned to get around town well during his 13 years living in New York City.
"I loved riding in taxis," he says. "When I first got there, there were still some of the old Checker Cabs. They were very roomy."
That time in the big city - which ended when Johnson moved back to Lawrence in 2000 - was the inspiration for his newest interactive children's book, "My Little Yellow Taxi."
It's Johnson's third book in six years that is a hybrid of fun and reading, incorporating movable and removable parts among the pages of the book. The first two were "My Little Red Toolbox" and "My Little Blue Robot."
The taxi book, which has been in the works since 2002, takes a youngster through the process of prepping a cab for a day's work. The reader can check the oil, fill the gas tank, fasten the seat belt, put the car in drive and do other interactive things associated with driving a taxi.
All the while, a clock in the corner of each page ticks down the time during the work day, helping introduce children to the concept of telling time.
"It's the perfect combo," says Lori Benton, vice president and publisher of Harcourt Children's Books. "It's a book, and it's a toy, and it's a learning opportunity. There's a story line that moves you through the book, and it's very simple. Often there are multiple activities on the page, each appealing to children and often enhancing motor skills."
Photo Gallery
My Little Yellow Taxi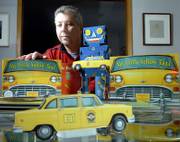 Long road
Johnson, who also illustrates other children's books and is a painter and sculptor, says he liked the idea of a taxi for his third interactive book because it was a primary color, like the red toolbox and the blue robot.
"The taxi worked because there was a reason to get it ready," he says. "There's the flag meter, and a reason why you drive this. There's a purpose, ultimately, and it allows for a bit of commerce at the end."
Johnson says the most difficult facet of working on the interactive books is coordinating activities from Kansas. He's here, his publisher is in New York, his designer is in San Diego, and the production plant is in Thailand.
"The hardest part is the stop-and-go aspect of such a book," he says. "You work on a prototype for the manufacturers, and then they send it back. Over the course of four years, that was hard to do. I'd get excited, but then there was a lot of waiting time.
"Someone could crank one of these out a year. But they'd water themselves down, and the quality goes down. It's harder than it looks to get the pieces to work and have a good story line."
Past Event
Thursday, October 19, 2006, 7 p.m.
Raven Book Store, 6 E. Seventh St., Lawrence
All ages / Free
'Dedicated' artist
Benton says the detail in "My Little Yellow Taxi" sets the book apart. She notes, for example, there's a small painting of the New York skyline in the chrome of the taxi's bumper.
"He's an incredibly dedicated person," Benton says. "He's really going the extra mile to make sure every detail is right. There are so many little things in this book that a casual observer would miss, but a child would notice going through it over and over again."
Nancy Horner says children do get excited about those details. She's the information resource specialist for Lawrence Public Schools, which has invited Johnson to speak to all fourth-graders in the district twice before. He'll do the tour, which is part of the district's Adventures in Imagination program, again in November.
"He really is amazing," Horner says. "He never lost touch with that youthful spirit and sense of play and delight."
More about Johnson
The fourth-graders will read "My Little Yellow Taxi" before Johnson goes to their school.
"You know the usual attention span of fourth-graders, but when Stephen's there they're enraptured," Horner says. "There's never a wiggle, never a disciplinary moment. They love the subjects, and they're just so manipulative and such an imaginative way they're put together. They're full of little surprises."
Johnson says he's thinking about ideas for another book in the series but isn't ready to talk about what it might be.
He's hoping "My Little Yellow Taxi" can piggyback on the success of his other two books. "My Little Red Toolbox" sold 300,000 copies and was a Publisher's Weekly best-seller.
"All three have this retro, nostalgic look to them," Johnson says. "It's just something timeless."
More like this story on Lawrence.com