Photo Gallery
Re-Do: Tabitha Kane at Images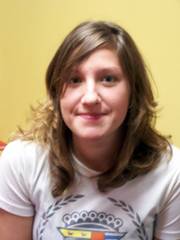 Colorist/Stylist: Scott Sueper
Education: Unbeknownst to him, Scott was born to do hair. "Growing up, I was very meticulous about my own hair-every hair had to be exactly in its place, and if it wasn't, I'd start again from scratch. As I got older, I always had to have the trendy hairstyles, and I even did my friends' hair in high school, but I was still oblivious to the prospect of doing it as a job. Finally, at a career fair in high school, my friend encouraged me to hit up the Xenon booth. I didn't tell anyone, but I decided right then and there that that was what I wanted to do." Scott later attended Xenon International School of Hair Design in Wichita, his hometown. During the three years that Scott remained in Wichita after that, he worked briefly at a couple of salons, and then became an instructor at Xenon, which proved to be highly beneficial to his training. "It really helped me to refine all areas of the job and to understand more about what it is to be a hairstylist." Scott then moved to Lawrence, where he worked at Beauty Brands before moving to Images at the request of Rocky, the owner. An instant success, Scott moved up from stylist, to manager, and finally to co-owner in a mere 3.5 years.
Esthetician: Kayla Masters
Education: Like Scott, Kayla also graduated from Xenon International School of Hair Design. But unlike Scott, she knew at an early age that she was destined to become a stylist. "I was a salon brat. My grandma has a salon in her house in western Kansas, and my mom was in beauty school, so I was surrounded by it all the time. I've always known that this is what I want to do." Kayla, a Wichita native, came to Lawrence after graduating and worked at Beauty First and Beauty Brands before moving to Images two years ago. "Scott and I work really well together. We've been best friends since beauty school and have always wanted to collaborate on a project like this, but never have until now."
Model: Tabitha Kane
Age: 22
Hometown: Smyrna, TN
Occupation: Political Communication student at KU, Union Bookstore employee, future civil liberties lobbyist
The Color
"Tabitha has what we call virgin hair," explained Scott, "which means that there's no color or treatment of any kind on it. She's looking for something more professional and sophisticated, but she doesn't want to have to come back in very often for touch ups. So we're going to stay close to her natural color, but make it richer, with a dark chocolate base. We'll also give her some natural fall highlights by using a technique that will make her look like she's been out in the sun. They'll grow out very naturally, so her hair will look great for months to come."
The Cut
To achieve that low-maintenance, yet professional style, Scott decided to leave Tabitha's hair long, but to reshape her existing layers. "She has some natural curl in her hair, but she straightens it all the time, so we're going to give her a cut that, any way she wears it, will stand out and make its own statement. One thing that I learned in hair school is that you should always balance the intensity of the color and the cut; if you go with a dramatic color, the cut should be softer and more subtle, and vice versa. A hairstyle should also compliment a person's personality, and that's what we're going to give Tabitha."
What's your philosophy on hairstyling?
"You should be able to style your hair, excluding drying time, in no time-5-10 minutes-and have it look great. The more time you spend on it, the better it'll look, but you shouldn't have to spend long. And the key to that is a great cut," said Scott.
"Don't think that just because you're a certain age that you have to have short hair or a certain style," added Kayla.
"Rules are made to be broken."
"Exactly. It's hair. It grows, so you should try new things. And don't think you're going to save any money by buying box color and trimming your own bangs, because you'll be in the next day to fix it. It's worth spending the extra $30 or so to get what you'll be happy with."
The Face
In keeping with Tabitha's new hairstyle, Kayla opted for a natural look for the face. "I want to do a day look. Nothing crazy. I'm going with copper tones, which will echo the tones in her hair and complement her blue eyes, so they'll really pop."
Products used in this Re-Do:
Redken hair color
Pureology shampoo and conditioner, color defense spray, and hair spray
Pureology Nanoglaze styling cream: Scott's favorite product. "Pureology is 100% vegan, and they don't test on animals, so I love the company. This product repairs your hair as it styles it really makes it feel more lush. It's also supposed to make it dry 30% faster."
Pureology Shine Max: Kayla's favorite product. "It makes fried hair look not fried. And whatever isn't absorbed into the hair shaft dissipates, so it doesn't look greasy."
Trucco Highbrow eyebrow color
Urban Decay shadow (twice baked and blunt)
Tigi liner (brown)
Tigi Blushed: "to give her a healthy flush"
Trucco powder (medium)
Glominerals lip gloss (darling)
Tigi mascara (brown)
Elizabeth Arden bronzer powder: "I'm really careful with bronzer, because I can't stand the orange, over-bronzed look."
More like this story on Lawrence.com