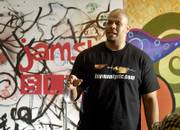 He towered over the 50 students and volunteers Thursday evening at the Van Go work site, 715 N.J.
Travis Watkins recited each line in his original work "My Word" forcefully and quickly, and suddenly his tone changed in the poem about racism.
"When tolerance is silent, hate is what's heard," said Watkins, a 2005 Kansas University graduate and former Jayhawk defensive lineman.
After several more lines rolled off his tongue, he slowed again.
"Find truth for yourself, don't just take my word," he said.
Watkins, an award-winning poet who now teaches high school in Houston, returned Thursday to Lawrence to perform his poems at KU and to collaborate with the 21 Lawrence students who are working to sell some of their art through the Jobs in the Arts Make Sense program at Van Go Mobile Arts.
The students and adult volunteers read their own poems as part of a "poetry slam" and workshop that Watkins led Thursday evening.
"Poetry is really sharing your soul with people," Watkins said.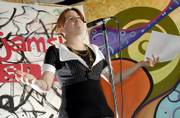 When he was at KU, he volunteered and worked with some of the same students now in the JAMS program. Through writing poetry, painting or creating other forms of artistic expression, the students are able to relieve some of the stress from emotional baggage in their lives, he said.
It's a technique that helped him growing up.
"Anything artistic they can do to put their mind to something - to create something instead of destroying something - is just a powerful statement," Watkins said.
Jessica Miller, a Lawrence High School sophomore, used a recent Lawrence tragedy as motivation for her poem.
She modified Peggy Nunziata's work "Tell Me 'Why?'" to write about Charles Glover Sr. and his four grandchildren, who died in a Sept. 17 house fire at 1205 N.J.
"Even though their souls are now crawling free, their dreams can never be," Miller read.
The Glover family is friends with her cousins, she said. They donated money to the family and gave them a copy of her poem.
"I just saw that part of my family was hurt about it, and I just wanted to write a poem for them," Miller said.
Watkins lauded the poetry and the other artwork he saw Thursday. Van Go is one of 17 youth arts and humanities programs in the country to receive the 2005 Coming Up Taller Award. The students are working at Van Go four days a week after school to create artwork for the annual "Adornment" gallery Nov. 25.
Related articles
Watkins has founded Layman Lyric Productions, which represents college poets and is a publication company.
After the session, as he sold and autographed his poetry book for several students and volunteers, Watkins engaged in a personal conversation with almost everyone.
"I'm going to check up on you, all right?" he said to a JAMS student as the two slapped hands.