Bill Snead slideshow
Bill Snead discusses his photographs. See audio slideshow »
A variety of Bill Snead's photographs from more than a half century of shooting are now on display at the Lawrence Arts Center.
"I've just always thought he was outstanding. The realism is just striking," said Lela Cooley, of Lawrence, as she passed a set of prints that show several Kurds who were removed from their homes on the Turkey-Iraq border in 1991.
Cooley and others previewed the dozens of photographs in the gallery as part of "Bill Snead Photographs: The First 50 Years."
A public reception for the Journal-World's senior editor will be from 7 p.m. to 9 p.m. tonight at the arts center, 940 N.H., and the display will remain on view through Nov. 28 with an artist's talk at 7 p.m. Tuesday.
Past Event
Friday, October 20, 2006, 7 p.m. to 9 p.m.
Lawrence Arts Center, 940 New Hampshire St., Lawrence
All ages / Free
Snead grew up in Lawrence two blocks from the arts center. He started shooting photos for the Journal-World when he was in high school and also has worked for the Topeka Capital-Journal, Wilmington (Del.) News Journal, United Press International, National Geographic and The Washington Post.
His prints on display in the retrospective exhibition vary from the Kurdish refugees to shots of presidents, from Truman to the elder Bush, to Wilt Chamberlain in a Kansas University uniform.
"There's a lot of variety because that's what I was trying to do. Just so I can have as many different things as I could," he said.
Photo Gallery
Bill Snead Retrospective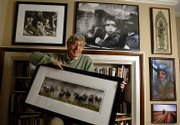 More like this story on Lawrence.com