As a 12-year-old boy, Juan Quezada began taking long trips to the mountains near his village in northern Mexico to collect firewood for his family.
He went alone, and as he walked he scooped up shards of beautifully painted pottery left behind by artisans of a bygone culture. He admired the precise geometric decoration painted on the remnants, and in his spare time, he dug clay and tried to make his own pots.
With much practice, he perfected his process, and by the time he was a young man in the 1970s, Quezada was making and decorating pots as a hobby.
His hobby has blossomed into an artistic movement that's still evolving and growing. Quezada continues to work at its center, but dozens of others follow his lead, including his eldest son, Noe, who will visit Lawrence next weekend as part of the Downtown Friday Gallery Walk.
Maria Martin, owner of Southwest and More, arranged the visit while vacationing last winter in Tucson, Ariz. There she met art collectors Jan and Russ Diers, who had brought Noe Quezada to Tucson to demonstrate his craft. Martin jumped at the chance to offer a similar program in Lawrence.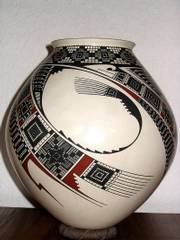 "Since Southwest and More deals in American Indian jewelry and fine art, including pottery, as well as Mexican imports, this was just perfect," she says. "So much of the pottery techniques are similar to those of the American Indian pueblo potters. It's an opportunity for people in this area to see pottery-making techniques done without the use of a potter's wheel, and using natural materials to create paint for the pots."
One pot at a time
Known as Mata Ortiz pots - named after the village where Quezada grew up and where roughly 60 percent of the people are now potters - they range from 1-inch miniatures to massive 3-foot vessels that sell for a couple of dollars up to several thousand bucks.
Everyone from blind grandmothers to little boys construct the earthenware pots, or ollas, using the same timeworn methods as their ancestors of the Casas Grandes culture. They start with a flat circle of clay, dug by hand in the nearby mountains, and top it with plump coils, smoothing the walls until they're thin as bone china.
Then they decorate the pots, painting sweeping geometric patterns using delicate brushes made of hair. The last step is the firing, done one pot at a time in a temporary outdoor kiln fueled by cow manure.
"We use a little rim to set the pot on; then we put a big clay pot on top of it and cover it with cow chips," says Oscar Trevizo, a Mata Ortiz potter who will serve as Noe Quezada's translator in Lawrence. "Then we start the fire, which gets like 1,000 to 1,450 degrees."
Quezada will demonstrate his potting technique from 10 a.m. to 6 p.m. Saturday at Southwest and More, 727 Mass., and conduct a firing in the vacant lot south of the Eldridge Hotel, 701 Mass. Mata Ortiz pots and jewelry will be available for sale at the gallery.
Movement by chance
Of all the Quezada children, 45-year-old Noe is the best potter and painter of ollas. He has distinguished himself from his father by developing his own style of decoration, using the same sweeping arcs and bands but filling them in with checks and dots that give the pieces a circuit board look.
"On some (pots), there are symbols of Paquime," Trevizo says of the pre-Columbian pueblo that flourished north of Mata Ortiz from about 1000 to 1400. "And there are some that just came out of his head."
The beauty of Mata Ortiz pottery is prized worldwide. Juan Quezada's ceramics can be found in museums and private collections throughout North America and as far afield as Japan and the Vatican.
It was a chance visit to a dusty New Mexico junk store that started the revolution.
Spencer MacCallum, an American trained in anthropology and art history, stopped by Bob's Swap Shop in Deming, N.M., in 1976 and came upon three pots that caught his eye. Fascinated by the finely painted patterns, MacCallum tracked Juan Quezada to Mata Ortiz and spent the next eight years working with the artist and other potters in the village.
He marketed the pieces to museum curators, academicians and gallery owners, and in 1979 and 1980, an exhibition on Juan Quezada and the pottery traveled to five prestigious galleries in Arizona, New Mexico and California. That collection stayed in tact and is now held at the Museum of Man in San Diego, Calif.
Now Mata Ortiz pots can be found in American Indian galleries throughout the United States, including Southwest and More.
"The excitement here is in the pottery-making technique and being able to see and purchase pottery that has moved from a thousand-year tradition to a contemporary art movement," says gallery owner Maria Martin. "This is a new art movement with new potters developing and adding to the vibrant flow of new ideas. It's very exciting."
Gallery Walk participants
It's About Time, 816 Mass., 842-1500, www.metalartist.com
Kimbari, 822 Mass., 842-1067, www.kimbari.net, paintings by Geoffrey Benzing
Lawrence Arts Center, 940 N.H., 843-2787, www.lawrenceartscenter.org, featuring "Bill Snead Photographs: The First Fifty Years" and paintings by Aaron Marable
Olive Gallery & Art Supply, 15 E. Eighth St., 331-4114, www.oliveart.org, featuring "Lilbits:plush to make you Blush"
Phoenix Gallery, 919 Mass., 843-0080, www.phoenixgallery.biz, featuring wall masks by Dave Van Hee
Signs of Life Gallery, 722 Mass., 830-8030, www.signsoflifegallery.com, featuring "Views from the Heartland," more than 60 high realist paintings and prints
Silver Works and More, 715 Mass., 842-1460, featuring Jim Connelly, jewelry; Dan Gonzalez, blown glass; Martin Orr, scavenger art; and Sam Taylor, ceramics
Southwest and More, 727 Mass., 843-0141, featuring "The Best of Mata Ortiz: Noe Quezada"
Diane's Artisan Gallery, 801 1/2 Mass., 856-1155, www.dianesartisangallery.com, featuring the handblown glass of Peet Robison, of Lake Lotawana, Mo.
More like this story on Lawrence.com