Their goals are the same, and ambitious even for young adults: to change the world with a brush and canvas.
Their tactics vary greatly. One uses in-your-face stereotypes from the past to confront racial issues. The other uses a deep respect for American Indian traditions to battle social problems.
In studying to become professional artists, friends Will Willmott and Anson Weeks Stancliffe have, themselves, become a study in artistic similarities and differences.
"Both have a pretty strong focus on bringing their social commentary to their work," says Diana Dunkley, a friend and artist who owns Studio 3D. "Will's work is extremely powerful, and Anson's work is powerful, but it's a little more subtle."
Both artists, 2004 graduates of Free State High School, will make their debut at the Lawrence ArtWalk next weekend as they show their works at Studio 3D, 1019 Del. They'll be two of the more than 60 artists featured in studios around town for the annual event.
"I have so much respect for them," Dunkley says. "Both have this intense drive to do their work. It's so refreshing for me at this jaded 50-whatever-I-am. They pursue it with a lot of passion and dedication."
Native respect
A girl was Stancliffe's inspiration for drawing American Indian art, but not in the way girls tend to inspire art.
Photo Gallery
ArtWalk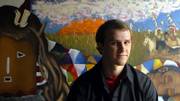 In high school, Stancliffe dated a Navajo girl. Stancliffe was fascinated by the culture and asked her to teach him some of the language.
But she didn't know Navajo, even though her grandfather spoke it almost exclusively and her mother also spoke it.
"It was a really sad thing," Stancliffe recalls.
The experience sparked an interest for him. He had been drawing and painting since he was a child, but his interest in art as a career took off.
Stancliffe, 20, isn't American Indian himself, so he's an anomaly in the native art world. But he says native artists he's talked with have been supportive of his work.
"I have to be really respectful," he says. "I try to do a lot of research. They say most of hatred comes out of ignorance."
He often uses American Indian imagery to comment on current social topics, including poverty, racism and the environment. In one painting, two men are attacking a native kachina doll representing the earth. At the same time, the doll is swooping its hand around to attack the men.
2006 Lawrence Artwalk
When: 10 a.m.-6 p.m. Saturday and noon-6 p.m. Oct. 29. Who: More than 60 Douglas County artists Where: 32 locations in and around Lawrence. Opening reception: 7 p.m.- 9 p.m. Friday at Peoples Optical, 737 Mass.
Interactive map
"The idea is it's up to us to kill ourselves," Stancliffe says.
Stancliffe signs his artwork, which mostly is watercolors, "Anson the Ornery," a term his grandmother used when he was growing up and one he says is designed to be like some native cultures' ritual of giving people names that describe their personalities.
He's studying painting at Kansas University, where he's a junior. His ultimate goal is to incorporate his art with his hobby of writing music by creating animated films.
But Stancliffe admits, being in school and being young, that he's still trying to figure out exactly what role his artwork will take.
"I'm still haven't found my voice so much," he says.
Racial dialogue
Willmott's father helped spark the idea for his own artistic style.
His father is Kevin Willmott, a KU film professor whose movie "C.S.A.: The Confederate States of America" is a mockumentary examining what would have happened if the South had won the Civil War. Many of the products featured in the film - Coon Chicken Inn and Darkie Toothpaste - were actually products in previous generations.
"That's kind of where I became familiar with it," Will Willmott says. "All of it was based off of history. I'd be honored to be compared with that."
Now 21 and a sophomore at Kansas City Art Institute, Willmott uses racial stereotypes and historical images in his art, which is both drawings and oil paintings.
"I use black stereotypes, kind of with an element of contradiction based on the history of it so it's confusing the viewer," he says.
In one painting, Ku Klux Klan founder Nathan Bedford Forrest is shown with a stereotypical coon-style grin and a stack of pancakes, mimicking Aunt Jemima.
"I'd like for there to be a dialogue, basically," Willmott says. "So much of this is untalked about. When you see something like that, you question it. The painting is just something I've created on canvas - just one person's ideals. But there is a certain element of truth-telling to make people more aware."
'Refreshing' work
Stancliffe and Willmott met in Boy Scouts and took art classes together at Free State. They often talk about their art and show one another their works, even though Willmott now lives in Kansas City, Mo.
"I think a lot of what our work is trying to understand the importance of imagery throughout history," Willmott says. "There are recurring themes that are pretty obvious to some people."
Stancliffe says he wishes more young artists took on socially conscious art, but he understands that's not for everyone.
"You just do your art," he says. "You do what you like. I'm mostly in art to make a change. Some people aren't into that."
Dunkley, the Studio 3D owner, has known both artists for awhile now - Stancliffe his entire life, and Willmott for about six years. She says she's inspired by their choice to deal with tough subjects in their art.
"Art has always been a measure of the time," she says. "You look back at records of what happened historically, and a lot of that is recorded by the visual arts. It's refreshing for me to see a couple of artists carrying on that grand tradition."
More like this story on Lawrence.com