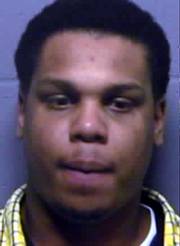 More about the shooting of Anthony Vital
A "person of interest" in the death of a Lawrence man found shot in a field in rural Douglas County has been arrested in Mississippi on gun charges, the sheriff's office announced Monday.
Police found Major C. Edwards Jr., 27, on Sunday in a hotel in Verona, Miss., a small town outside Tupelo. He was arrested by Mississippi officers on a federal warrant for being in possession of a firearm and ammunition - two things he's barred from having because of a past felony conviction.
Douglas County Sheriff's deputies were in the area at the time of the arrest, sheriff's spokeswoman Lt. Kari Wempe said.
According to Deputy U.S. Marshal Matt Cahill, Edwards was in Tupelo as of Monday morning and was going to be moved as early as Monday afternoon to Oxford, Miss., where he will be charged. The possible penalty for a convicted felon with a firearm or ammunition is not more than 10 years in prison and a fine of not more than $250,000.
Douglas County investigators have been looking for Edwards since Anthony Vital, 28, a local hip-hop artist, was found dead Oct. 15 in a field two miles west of Lawrence.
According to a complaint filed in federal court against Edwards, Vital died of "multiple gunshots."
Sheriff's deputies began looking for Edwards after Vital's widow told them that the last time she'd seen her husband - around 9 p.m. Oct. 14 - he was leaving their home to go out with Edwards.
One of the sheriff's deputies investigating the case, Scott Bonham, then spoke to an informant who said he'd seen Edwards in possession of a .38-caliber revolver, despite Edwards' conviction for sale of cocaine that prevents him from owning a gun legally. Another informant told police Edwards had been living with his girlfriend in the 500 block of Florida Street, which led officers to search the home last Tuesday.
Inside the home, officers found eight .22-caliber bullets wrapped in a paper towel in a kitchen drawer and an empty plastic gun case. Bonham and Lawrence Police Det. Mike McAtee also spoke with Edwards' girlfriend, who said she'd seen him with two guns recently, according to the complaint.
Bonham traced the serial number found on the gun case to a handgun bought at a pawn shop in Ottawa on Oct. 4 by another of Edwards' girlfriends, according to the complaint. The woman told officers she'd bought a .22-caliber handgun for Edwards under an altered name in August or September and that Edwards "said that he wanted the gun for protection," according to the complaint. On Oct. 4, she said, she went back to the pawn shop with Edwards and traded in the .22 for the .38.
As of Monday evening, information about of whether Edwards had appeared in court was not available.
Wempe, the sheriff's spokeswoman, said Monday she could not give further details about the investigation.
The sheriff's office said it was still seeking information about a 1988 maroon Ford Thunderbird that may be associated with Vital's death. The vehicle has the personalized license plate "JVOLA."
- 6News reporter Laura Berger contributed information to this report.
More like this story on Lawrence.com