Subscribe to Street Level podcast in iTunes
When Don Mayberger began publishing his "quick and dirty" music 'zine 26 years ago, he never dreamed it would someday reach more than a quarter of a million people each week. That 'zine is now known as The Pitch. Nor did Mayberger imagine that a brief stint as a freelance cameraman documenting the cream of Kansas' burgeoning crop of outsider artists would result in nine Emmy awards.
To fans of the PBS series Rare Visions and Roadside Revelations (RVRR), produced by Kansas City station KCPT and aired in over 150 markets across the nation, Mayberger is known simply as The Camera Guy. Now in its 11th season, the RVRR team has visited outsider artists and offbeat attractions in every state of the union except Alaska, Hawaii and Delaware.
Mayberger's work ranges from interviews in the Royals' locker room to filming floor tile commercials in Vietnam to surreptitiously capturing O.J. Simpson telling a dirty joke.
In true vagabond spirit, Street Level ventures beyond the comfort of our handcrafted podcast grotto to meet up with the peripatetic Mayberger in a bungalow just east of downtown.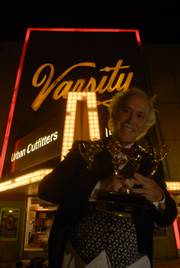 lawrence.com: How did you find places like the Forevertron or The Atomic Cannon?
Mayberger: The Atomic Cannon. I have no idea how they found that.
What is it?
Mayberger: It was a misplaced weapons program designed to lob an atomic shell about 30 miles. Not a good idea. It's up on a hill overlooking Fort Riley: it could lob it to some nearby Kansas town at the best.
So Kansans were going to lob atomic weapons at Kansans?
Mayberger: I don't think they were going to use it here in Kansas but: the thought of lobbing a nuclear shell not many miles from where you are is not a good idea. It failed.
There are eight Emmys on your mantelpiece?
Mayberger: There's a ninth around somewhere. I think the show's won eleven or twelve. :These are regional Emmys. The country's divided into five or six regions. This [region] covers six or seven states. So we all get together in the regional headquarters, which is St. Louis. : You know, we've never lost.
Any plans to parlay these Emmys into:
Mayberger: (laughs) They have no cash value. :We actually had to pay for these. But they feel good and they're sharp-you could poke your eye out with one of them. :The last one we won, we didn't even have enough money down at the station to buy our own. They're about 175 bucks apiece. Public TV budget: "Why, we can make several programs for that!" We are a pretty low budget TV show.
Rare Visions and Roadside Revelations in on Channel 7 (KCPT) 7:30 p.m. Thursdays
The show started out in Kansas, then spread to the Midwest, now you're national. At what point did KCPT say "Hey, this is a winner"?
Mayberger: From the very first show. They said: "You know, everybody seems to like this show." They got incredible response. :They said: "Go make more." So they scammed up the money and we made six more. And we've done that every year, except this year we're making thirteen shows.
Do people hook on to you and follow to see where you're going to next?
Mayberger: We had a woman who has the World's Largest Collection of the World's Smallest Versions of the World's Largest Things. She had an old seniors' van and she lived in this vehicle until she found out it was cheaper to buy a house in Lucas. :We met her several times on the road one season.
What are some of the memorable freelance jobs you've done?
Mayberger: Maybe the interview with O.J. Simpson a couple of months before the, uh, his fall. I got a call-we're going to shoot a thing with Joe Montana. :O.J. Simpson was coming in to do the interview. He was on the West coast, he was coming in to do this job then he had to get to the East coast to play golf. :We had two cameras and we're setting up in Joe's house over in Hallbrook. Joe just said: "Do whatever you want" and disappeared into the back of his house. We're setting up, the doorbell rings. Joe doesn't come out to answer it, so I go answer it. It's O.J. with a producer. :We start the interview, rolling two cameras-you always roll tape, tape's cheap. So O.J. says "Joe, what do you think of Kansas City?" And Joe answers: "I love Kansas City": And O.J. really didn't have a second question-he goes "Uh:Hey, stop tape." But we didn't. So then they start chatting because they're pals, and O.J. starts telling a Michael Jackson joke. And the gist of it was: they finally found that other glove. :It was kind of a rude joke. So somewhere on a shelf is O.J. telling that joke-which I'm proud of.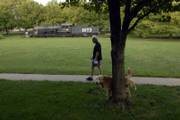 You started The Pitch.
Mayberger: Yeah. The guy that owned Penny Lane Records and House Distributors: I went to work for him. One day he said: "We need a new release thing that people will read." So I said: "Let's make a fake newspaper." :I typed it up on a typewriter-remember those?-and took a few pictures with my old Canon and developed them in the bathroom. Just started giving it out. It was pretty funny and people picked it up and started reading it. I tried to get an issue a month out: It took off. It made money from the first issue, which is hard to believe with a free paper. I did nine or ten issues: then handed it off. It started as the Penny Pitch, which became the KC Pitch then just The Pitch. :It started in 1980. :I chose the name Warren Stylus to edit under because I was basically in it for the music, for the records.
More like this story on Lawrence.com