Thursday, October 26, 2006
Tom Mersmann doesn't have to drive far to feel like he's out in the middle of nowhere.
When the Lawrence painter wants to paint secluded nature, he sometimes takes his easel to the Baker Wetlands on the southern edge of Lawrence.
"It's kind of like being outside of the city, because it's in town but you can get a feeling of seclusion pretty quickly out there," Mersmann says. "There's a real variety of plant life - trees and shrubs - and a wide variety of birds and animals and stuff. It's cool. It's an easily accessible place to see all these things."
And, in Mersmann's case, to paint them, too.
The artwork generated by the 365 acres of wetlands will be the focus of an event Saturday. "The Wakarusa Wetlands in Word & Image: Making It Real" will feature talks by a painter, photographer, historian naturalist and writers, all designed to help attendees understand the wetlands and capture them in their art.
The education day is tied to a book released last year. "The Wakarusa Wetlands in Word & Image" is a collection of paintings, photographs, essays and poems inspired by the wetlands.
Both the event and the book were organized by the Committee on Imagination and Place, a division of the Lawrence Arts Center.
Denise Low, the Haskell Indian Nations University English professor who edited the book, says the idea initially came from a 2003 visit by author and naturalist Terry Tempest Williams.
Low describes the book as "not a political issue so much as a mapping of that site." The wetlands have been key in the decades-long debate over where to route the southern leg of the South Lawrence Trafficway, with the possibility of building the road through the wetlands and creating other wetlands elsewhere.
Photo Gallery
Wetlands art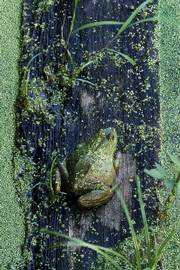 "It is virtually within the city, and it's a very large tract of land," Low says. "It's enough space for blue herons and egrets, bobcats and minks - really a remarkable variety of free-ranging wildlife to live out their seasons and their lives. It's just an amazing gift the city has. It's not exactly like Central Park in New York City, but it's close."
From an artist's perspective, that variety offers inspiration that can change from day to day.
"The more you're out there, the more you can appreciate what's out there," Mersmann says. "There's a lot of texture, a variety of color. It's a good place for painting, particularly for landscapes. I'm always surprised there aren't more people out there walking around, whether they're there to paint or just walk around."
Rick Mitchell, gallery director at the Lawrence Arts Center, selected the images for the book. They include details of a frog, a snake and a spider, as well as images of flowers, trees and grasses.
"One thing we really talked about quite a bit was most people go by the wetlands - they drive by it and don't really perceive what's inside," Mitchell says. "They may be aware it's there as a piece of land, but they're unaware of what's really there. We wanted to pick some things that showed some of the flora and fauna that is unique to the place. We wanted to show an insider's view."
Like Low, Mitchell says the book wasn't intended to take a stand on the South Lawrence Trafficway issue. He says he just wants people in Lawrence to have all the information they can about the wetlands.
Past Event
Saturday, October 28, 2006, 8:30 a.m. to 1:30 a.m.
(One-off place), Lawrence
All ages / Free
"For me, personally, it's a symbolic location," Mitchell says. "We weren't trying to make a political statement exactly. We wanted to make sure the attributes of the wetlands were recognized."
Organizers are hoping Saturday's event is an extension of that, providing a foundation for both visiting the wetlands and producing art there.
"We just wanted a way to celebrate the book and celebrate the wetlands, and use it as a way to get people out to the wetlands to experience it in a number of different ways," says Lisa Grossman, a Lawrence artist who is helping organize the event. "It feels pretty vast even though you're pretty close to the city. You can find some quiet respite from the noise. It's a square mile teeming with life, with a vitality of its own. There's a lot of artistic inspiration there."
Poems about the Wetlands
Harrier: Haskell Wetlands, 32nd Street by Denise Low A feather engine quivers, tilts, considers turkey-foot grasses below and hidden fur. We rush forward to a viewpoint while a marsh hawk hangs, whistles, whistles again. The nearby mate waits in bare stick branches: static counterbalance and controlled silence. Like us. Our seasons spin and our limbs wheel forward this earthen gain and nothing holds us aloft, eternal yet this last warm day before ice locks tight tangled reedy expanse. Here we balance. There! There! by Nancy Hubble First the early morning cup of coffee to my lips while herons fly over on their way to the Kaw from the Haskell Bottoms, wetlands only fourteen blocks south of my fenced yard. In silence they glide above us. Starlings, whirring, hunker down as if they saw hawks or hot air balloons. So picking up my brush to paint - to make the circle of my day come true - I think how pleasant is a town that embraces these beautiful creatures. Darkness comes again, shadows filling inside fences. Flowers lose colors as light puts itself to bed. Once again the prayer of holding my evening glass. Water tonight. Tomorrow some of the new wine. Heat leaves the day and tomorrow winter will want our attention. But sometimes in the dark, just As the end seems imminent, geese sew the crest of wind. Sparks of dying light reflect in the water. We see it. There! There! Haskell Wetlands May 2003 by Brian Daldorph To honor the slain warrior we stand in a circle at the crossroads, where Indian dancers dance 49s. We hold sacred tobacco in our left hands, sprinkle it in the center, while the Navajo man says prayers and blesses us. The prison chaplain spills holy water on dry soil. Then we scatter white corn. Watching over all of us the Eastern Bluebird, the singing-spirit bird. Back There by Michael Poage Same active molecule, just slightly different side effects. Then her smiling eyes ask if I hear what is back there. Back there in the pond. It's them, the leopard frogs! They have stripes somewhere on the face, they keep the night alive just a little longer, they remind us of the world beyond what is found on any average day. There is the immortal. It's just not for us.