Thursday, October 26, 2006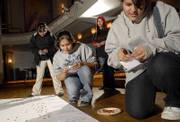 Dozens of Lawrence teenagers cast votes Wednesday and here's what they decided:
¢ There should be health care for all Americans.
¢ Same-sex marriage is OK.
¢ And the best pizza in Lawrence is from Pizza Shuttle.
The voting exercise was a civics lesson offered by the Kids Voting Douglas County program. It was among several after-school activities Wednesday afternoon at Liberty Hall.
The New Amsterdams rock band, rapper Approach and dj sku also treated the students to a "Rock the Vote" concert.
"It's a good way for adults to see what kids think about what's going on around them," said Amelia Weil, a Central Junior High School eighth-grader.
Other than voicing their opinions on political issues and selecting their favorite pizza, students could also paint their handprints on a "graffiti wall" and sign their names.
They also learned to advance vote before the Nov. 7 general election. Kids Voting allows students across the state to come to the polls with their parents on Election Day to cast ballots as a way to expose them to the democratic process. The World Company, which owns the Journal-World, is a sponsor.
"Hopefully, this kind of event makes them feel like voting is an accessible activity. When they are old enough, they won't feel intimidated and will be able to maneuver the mechanics," said Margaret Perkins-McGuinness, manager of the Roger Hill Volunteer Center and an event organizer.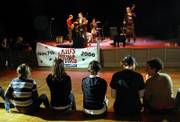 About 90 junior high and high school students attended the program and concert. At final tally, providing health care to all U.S. citizens, garnered the most votes as the top issue of the day.
But Amelia said she considered evolution teaching in public schools the most important issue.
"I think (evolution) is a more realistic way of showing what has happened in the past to how we got here," Amelia said.
Brand Willis, a Central Junior High School ninth-grader, said allowing same-sex couples to marry was the most critical issue.
"Personally, I just think everybody should have the same rights," he said.
State Reps. Paul Davis and Barbara Ballard and Lawrence school board member Rich Minder introduced the bands and encouraged the students to be involved in the democratic process.
The program was offered in conjunction with the Wednesdays at Liberty Hall after-school program.
Past Event
Wednesday, October 25, 2006, 2 p.m. to 7 p.m.
Liberty Hall Cinema, 644 Massachussets Street, Lawrence
All ages / Free
More like this story on Lawrence.com