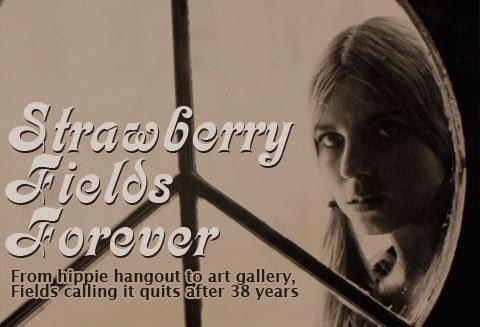 The year after the Beatles released "Strawberry Fields Forever," Kansas University dropout Kim Kern opened a hip little head shop on Massachusetts Street and named it after the psychedelic anthem.
He sold bell bottoms, black-light posters, incense, underground comics, bongs, rolling papers and other hippie accouterments.
"It seemed, at the time, that it was the nucleus of counterculture activity in Lawrence," says Walter Michener, a rural Baldwin resident who started working at the boutique in 1972, four years after it opened.
"It felt so exotic. Downtown Lawrence was very different 35 years ago than it is now. To walk into Fields and smell the incense and have the beaded curtain or whatever it was close behind you, you just felt like you were in another world, which is where I felt like being at the time."
A lot has changed in 38 years.
Strawberry Fields became simply Fields after the Fab Four broke up in 1970. Kern acquired the building next door and expanded his space. And the shop's psychedelia gave way to home furnishings, kitchenware, posters, framing services and, most recently, fine art.
But despite the optimistic lyrics that inspired the store's original name, the business can't go on forever.
There won't be a swan song; Fields won't even be open for Friday's Downtown Friday Gallery Walk. Most of the gallery's more than 30 artists have picked up their work and moved on.
That's what Kern is doing, too.
Photo Gallery
Fields art gallery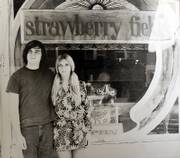 Although he declined to be interviewed for this story, his partner and gallery manager Sheila Wilkins says the 57-year-old Kern, an artist himself, is ready to leave behind the day-to-day responsibilities of running a business and concentrate on painting.
"It's sad, but it's been really great," Wilkins says. "Because he's worked so hard, this space has been available for fine art for the last six years."
Financial obstacles
Back in 2000, Kern moved the posters to the north half of the shop and the framing operation to the basement to make room for original work by local artists. Wilkins came on as manager in 2001, devoting her time to selecting new artists and marketing their work through exhibitions, print advertising, phone calls and the Downtown Friday Gallery Walk.
But running a successful art gallery turned out to be a lot more difficult than the pair anticipated.
"I guess we didn't expect it would be as hard to sell this beautiful work," Wilkins says. "We own the building and were willing to work really hard to make this look the way it does - not expecting great financial reward. We're doing it because we love it, and we're having a hard time.
"We're buying ourselves a job, basically."
Wilkins attributes some of the difficulty to the economic downturn after 9/11 and the start of the Iraq war. Online poster sales undercut business, too.
"During our getting-off-the-ground years, we've had a lot of obstacles to overcome," Wilkins says. "And now we're not seeing the economic recovery translate to sales here."
Despite those hardships, Kern opted to do away with the posters in January and devote Fields completely to gallery space. It was a bold move that didn't work out.
Gallery artists, of course, are sad to see the business close.
"What a gem Fields was," says Cathy Callen, a photographer who showed her work there. "Not only did it provide Lawrence with the opportunity to view and purchase museum-quality artwork, it was a great gathering place and had the very best wine, cheese and snacks during the fourth Friday art walk.
"This is a true loss for Lawrence."
'Crazy hippie kids'
John Gary Brown has mixed feelings about the end of Fields.
"I'm kind of sad to see it close because it's sort of a business icon. There were a lot of old hippie businesses that came and went in the old days, and that was one of the last surviving businesses that cropped up at that time - back when all of the dropouts decided to drop back in and give capitalism a little try," says Brown, an artist who showed paintings at the gallery.
Share your memories
Long before Fields sold fine art, it traded in the accouterments of counterculture: underground newspapers, smoking accessories, bell bottoms.
Later the store sold home furnishings, kitchenware - even Christmas ornaments. In 38 years, a lot of people walked through the doors of the business.
We invite you to share your recollections of Fields - from whatever era you remember - below in the comments section.
"I also feel like Kim has sort of earned the vacation. He's been in business so long and has been so tied down by that place. I think he deserves a rest."
Brown has ties to Fields, too. He worked there in his late 20s, from the summer of '70 to the spring of '71. He had just finished his master's in painting at the University of Washington in Seattle, where he turned down a full-time teaching job to move back to Lawrence and work at Fields for a dollar an hour.
"Everybody thought I was nuts," he recalls. "It seemed like a terrible career move at the time. But I actually loved working there. I loved the crazy hippie kids. A lot of them would come in almost every day. It was almost like a fraternal organization."
Brown went on to open a photography studio around the corner from Fields and eventually began moving enough art in Seattle galleries to make a living.
'A sad feeling'
Walter Michener, now a rare book seller, faked his way into his job at Fields. He hung out there so much when he was 17 and 18 that he started helping customers.
"After a while, I was there so much and waiting on people that Kim said, 'Why don't I pay you 10 dollars a day?'" Michener says.
He thinks Kern's artistic tendencies have always been reflected in his business.
"My impression was he was primarily an artist who happened to own a store, and at least for many years he never stopped changing the store - putting walls in, taking walls out, redesigning, expanding, contracting," Michener says.
"He never stopped working on the shop. I always felt it was his medium of expression."
It seems the evolution of Fields has run its course.
The shop is all but empty now, and Kern is looking for a buyer.
"It's kind of a sad feeling, but I can't blame Kim. He's got to do what he needs to do," says Judi Kellas, a Lawrence artist who owned a gallery in downtown Lawrence in the 1970s and '80s. "It's just kind of sad for the community to lose a gallery."
Wilkins, the gallery manager, says she'll continue to represent some of the gallery artists through the Fields Web site. She's working odd jobs - substitute teaching, painting murals - and weighing her options. She'll miss her gig at Fields.
"I loved working with the artists. I loved hearing what their ideas were and seeing the new pieces," she says. "I liked it when new artists came in, which started happening almost every day. There was just not enough space for everybody, but I still really enjoyed having the opportunity to see all that art."
More like this story on Lawrence.com