FLAILING LIMBAUGH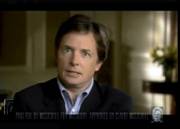 Actor Michael J. Fox, who suffers from Parkinson's disease and supports embryonic stem cell research as a possible cure for Parkinson's, drew criticism from conservatives after a Missouri ad began running during the World Series. It showed Fox visibly shaking while urging viewers to vote yes for stem-cell research and for Democratic Senate candidate Claire McCaskill over Republican incumbent Jim Talent. Radio talk-show host Rush Limbaugh criticized him last week, claiming that Fox was "either off his medication or acting" and called Fox "really shameless" in his effort to stir up sympathy. The web-cam in Limbaugh's studio captured him mimicking Fox by waving his arms and gyrating his body in an exaggerated manner while making the accusations. Limbaugh later apologized when he found out that Parkinson's actually paralyzes its sufferers and it is in fact their medication which makes them shake. He then accused Fox of taking too much medication. *...It was difficult to understand his allegation that Fox was overmedicated, however, as Limbaugh's mouth was stuffed with fist-fulls of Oxycontin, Viagra and Hostess Ding-Dongs.
SPEAKING OF PICKING ON THE DISABLED...
U.S. Rep. Barbara Cubin became the subject of negative political coverage when, after a debate last week, she threatened Libertarian candidate Thomas Rankin, who has multiple sclerosis and uses an electric wheelchair. Cubin was upset when Rankin brought attention to the large amount of money she had received from indicted former congressman, Tom Delay. The Wyoming Republican told him, "If you weren't sitting in that chair, I'd slap you across the face." Cubin apologized for the comment, joking that she had been listening to too much Rush Limbaugh. *...Cubin and Limbaugh were later seen having a laugh while taking turns urinating on Christopher Reeve's grave.
EVERY DAY LOW ETHICS!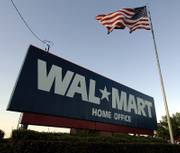 Retail giant Wal-Mart is suing Lawrence again, alleging the city illegally denied them a permit to build a store at Sixth Street and Wakarusa Drive. The permit was denied by the city council last week, claiming that Wal-Mart "broke faith" by proposing a plan that didn't adequately deal with traffic concerns nor was designed to meet the city's commercial design guidelines. Wal-Mart and Lawrence have been at odds over the plans since 2001, when the city zoned the space at Sixth and Wakarusa with a clause that it not be used for a "department store" such as Wal-Mart. Wal-Mart has argued they are not a "department store", but a "variety store". *...Wal-Mart also clarified that their merchandise is not made in "sweat shops", but in "perspiration boutiques".
WAIF OF MUTILATION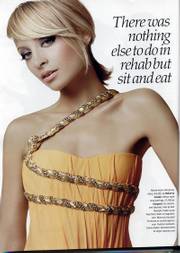 Socialite Nicole Richie, star of reality TV show "The Simple Life," has checked into a treatment facility to address her severe thinness. "She is working with a team of doctors and specialists whose focus is nutrition," spokeswoman Nicole Perna said. "It is important to Nicole that she achieves this goal in a healthy way as this is not a treatment for an eating disorder." Perna says that Richie is not anorexic or bulimic, but rather suffers from an inability to gain weight. *..."Simple Life" costar Paris Hilton, inspired by Richie's brave struggle, checked into a specialty clinic to address her severe unintelligence. Hilton's spokesperson insisted that the heiress was not stupid or mentally retarded, but rather suffers from an inability to gain knowledge.
WHITE ELEPHANT GIFT
The Republican party has been accused of producing racist advertisements in the campaign for Tennessee's open Senate seat. A television spot targeted against African American Democratic candidate Harold Ford has a bare-shouldered blonde who talks of meeting Ford at "a Playboy party" and later winks, saying "Harold, call me!" in a sultry whisper. The blonde, according to critics, is a not-so-subtle attempt to prompt a negative reaction among voters hostile toward interracial relationships. The ad, sponsored by the Republican National Committee, was pulled last week after it sparked a national backlash. Another controversial ad was a radio commercial aired by Ford's opponent, Bob Corker, that plays the sound of beating tom-toms (which critics have called "jungle drums") when the narrator speaks of Ford. *...As a good will gesture on behalf of the Republican party, Virginia Senator George Allen sent Ford an apology note. Allen thoughtfully weighed the note down with a severed deer head so that it wouldn't blow away.
MOS DEAF
The board of trustees of Gallaudet University in Washington, D.C., the nation's premier school for the deaf, voted Sunday to revoke the appointment of incoming president Jane Fernandes, who had been the subject of weeks of protests by students and staff that at times shut down the campus. The protesters thought of Fernandes as a divisive and ineffective leader. Fernandes has said that some people do not consider her "deaf enough" to be president because she didn't learn to use American Sign Language until she was in her 20s and relied on lip-reading through much of her education. *...The protesters were elated when they didn't hear the news.
More like this story on Lawrence.com