Photo Gallery
Style Scout: Jeremy Cain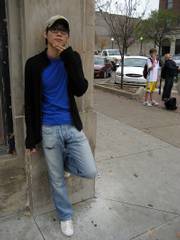 Jeromy Cain
Hometown: Prairie Village
Age: 25 Time in Lawrence: 8 years
Occupation and/or major: Hobbs.
Where was/what doing when scouted
Smoke break from work
Favorite clothing store? Hobbs. I'm not just saying that, I do get most of my clothing here. I could say something else, but it's really the only place I can get anything original. We only get in one of each size, which is why I don't shop at Urban as much because everyone's got that.
Other stores you frequent? Arizona Trading Co., Urban Outfitters, Wildman Vintage
How would you describe your style? I don't know, it changes. In the summer it's like street wear and in the fall I wear a lot of blazers and hoodies and scarves. You should put 'Euro-Asian.'"
Favorite trend for this season? Lots of layers, a lot of dark colors, a lot of scarves. Scarves are huge. Everyone wears scarves now.
Least favorite trend right now? I don't like Ugs. They're like Crocs. People tuck their jeans into them and I think they look ridiculous. That sounds like I'm judging people-really whatever people are comfortable in.
Where do you get your haircut? Headmasters. Galadriel knows my hair, how to layer it and feather it without making it look poof. I hate the poof.
Favorite coffee shop in Lawrence? La Prima Tazza-my girlfriend Jamie works there.
Favorite bar in Lawrence? Replay-it seems more diverse than it used to be, and the expanded patio and heaters make it more comfortable. The Pig because it's small and intimate. Harbour Lights-it has darts, Centipede, pool, foosball, and a great jukebox.
Is there anything you'd like to see more of in Lawrence?
More people downtown-more shops and a more friendly, welcoming atmosphere. I don't think it's gotten worse, it could just be better-this is the heart of Lawrence. Oh, and a laser tag place-a kickass laser tag arena. It's so much fun. It's competitive but harmless. It's family fun!
More like this story on Lawrence.com