Tuesday, October 31, 2006
Suppose an architect, an EMT, a schoolteacher, an environmental technician and a wine-loving student of Seneca get together and form a rock and roll band, each member skilled in several instruments. Give them a sound that's country-born, electrically formed and progressive in nature-somewhere on the line connecting The Band and The Pogues and Neutral Milk Hotel. And say within the space of a year this band rehearses, plays shows and records a CD-in addition to the day jobs.
Not your average weekend warriors. Could this band work? Could each member balance two demanding careers? Can architects and schoolteachers really rock?
Kaw Valley Project responds in the affirmative w ith their debut recording, "The Winter Versus Summer" Street Level meets up with KVP- Travis Hare, Tim Holtzclaw, Jared Bertels, Adam Dixon, Chris Cardwell-in an abandoned caboose on the outskirts of town to talk about pastoral imagery, catching a fire and Nell, poor Nell.
Subscribe to Street Level podcast in iTunes
Interview highlights sans music
lawrence.com: Kaw Valley Project; how did it come to be?
Travis: Tim taught me how to play guitar...
Upcoming shows
Kaw Valley Project
Tim: The most frustrating moments of my life.
Travis: I learned three chords and started writing songs. I'd bring those songs to Tim and we'd play them together. And we thought we had something good so we invited Jared in because we knew he was an expert on guitar. He liked what we were doing. And the next thing you know we recruited Adam and Chris.
Tim: I think we've all found a common ground. We all work very hard in the different areas of our lives but we find this common ground in the music we play.
You have serious day jobs; you're all professionals. In the rock and roll ethos-or the myth of it-you have to cop a certain attitude, a certain wardrobe... A lot of folks might say that you guys haven't committed to the lifestyle.
Chris: I did just put my two weeks in at the head shop. (Laughter). I think a lot of the lifestyle is just hype... until you're at the point where you don't have to have a day job, when you're recording all the time. At that point you can embrace the rock and roll lifestyle.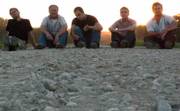 Tim's an EMT, Jared's an architect, Travis is a teacher, Adam is an environmental technician... Say the record takes off: would you leave all of that behind?
Tim: I'd say put it on hold. These are areas of our lives that aren't entirely separate from the band. They influence how we came together and what we put into it.
Jared: ...We decided that our music and our relationships with each other are far more interesting based on our exterior existences.
Travis: I don't know what we'd write about if we were just working odd jobs, flipping pizzas or burgers...
Chris: Hey. We eat a lot of pizza...
Travis: I'm not degrading those choices. But I think the lifestyles we lead definitely influences what we do. I work at a pre-school with four-year-olds, who I think are the most creative people in the world. I think that definitely rubs off on me.
Adam: Totally. My daily existence gives energy to what I'm doing with the band, gives me a reason to rock out. I work outside all day... taking that energy from the extreme Kansas weather. And that night I'm playing the bass, still sweating...
Chris: You mentioned Kansas, Adam. I think that's something we all agree on...
Jared: ...That sort of embodies the sound. We're not trying to sound like an indie New York band. That's not who we are.
How would you reference your sound? What are you informed by?
Travis: The things we've heard from people have been all over the place.
Chris: (laughing) I like Pink Floyd the best.
Tim: Pink Floyd, Coldplay...
Travis: ...Which I completely disagree with. I think things that have that rootsy sound and that are lyrically important, like Neutral Milk Hotel and Sparklehorse. Bands that... somehow sound rural.
Tim: Influences: I would say Yo La Tengo, Sonic Youth and all the jazz greats.
Adam: I'd go more alt-country...
Chris: Wilco, The Walkmen... They're progressive in a lot of ways and yet they hold on to simple premises in their songs.
Jared: ... Progressive rock music tied to a more humble root-that's sort of the rural aspect of it.
Adam: ... Pastoral images.
Album Mp3s

The Winter Versus Summer EP
KVP just recorded a six-song CD:
Chris: I wouldn't say we recorded it as much as caught it. It happened in one 14-hour session at Black Lodge in Eudora. It ended at 4.30 in the morning-we were the only awake people in the town. :Vocally, the three of us found a really good arrangement of harmonies and levels.
What's original in music nowadays?
Chris: Non-American music. It's hard to be original in America. What's that movie about the girl who grows up in nature by herself?
Travis: Nell!
Everybody: Nell!
Chris: Nell. You'd end up like Nell if you tried to be an original musician in America nowadays.
More like this story on Lawrence.com