Friday, September 1, 2006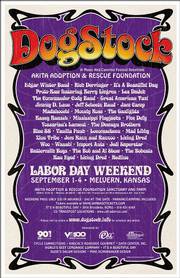 The Akita is a Japanese hunting dog that weighs from 70 to 130 pounds. They are known for being a quiet, clean breed with an easygoing temperament and gentle nature around children.
For over a decade, Randy Long has been running the Akita Adoption and Rescue Foundation in Kansas. In 2003 he launched the DogStock Music Festival at his 81-acre farm in Melvern (located about 30 miles southwest of Ottawa). The event has expanded this year to a four-day gathering in which more than 30 bands will perform.
This pet-friendly, all-ages event is designed to raise awareness of animal welfare issues as well as raising funds for the foundation.
"Akitas are much more in tune with humans," Long says. "They really think things out. You can see the wheels turning in their eyes when a new situation develops. On the other hand, they're more responsibility than your average dog because they're very big; they're very powerful."
Long has also mounted a big and powerful event this year, which has evolved from a local band showcase to one that features many national names. Headliners include The Edgar Winter Band, Rick Derringer, It's a Beautiful Day and Proto-Kaw (featuring Kerry Livgren of the band Kansas).
Other national, regional and local acts in the lineup range from bluegrass to reggae to alt-country to Southern rock bands.
In addition to the music, Long promises food, beverages, clothing, crafts, fireworks and a raffle will be part of the Labor Day weekend event.
Four-day passes that include parking and camping can be purchased for $35 in advance at www.jambasetickets.com. Tickets are $45 at the gate. All proceeds benefit the Akita Adoption and Rescue Foundation, a federally recognized not-for-profit and state-licensed rescue sanctuary.
Dogstock schedule
Friday 7 p.m. - Jem Razz and Razzoo 8:30 p.m. - Jeff Scheetz Band 11 p.m. - Proto-Kaw (early KANSAS) featuring Kerry Livgren 1:30 a.m. - Mississippi Flapjacks ... special late night set
Saturday 9 a.m. - Buttermilk Boys 10:30 a.m. - The Bobcats noon - The Import Ants 1:30 p.m. - The Bob and Al Show 3 p.m. - Redline 4:30 p.m. - Jedi Superstar 6 p.m. - Blue 88 7:30 p.m. - The Gaslights 9 p.m. - Commander Cody Band 11 p.m. - Jimmy D. Lane and Blue Earth 1:30 a.m. - Zion Tribe ... special late night set
Sunday 9 a.m. - Kasey Rausch 10:30 a.m. - Yossarian's Lament noon - Living Dred 1:30 p.m. - Woo 3 p.m. - Locomacheen 4:30 p.m. - Vanilla Funk 6 p.m. Mad Libby 7:30 p.m. - Jam Camp 9:30 p.m. - It's A Beautiful Day 11:30 p.m. - Great American Taxi 1:30 a.m. - Madahoochi ... special late night set
Monday 9 a.m. - DeWayn Brothers 10:30 a.m. - Planet Rojo noon - Kan Eyed 1:30 p.m. - In Transit 3 p.m. - Mozely Rose 5 p.m. - Jeff Scheetz 7 p.m. - Les Dudek 9 p.m. - Rick Derringer 11 p.m. - Edgar Winter Band ...... who knows who will join in for late night jams?!?
More like this story on Lawrence.com