Sunday, September 10, 2006
Must be that Midwestern hospitality.
The city and state rolled out the red carpet for Hollywood on Saturday, welcoming a crew from the upcoming CBS show "Jericho" with hordes of media, elected officials and expansive crop art made just for them.
Heck, North Lawrence even renamed itself for the week. And Gov. Kathleen Sebelius proclaimed Sept. 20, the date of the show's premiere, as "Jericho Day" throughout the state.
A whole day. For a television show.
"This is an incredible thing the town's done for us," said Skeet Ulrich, the show's leading man.
The series, based in the fictional Kansas town of Jericho, depicts what life might be like in a small town after a nearby nuclear disaster. About 100 Lawrence residents watched a special screening of the show's pilot episode at dusk on the lawn of the Lawrence Visitor Center, 402 N. Second St.
But really, whenever there's a fictional nuclear disaster, the nation apparently wonders: What would Kansans do?
Sebelius could only guess as to why.
"Maybe Danni Boatwright, the 'Survivor,' inspired all of this," she said.
Or, then again, maybe it's just the nature of the state, she said. After all, ad astra per aspera, "to the stars through difficulty."
"I guess this is one difficulty we're going to survive," Sebelius said while waiting to give her official proclamation.
Crop promotion
At Bismarck Gardens, crop artist Stan Herd gave interviews to roving television crews - all from nearby CBS stations, the only network allowed to be there.
When he finally made it inside the small tent and grabbed a glass of wine, he seemed exhausted.
"It beats the crap out of me," he admitted. "I'm ready to go home."
But this is Herd's job, he said, this four hours a month he turns it on, smiles for the cameras, shakes hands until his arm hurts.
He doesn't mind it, he said. He used to draw a thick line in the sand between himself and doing corporate artwork. But now he understands, he said: This kind of work is art as well, and it allows him to afford his own projects.
"I'll cross those lines, now," he said.
He said he liked his CBS artwork - his interpretation of the show's logo featuring a boy watching a mushroom cloud rise in the distance.
In order to get a better view of the 20-acre scene, a helicopter gave Ulrich, media-types and almost anyone else a ride up for an overhead look.
On this ride, CBS-hired photographer Dick Whipple hung out of the open helicopter door and shot Herd's massive art from above.
With the art blocked from sight, Pauline and Helen Nunemaker shot photos of the family's Bismarck Gardens farm and the outstretched countryside.
Back on the ground, Helen Nunemaker couldn't have been happier.
"I've been on a little plane, but nothing like this," she said, almost bounding. "A lady my age, her first flight. It was worth it."
Ulrich said the day was worth it as well. While others may cringe at the thought of a day bombarded by interview after interview, of television cameras tracking every move, Ulrich didn't seem to mind much.
"No, it's great," he said, sipping on a Miller High Life Light. "You get a chance to broaden your horizons."
Mountains in Kansas?
And as for horizons, Ulrich said the show couldn't help but have mountains in the horizon. Sure, that's not how the horizon looks in western Kansas - if you've never been there, it's as flat as you might think - but in Los Angeles where they film the show, the mountains are just part of the landscape.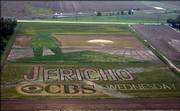 "We have mountains there's no way to eliminate," Ulrich said.
But in a quick conversation with Ulrich, Sebelius came up with a solution: Come back and actually film in Kansas next season.
"I gave him some grief," Sebelius said. "He said they made L.A. look like Kansas. I assured him they couldn't possibly do that."
On screen
At the night screening of the pilot, residents on hand cheered and clapped twice - at the beginning when Ulrich's character drove by a "Welcome to Kansas" highway sign and during the final credits.
The show's opening episode was filled with drama and tense scenes.
The small Kansas town is masked in confusion as all outside communication ties have been cut and the power eventually gives out. The residents know nothing about the blast other than the mushroom cloud they saw to the west.
A school bus full of children was in the country during the explosion, which disrupted the bus' route, and the driver died from injuries.
"I liked the story line. There was a good cast, and no bad acting in it," said Zach Ortiz, a Free State High School sophomore. "It was an all-around good show - well put together and well thought out."
Musician Kelley Hunt performed before and after the screening.
Star Straf, a programmer at Kansas University, said she enjoyed the show and would give it a try when it premieres.
"The characters interacted in conflict with each other. It's not just entirely action and suspense. It's a bit of both," Straf said.
The North Lawrence resident was excited about the day's events.
"I guess I live in Jericho now," she said.
More like this story on Lawrence.com