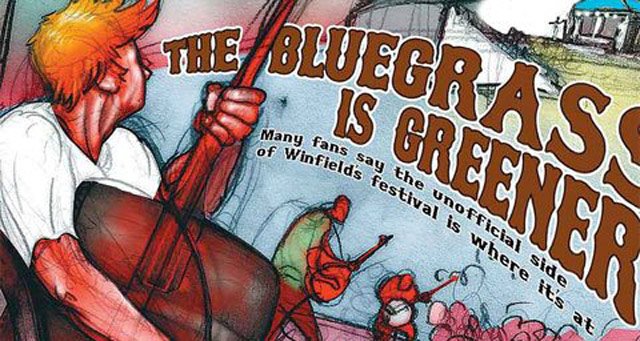 Monday, September 11, 2006
Since its humble beginnings 35 years ago, the Walnut Valley Festival has grown up considerably, becoming perhaps the premier bluegrass festival in the country.
Before the festival began drawing 15,000+ from all over the country, its instrument contests drew the most talented musicians to Winfield, the festival's small town host in south-central Kansas.
For example, a young Alison Krauss won the fiddle contest in its 13th year, later returning several times thereafter, helping raise the profile of the festival as a headliner.
As the festival grew - now featuring four official stages of sun-up to sun-down master musicianship - it began attracting marquee acts year after year, such as David Grisman, Dixie Chicks and Yonder Mountain String Band.
But that's just the official side of the festival fence.
Outside the ticketed area, throughout the Walnut Valley River campgrounds, hundreds of people are playing music at any given time. Sing-alongs form around most campfires, and jams of old standards spring up all over the grounds among wandering festival-goers.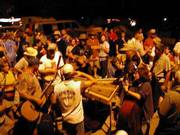 But there are also innumerable informal venues that can be counted on to be in the same place every year and feature perennial favorites - the Carp Camp and Stage 7 are among the most widely known, but just about every annual attendee's camp serves as a fixed venue for somebody else.
The crown jewel of the unofficial campground venues - and longest running, at 20 years - is Stage Five.
The "stage" is actually an old flatbed truck, tricked out with a lighting rig, a killer sound system, and even has something like an outdoor green room.
The bands that play there are a little different than those on the main stages, says festival organizer Rex Flottman.
"They're rowdier, louder and just plain ornery," he says. "I don't want to say it's an amateur stage because it really isn't [but] anybody that wants to perform on it can."
Split Lipped Legends
Stage Five not only provides a prominent venue for up-and-coming musicians, it also serves as a coveted, intimate venue for acts from the official stages.
Past Event
Friday, September 15, 2006, midnight to midnight
Cowley County Fairgrounds, 1900 West 9th Ave., Winfield, KS
All ages / $18 - $85
And it's something like the campgrounds' main stage for many bigger name bands who, for whatever reason, aren't part of the official festival - bands like Split Lip Rayfield.
By most accounts, the members of that local hillbilly hardcore band have been the kings of Pecan Grove for 10 years, which would make Stage Five their one-mic throne.
This year, the band's Saturday night show will likely be bigger than ever, as this could be Split Lip's last show at Winfield. Frontman Kirk Rundstrom is fighting what doctors tell him is a losing battle with cancer. But that's hardly stopped Rundstrom and the band from injecting a string of recent shows with their trademark intensity.
Their nighttime shows always attract overflow crowds of several hundred, many dancing and singing along - quite a contrast to the vibe at the official stages, says five-year festival-goer Rob Ritter.
"As far as music goes, I definitely prefer to hang out around Stage Five," says Ritter, who guesses his experience might be typical of younger attendees. "I prefer that to the sit-down-and-watch variety."
"I can't wait for that show," Ritter says. "Split Lip doesn't play the kind of music that traditional bluegrass people would get behind ... every bluegrass song isn't about murder. It's about God and drinking."
That's likely why Split Lip was never invited to play on the main stages at the festival, even this year. Flottman offers many reasons why the band wasn't hired to play inside the gates this year - fierce competition between bands, the shows were already booked ... so on and so forth. But he says the main reason Split Lip doesn't make it to the main stages, despite their Pecan Grove popularity, is their music.
Band songs
Split Lip Rayfield
"They would have to alter some of what they do 'cuz we try to keep the language family-oriented. Some of their songs have off-color lyrics," Flottman says. "We don't censor unless it's something that's really flagrant."
Though Rundstrom says Winfield's bluegrass sound made a huge impact on his band's sound, he doesn't really care whether the festival changes or diversifies to include edgier bands on the official stages.
Rundstrom admits that Split Lip isn't necessarily fit for Winfield's grandstand.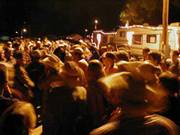 "We tried that. They wouldn't have us play," he says without a hint of ill will, "'Cuz we don't wear rouge or bowties or play cover songs. [But] I'm not worried about what they're doing. I'm just going to see my friends."
Wilder festival
Betse Ellis is the fiddler for The Wilders, a Kansas City old-time country band that has played the grandstand at Winfield for six years.
The Wilders' look, you might say, is anything but wild. They wear cowboy suits and hats and boots and often sing about love and loneliness - seemingly ideal fare for the official festival. But if you see them live and listen closely, it's not hard to detect a streak of pure punk a la Split Lip.
"We're a pretty crazy band," Ellis says. "I think those guys (Split Lip Rayfield) have us beat on that. They're awesome. They have that punk rock thing going on really good ... they've done great at huge festivals around the country that are more varied."
Winfield, Ellis adds, "is not so much that kind of a festival."
About a decade ago, The Wilders made their Winfield debut on Stage Five. Ellis says the band didn't even have a name yet.
A few years later, the band submitted a tape to the Winfield organizers. No reply. It would be a few years more until Flottman discovered The Wilders during what Ellis calls "a commando jam" in the hallway of a Wichita bluegrass festival.
"We would just do our thing and hope to get noticed," Ellis says.
Now The Wilders tour all over the world and have a place at Winfield every year. But Ellis says she hasn't forgotten the band's humble Stage Five beginnings.
Band songs
Truckstop Honeymoon
"To me, that's kind of the heart and soul of the whole festival. They have performers who are on the main stages come out there and play Stage Five. And we do too, every year," Ellis says. "I mean, that's a big deal to us to come down there and still play on Stage Five."
Band songs
Drakkar Sauna
No quit-in' you
It's not that the main stages and Stage Five are competing, Ritter points out. It's just that some people have everything they need in Pecan Grove - friends, food, drinks and good music. So why leave?
"The older folk tend to stay up there. And families," Ritter says. "It's definitely more family-friendly, and there's still incredible music. Technically, a lot of the money for the festival goes to those performers who, in my case, I never see."
The Walnut Valley Music festival is growing each year, and Flottman says things show no sign of changing. For Winfield's 35th year, the festival's organizers and owner wanted to focus on festival traditions. That means old-time fiddle championships, autoharp contests and familiar faces. Steve Kaufman, for example, won the National Flat-Picking championship at the festival in 1978. Then he came back to win it two more times. This year he's back at Winfield to reclaim his title.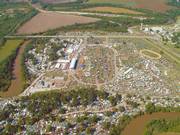 No matter how the festival lineup changes or doesn't change, it seems like the dedication all festival-goers have for Winfield shows no signs of weakening.
"We've had people tell us they quit their job to come here," Flottman says. "That's just a little extreme."
Rundstrom hasn't missed the festival for 17 years. He, like Ritter, is setting up camp early once again.
"I go there because I love it," Rundstrom says. "I love going to Winfield."