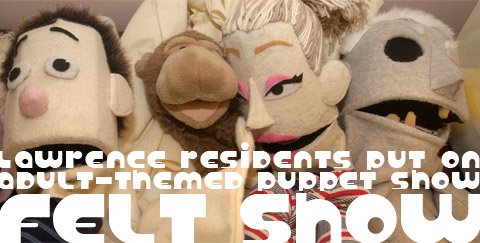 Tuesday, September 12, 2006
Three chairs in the Kansas Union are piled high with more than a dozen puppets. Everyone who walks by does a double-take.
Paul Santos does the introductions.
"This is Ug," Santos says as he slips his hand inside one of the puppets.
"This one was supposed to be a soccer mom," he explains, "but I thought it looked like a guy, so we made it a caveman."
There's also a homeless puppet with long hair and beard, an alcoholic puppet with a red nose and flannel shirt, and a Satan puppet, among others.
Nearby, Gabe Dorsey is checking out the cardboard construction of another character as he waits for rehearsal to begin.
"Dude," Dorsey says, "that's a Miller Lite box."
The crew - both the puppets and the puppeteers - is a motley one. But tomorrow night, they will all come together for their first-ever, full-length version of "The Felt Show," a sort of adult sketch comedy performance that favors puppets over people.
After performing small-scale shows twice, opening for local bands, the troupe is ready for the real deal - 9 p.m. Wednesday at the Replay Lounge, 946 Mass.
"This is the first show that's really a reflection of what we do," says Santos, the show's organizer. "If they hate the show, they hate us."
Past Event
Wednesday, September 13, 2006, 7 p.m.
Replay Lounge, 946 Mass., Lawrence
All ages / $3
Material challenge
"The Felt Show" was the idea of Santos, who is 25 and works at Pearson Government Solutions.
He started working with puppets in 2003, after meeting fellow Kansas University student and puppet-maker Ben Rumback in a theater class.
Santos has gathered a cast and crew of about 20 - mostly Lawrence residents in their 20s - to participate in this first major show.
He and others have written sketches that will be used to introduce characters they hope will be developed over shows over two or three months in Lawrence and possibly Kansas City. They'd love to find a TV outlet for the puppets, but they realize that's probably a ways off.
The sketches include:
¢ A kid who urinated in the family's meatloaf.
¢ Satan running a cheap motel and taking Spanish lessons.
¢ A despondent Edgar Allan Poe who keeps running into good luck.
¢ Ug the caveman, who has a cathartic moment with a bunny and decides he can't kill animals anymore - so his wife, the cave painter, becomes the breadwinner for the family.
"Puppets are fun by themselves," Santos says. "But we have to write fun material. With sketch comedy, you do more improv. With puppets, you have to plan it out."
Photo Gallery
Puppet show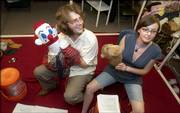 Rumback, who made the 14 puppets used in the show, says he's been approached by others in Lawrence who are interested in making R- or X-rated puppet shows. He says the material for "The Felt Show" is smarter than that.
"I'm a teacher at a school in town (Raintree Montessori), and so I don't do smutty humor with puppets," says Rumback, 23. "I've been asked to make anatomically correct puppet. I get it - the puppets are homeless and infected with all these diseases. But I'm not going to make a puppet (genitalia)."
Stone face
Ask Howard Callihan the difference between acting on stage and being a puppeteer and he answers without a smirk: "The pain."
After all, you've got to hold your arm above your head for long periods of time when you're crouching behind a curtain.
"I figure the chances of us getting laughs are good," says Callihan, a 27-year-old puppeteer. "But the chances of getting beer bottles thrown at you are better, too."
There are other differences between the human and puppet stages.
"There's still movement, but you don't have to worry as much about movement," says puppeteer Grace Waltz, 21. "On stage, you have to talk and move and worry about other characters. And you still have that to some extent. But you're pretty much worried about voice and inflections."
That's especially the case because puppets are pretty much stuck with one facial expression, Santos says.
"The hardest thing is puppets don't have a face," he says. "You have to convey emotion through your hand."
'Weird' show
Those involved with "The Felt Show" say bar-hoppers who show up at the Replay tonight might do the same double-take students at the union did that night of rehearsal.
But they think the idea could catch on here - if only because it's something different from watching a local band at a bar.
"It's an amazing art form," says Bess Wallerstein, an Overland Park resident and puppeteer who also runs her own improv comedy troupe.
"Puppets get a bad rap, that they're only for kids. What we're doing is fairly high-risk, but there are only so many times you can go and see the musical 'Oklahoma!'"
Rumback uses the success of "Crank Yankers," the Comedy Central show that uses puppets to act out voiced-over prank phone calls, to gauge the potential success of "The Felt Show."
"You think about crappy shows like 'Crank Yankers,' and all they have going for them is they use puppets," Rumback says.
Rumback says he thinks Santos has the vision to take "The Felt Show" to the next level down the road - if the puppeteers finds the right connections in the industry.
"He's almost like a business major in some senses," Rumback says of Santos. "It's good to see that in somebody doing something as weird as a puppet show in bars. It is an untapped revenue here in town. I think Lawrence is a great place to be weird."