Monday, September 18, 2006
Daiquiri Ice Carnahan
Occupation and/or major: Ecocrat/rapper
Photo Gallery
Style Scout: Kerry Carnahan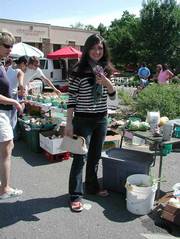 Hometown: Brooklyn, N.Y.
Time in Lawrence: Most years from birth to age 18.
Age: 30
Where are you headed right now? In search of garlic.
Favorite clothing store? Century 21, sort of a Saks clearinghouse, by the World Trade Center.
Other stores you frequent? Any kind of discount couture. Daffy's. Tootsie Plohound. Also, Craigslist. And St. Mark's Bookshop. In New York.
How would you describe your style? My primary rap name is Daiquiri Ice-hence, any stylistic identification with my personhood is Daiquiri Ice. Cool, sweet, one of the popular flavors. Daiquiri Ice style is something like Stevie Nicks meets Trina, or pre-op Lil' Kim, over a glass of wormwood distillate.
Favorite thing for this season? I really like the recent trend toward less clothing. ("You mean like wearing less for summer?") No. Like how designers have figured out they can use less material and charge more. Aesthetically, I appreciate it.
Least favorite trend right now? Women wearing shoes they can't walk in. Especially in New York. They're wobbling, their knees are breaking. Especially with cheap designer heels. Just don't do it. You will fall down in the bar.
Favorite coffee shop in Lawrence? La Prima Tazza. I love that it's directly across the street from Starbucks.
Favorite bar shop or bar in Lawrence? The Tap Room.
Is there anything you'd like to see more of in Lawrence? Lawrence is really perfect. The only thing it needs is a subway.
So, you spent time in Southeast Asia? The Vietnamese are a very stylish, decorous people. It's the way people there wear things, not what they buy. Which reminds me, do you know Dennis, who rides around Mass Street? He's the most stylish person in Lawrence. I used to work at a bookstore downtown, and once he came in wearing a quilted satin jacket, cutoffs and cowboy boots. Oh, cowboy boots! That's my least favorite trend. Like with shorts and skirts. But Dennis wore them before they were "in." I think he's really hot.
One more thing on style: The matter of my style is also somewhat of a sore point-I was once rejected by a lover on grounds of not having any personal style at all, when in truth my style is immense and highly defined, if somewhat accidental.
One more thing on Lawrence: (Having returned from New York to visit Lawrence) I was shocked at the extensive commercial sprawl south of town, and the "luxury lofts" popping up in the downtown area. Dad told me that area developers are competing to relocate the public library!!??! Yes, Lawrence really is RELATIVELY perfect. However, I was truly disturbed to see uncontrolled, not intelligent, development both south of town and downtown. I would like to see Lawrence grown into the 21st century more intelligently and more sustainably by establishing a clear commercial development policy that supports locally owned businesses rather than commercial developers who give profit priority over strength of community. Lawrence is one of the few small communities left with a downtown area with thriving local businesses-an effort to conserve this great resource should be made. Otherwise, I fear Lawrence will lose its independent mercantile character and economically diverse makeup, and just turn into another suburban mall. Anyway that's what I'd like to change.
More like this story on Lawrence.com