Thursday, September 21, 2006
The promoter of the Wakarusa Music & Camping Festival said he had no idea there were high-tech police surveillance cameras monitoring this year's festival, despite a state park official's statement that the promoter was informed in advance.
"That's totally false," promoter Brett Mosiman said.
Meanwhile, the manager of Clinton State Park retracted his statement that he told Mosiman personally about the cameras, but insisted he informed Mosiman's partner of the plan well before the festival started. That statement, too, is being disputed.
More than 80 people from 28 states were arrested during the festival, most of them for being a minor in possession of alcohol, but many for drug dealing.
Mosiman said he was upset when he learned of the cameras' presence last week through a Journal-World article. By one estimate, the wireless, night-vision camera equipment was worth about $250,000 and capable of covering up to 85 percent of the festival area.
"It just seems like such a ridiculous enforcement display, considering that this is a peaceful crowd that is very courteous. They pick up bottle caps and cigarettes," Mosiman said. "Somebody, somewhere declared this crowd and this festival public enemy No. 1. I honestly believe that the KU football crowd is more dangerous."
Mosiman said he's been under "insane personal attack" from Wakarusa fans upset by the suggestion he knew of the hidden cameras but did nothing about them.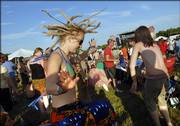 "We were 'set up like a bowling pin,'" one comment on the festival's online forum reads. "All about the money," another says.
"Our reputation and our trust from the fans has been shaken to the core, and we're trying to rebuild that," Mosiman said.
The four-day, 70-band festival was in its third year this summer and had become a nationwide draw. But concerns about drug dealing caused police to double their presence at the park this year and to set up a traffic checkpoint outside the festival at an exit off westbound Interstate 70.
The presence of the hidden cameras - one of which was disguised as a vent stack on the roof of a restroom building in Campground No. 1 - was not revealed publicly until an article about it appeared earlier this month in the trade magazine Government Security News. The article described how the equipment, offered for free as a demonstration by a California-based surveillance company, helped police catch drug dealing on camera.
In an article last week in The Journal-World that described the surveillance, Clinton State Park manager Jerry Schecher said he'd informed Mosiman of the cameras about a month before the festival.
Schecher now says that, upon further thought, he didn't recall speaking to Mosiman personally about the cameras. But Schecher said he was certain he told Mosiman's partner in the festival, Nate Prenger, about the cameras roughly a month before the festival while the two were at the park together.
"I just kind of mentioned to him in passing," Schecher said.
Prenger said he remembers Schecher saying something about "surveillance activity" a day or two before the festival or just as it was starting, but only briefly. He said he didn't recall Schecher saying anything specifically about cameras.
"It was presented in such a manner that I didn't suspect that it was anything that would violate people's privacy," Prenger said. "I did not know they were taping things. I did not know the extent of the operation. It was literally a 20- to 30-second conversation."
Schecher said he was a supporter of the festival and that, all in all, he and Mosiman have a good working relationship.
"I hate it that his fans are kind of beating him up over this thing," Schecher said.
Mosiman said it was still too soon to say whether the festival will return for a fourth year.
"That's a decision that will have to be made," he said. "We'll have to look at it and say, 'Does everything that's happened make this too risky now?' Frankly, the answer is, 'Perhaps.'"