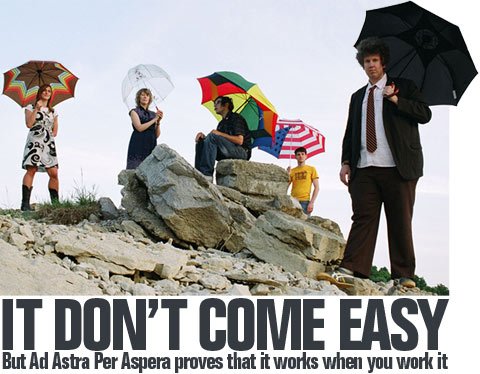 Monday, September 25, 2006
Germinated in 2002 in the rocky seedbed of punk, Ad Astra Per Aspera waited four years to release its first full-length recording. The band's performance at this year's South by Southwest festival garnered a contract with Canada's Sonic Unyun Records for its debut LP, "Catapult Calypso."
Blending atonal riffs with lush melodies, feedback with banjo plucking and screams with sighs, "Catapult Calypso" is a bold journey into little-traveled sonic territory, fearlessly crossing the borders of art-rock, no wave and old-school prog.
The band's set a carefully calculated trajectory to the stars, following the album release with a three-month tour of the U.S. and Canada. Julie Noyce (keyboards, vocals), and Mike Tuley (guitar, vocals and founding father) stop by our starlit and angular podcast studio to expound on giant palm trees, peer adulation and the undiminished male chauvinism of the music industry.
Subscribe to Street Level podcast in iTunes
A lot of the established musicians in town speak very highly of Ad Astra. You're a musicians' band:
Noyce: :It's to me the ultimate compliment when someone who plays shows - especially professional musicians who see a different opening band every night when they travel around - will say, "You know, I've never heard anything like this before." I think that's the coolest thing they could ever say:
Mike, what is it that makes you unique?
Tuley: Compared to the other bands I've been in, our approach to songwriting - it's a different approach. Rather than me coming up with the parts to the song - verse-chorus-verse and the lyrics - and presenting the idea to the band and just hashing it out, and coming up with a song that way, it's a lot more interactive. It's a lot slower. :We take months to write certain songs:
: You're starting to develop a complete package, a complete experience: Tell us a little about your stage show.
Tuley: I did a lot of theater in high school and in college so my thinking when going into a bigger show like The Granada is how to fill the space: to fill it visually as well as sonically. : We had the idea to build some palm trees because we had a song that made reference to palm trees, and (a friend) built us two 15-foot palm trees, which are now stored in my parents' garage. When we play in a venue that can accommodate a 15-foot high palm tree then we bring them, set them up, plug them in, they glow and it's funny.
Noyce: :We also do a lot of song-collage stuff in between songs, but a lot of that is the product of having to tune a lot : Unless you have 12 guitars, there's going to be some tuning breaks here and there. I think it's important to make that part of the show.
Now you're going to take it on the road. A woman on the road in a rock band - that's got to be a unique experience in your life.
Noyce: I've got to say that there are not that many other females that we play with. At the end of most evenings when we play with a bunch of bands, Brooke (guitar, percussion, sampler) and I are like, "Well, that was a lot of guys." And even the audience - so many dudes. That's all fine and dandy, but I know so many talented women: I took piano lessons for years and never even considered that I could do something with it, even though I went to shows four times a week : People think it's kind of unique - I'll read (AAPA) reviews and it definitely mentions within the first few sentences: "two women and three men."
Would you say it's a chauvinistic business?
Noyce: I would definitely say it's a chauvinistic business. But it's odd: because being a woman, you can, you know: if we need to get paid or something like that, I feel very comfortable being like: "Hey!" Because there aren't as many women around, (guys) notice you, they know who you are. If Kurt or Mike were to walk up (to the paymasters), they might keep talking to someone for 20 minutes, but if I walk up: Am I using that? Sort of, but at the same time, why not?
Have you ever had a crowd just despise you?
Tuley: (laughs) It was a crowd of one. In Columbia, Missouri, at Central Tap on our first tour. Admittedly, we weren't very good. :We were playing to this 45-year old woman - I think she was friends with the bartender: she was inebriated: and the whole set she kept yelling: "This isn't music!" Over and over: "This isn't music! Play the Beatles!" : We just turned our amps up and made more feedback.