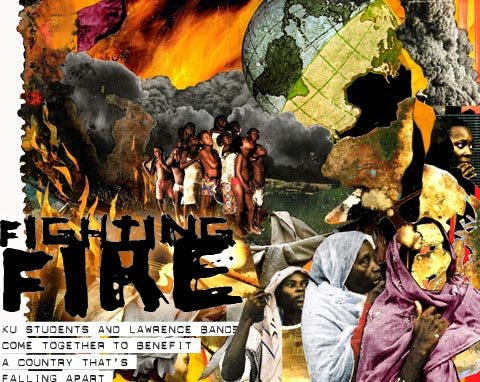 Monday, September 25, 2006
If you don't know where Darfur is, chances are you will soon.
The long-burning genocide in Darfur, the western region of Sudan, has recently begun to capture as much media attention as the Middle East and the international war on terror.
By most accounts, Darfur is the largest humanitarian crisis in the world - hundreds of thousands of people have been killed there and millions more are displaced from their homes by air raids and fighting among rebel militias in the region. Drought, famine, a crumbling economy, and the recent introduction of modern weapons are heightening tensions in Darfur. (The history and politics behind the conflict are complicated; to learn more, listen to an interview with a Sudanese KU professor below.)
The deep-rooted conflict in this Muslim nation has raged for decades, but yet has been largely overlooked by the Western world.
But recently, the voices are getting louder calling for a U.N. intervention in the region, including President Bush, Kansas Sen. Sam Brownback, and high-profile celebrities like George Clooney.
Darfur is now a global issue. But that's not stopping some activists in town from making it a local one, too.
Dar4Life
Ryan Davis, a 23-year old Lawrencian and recent KU graduate, admits he didn't know where Darfur was a year ago. Today, he's in the thick of planning Dar4Life, a concert to raise money to aid the displaced citizens there, many of whom are without water, food, medicine and homes.
Davis credits "Hotel Rwanda," a 2004 film about the Rwandan genocide, for jolting him into action.
"My girlfriend said, 'It's really sad and you feel really depressed and you feel like crap for not doing anything about it.' I saw it and I felt really sad, really depressed and felt like crap," Davis says.
"But then I thought, 'Why can't you do something about it?'"
Davis couldn't do anything about the Rwanda crisis - it started and ended in 1994, and left over 800,000 people dead. And while it's sometimes debated whether or not what's happening in Darfur can be called genocide, a lot of people are dying there, and Davis wants to do something about it.
He's never planned a concert before, and he's doing it alone. He says he's sunk $6,000 of his own money into Dar4Life, a sacrifice he'd hoped would spur local businesses to donate.
But he says, for the most part, it hasn't. Davis says most businesses in town have flatly refused to donate money to Dar4Life saying they get four or five charity requests every day.
Finding sponsors is just one obstacle Davis has had to face. He's also had to nail down the band lineup, jump through hoops to get an alcohol permit, invite vendors, score a sound system, post flyers, print tickets and, with luck, sell enough tickets to raise money for Darfur.
Sometimes, Davis admits, he feels like he's not doing enough.
"I've had nights where I've just broken down and cried," he says. "And I am not a crier. I just feel like when bad things are happening, bands are dropping off, I'm failing these people and they're dying."
But Davis hasn't failed. A dozen local bands have signed up to play this Sunday at Burcham Park. A handful of local businesses have donated goods and services that will be sold and auctioned off at the concert.
Modern weapons after scare resources
Khalid El-Hassan grew up in Sudan but now calls Lawrence his "second hometown."
El-Hassan says he left Sudan because he was totally against the Sudanese regime. Once, in college, he says he was arrested and imprisoned for 19 months for no reason. He thinks it may have been because of his political views, but he still isn't sure.
Now, El-Hassan is the program coordinator for the Kansas African Studies Resource Center at KU.
He says he's still against the Sudanese government, but not its people.
"I think the Sudanese are the most peaceful people," El-Hassan says. "They are very friendly."
The fighting in Darfur, El-Hassan explains, has been going on for decades. The Sudanese government has almost always marginalized Darfur. The region has poor healthcare and social programs and has limited water and food resources. To make matters worse, the Sahara has moved further south into Darfur, drying up what little water there was.
El-Hassan says that different political groups in Darfur and surrounding areas have been battling for scare resources and land for as long as anyone can remember.
But only in the past three years have the groups had modern weapons. That, he says, is why the violence has intensified.
Another Iraq
El-Hassan is reluctant to use the word "genocide" to describe this violence.
First, he says, there's no way of knowing how many people have been killed. Second, the violence isn't driven by racism or religious differences. The problem is deeper than that, he says. It's a thorny tangle of political, environmental and economic causes.
But, El-Hassan says, "If the term 'genocide' is used to stop this atrocity in Darfur, I don't mind. Although, it has been associated with many of those negative images and stereotypes about Sudanese people."
The stereotype he's getting at is that Sudan is pitted against itself; Arabs (The Janjaweed militia) versus Africans (The Sudanese Liberation Army, The Justice and Equality Movement).
"I am - you see my skin color?" El-Hassan asks, pointing toward his deep brown forearm, "I am considered as an Arab within the Sudanese perception."
"The public here in the United States, when they see this news in the media about Arabs are killing the Africans : it seems to them as seeing the Arab like Osama bin Laden pictures or something like that.
El-Hassan fears that Sudan could turn into another Iraq. Recently, President Bush has put pressure on the U.N. to enter Darfur and begin peacekeeping operations without the consent of the recalcitrant Sudanese government, a move which El-Hassan strongly warns against.
El-Hassan has a satellite TV that receives Sudanese channels beamed right into his Lawrence home. Lately, the channels there are abuzz with news that Sudan's defense army has moved to secure the borders of Darfur and guard against any intruders. If the U.N. enters, El-Hassan says, they will make war, not stop it.
"Diplomacy is more important than forcing people to do something," El-Hassan says.
Fight right now
Matt Skoglund has less patience.
Skoglund is the president of FIGHT, or Fighting Ignorance of Global Humanitarian Threats, a KU group that has started chapters all over the U.S., and even in London and Rome. He is also the Kansas coordinator for the Sudan Divestment Task Force.
Skoglund wants the U.S. to send troops to Darfur - right now.
"If we did put troops in Sudan, I would think that'd be a good idea," he says. "Any way to stop the killing of hundreds of thousands of people who really have no way of defending themselves."
Since the Bush administration sent troops to Iraq to help out citizens there, Skoglund reasons, then why not send troops to Darfur, too?
Skoglund lobbies state government, puts pressure on local organizations with money ties to the Sudan government and participates in the occasional campus protest to raise awareness among students - in his free time. Skoglund, who is a sophomore pursuing three majors, admits he doesn't sleep much.
Last April, FIGHT held a "die-in" on the lawn of Strong Hall. Protesters sprawled like corpses held signs over their faces that showed how many people die a day in places like Darfur.
Skoglund says what he finds most frustrating about the lack of action in Darfur is when people say, "'So what, let them fight it out.'"
He says if this were happening in Europe, Canada, or Nevada - versus a Muslim nation in Africa - the U.N. would intervene.
What Skoglund finds encouraging, though, is that lately there seems to be a growing awareness about Darfur in Lawrence.
"Anymore, on the KU campus, it's become a little more common," Skoglund says. "But other conflicts, if you hold up a sign that says 1,200 people die a day in the Congo, they'll walk by and say 'I don't even know where that is.'"
Jaime Netzer, singer and pianist of local band Aubrey, admits she didn't know much about Darfur before signing on for Dar4Life. But that doesn't mean that she doesn't care.
After speaking with Davis, she and her band signed on, and will spend this Sunday playing for free to benefit Darfur. Now she knows.
And so will more people who attend the show. Davis says there will be an info booth at the concert with information on Darfur. He hopes all his hard work will lend more awareness about the situation to folks in the Midwest.
"On the 30th, we can all stand together as one voice and let our country and the U.N. know that our presence is needed and more is needed," Davis says. "People here do care."
More like this story on Lawrence.com