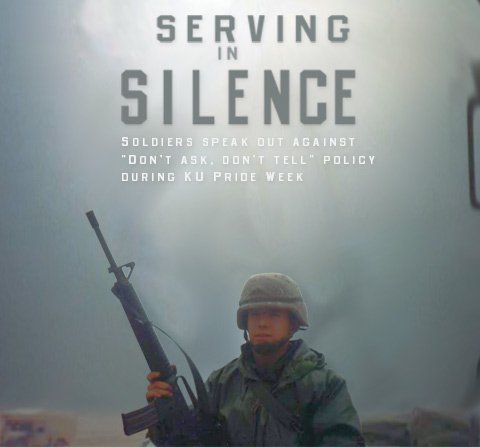 If you are gay and in the military, what do you do? Tell people? Hide it? And what happens?
Three distinct stories-one of an openly lesbian sailor, one of a gay soldier who was discreet until he'd had enough, and one of a soldier was murdered because he was thought to be gay-paint a picture of the "don't ask, don't tell" policy and its effect on gays in the military.
Their stories will be highlighted at a panel discussion Wednesday put on by Queers and Allies at KU as part of Pride Week.
Rhonda Davis, Navy, E-6 (Petty Officer First Class)
Rhonda Davis walked into a Navy recruiting station in 1995, two years after coming out as a lesbian. She brought her girlfriend-"don't ask, don't tell" be damned.
"There was no way in hell I was going to go back in that closet," she says. "No way. I had too much self-respect. It had been such a hard road. I was not going back in there."
"This is my girlfriend," she remembers telling the recruitment officers. "Y'all got a problem with that?"
In the nearly 12 years she spent in the Navy-almost 10 in active duty and two in the active reserves-she estimates 85 to 90 percent of the people she worked with knew she was gay.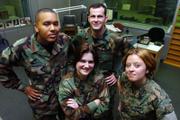 And while she got along well with nearly everyone, this didn't prevent her from being honorably discharged last July for telling reporters at a rally for gay marriage that she wished to marry her girlfriend of four years.
When Davis enlisted at the age of 25, she was ready to enter a new phase of life. She had recently dropped out of graduate school at James Madison University in Harrisonburg, Va., and was coming off a divorce from her husband of over three years. Their marriage ended with Davis showing him her journal after he accused her of having an affair with another man. Until then, her journal was the only place she'd confessed she was a lesbian.
Having suppressed her feelings for women since she was a child in small-town Buena Vista, Va., she sought to shed her conservative upbringing and start a new, honest life.
"If my cousin didn't like it, if my best friend didn't like it, if my mother didn't like it, tough shit," she says. "They were going to have to get over it, or they weren't going to be in my life anymore. And if the military didn't like it, they were going to have to cut me loose. And that was up to them. But I was going to be honest."
In her first four-year enlistment, Davis worked in intelligence in Spain and aboard the USNS Concord in Norfolk, Va. She then joined the active reserves for almost two years before re-enlisting as a Navy journalist. She worked for American Forces Network in Japan as a producer, director, reporter, TV news anchor, radio DJ and station operations manager. She was voted Favorite American Forces Network Personality in 2004, and decorations filled her chest.
But reminders of her outlaw status as a lesbian began to wear on her. Once, she says, her boss threatened to turn her in when she rebuffed his sexual solicitation at a party. Another time, she sent a closeted gay sailor to an off-base hospital in Japan, in violation of military policy, when he confided in her that signs of an STD had appeared near his anus.
And there was the annual homosexual training, Davis says, in which Navy personnel were reminded what not to do-hold hands, dance too closely or have sex with somebody of the same gender-and were told to report anyone they suspected of being gay. Each year, she signed a form consenting to the policy.
"Every single year for 12 years I basically gave up a little bit of my soul every single time I had to write my name below that policy," she says. "Because you not only have to say that you're aware of this, but you have to say that you condone it."
In 2006 she was transferred to Long Island, N.Y. Her girlfriend, a Korean citizen whom she had met in Japan, moved with her, but had to return to Japan when she couldn't get a work visa. With her girlfriend gone and nobody at her new station to confide in-including military counselors who could turn her in-she had reached the tipping point.
Past Event
Wednesday, April 4, 2007, 7:30 p.m.
Kansas Union, 1301 Jayhawk Blvd., Lawrence
All ages / Free
So she made the boldest step of her bold career, going to a rally for gay marriage on the Brooklyn Bridge, standing before the group of radio and TV reporters who flocked to her when they saw her uniform, and saying: "My girlfriend and I have been together four years and we want to get married."
Davis says her commander "told me that if he'd heard me say that in the hallway, he'd have probably told me 'Congratulations on getting married to your girlfriend.' But since this is so public, there's no way he could've looked the other way, because it would've been his own butt on the chopping block."
Today Davis, 37, lives on Long Island, reunited with her girlfriend, and works as an advocate for repealing the "don't ask, don't tell" policy for the Michael D. Palm Center, a research institute at the University of California, Santa Barbara.
"I've got my uniform hanging right now in my closet," she says. "I would like to be able to go back in before I'm too old and fat to put it on."
Bill Smith, Army, Sergeant
Bill Smith never planned to make a fuss about "don't ask, don't tell."
For eight years he served in the Army-three years of active duty and five in the reserves-attaining the rank of sergeant and earning a Bronze Star in Desert Storm. He lived quietly with the military's policy against gays, outing himself to some Army friends and otherwise ignoring the issue.
But when he applied to become an Army Reserve recruiter, the hypocrisy he would have had to take on weighed on him
"I don't know why it took me so long," he says. "But I had this epiphany, or this realization, that as a recruiter I would have to deny other people the opportunity to serve, if they were to disclose to me or if I knew something."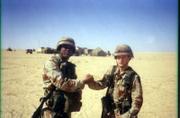 When Smith-now 36 and living in Lawrence-joined the Army straight out of high school in Connecticut in 1989, it was four years before "don't ask, don't tell" became federal law, and the Army asked at enlistment whether he was gay. He answered truthfully: "no."
He wasn't sexually active, he explains, and "wasn't out, not even to myself."
After returning to Fort Riley, Kan., from service in Desert Storm in 1991, Smith came out of the closet-first to himself, then to family and friends, including some of his fellow soldiers. They accepted him, he says, and he was introduced to an underground society of gay soldiers at Fort Riley.
"Most of the time people didn't have a clue that I'm gay," he says. "You don't know every detail about who you're working with. My theory is that you're working side-by-side with people who may or may not be gay. If they're doing their job, what's the difference?"
In 1992 he left active duty. Months later he enlisted in the Army Reserve and served for about five years before applying to be a recruiter. It was during the application process that he fully realized he'd be in the position of upholding the "don't ask, don't tell" policy by potentially screening out gays.
'Don't Ask, Don't Tell' policy
1."That the member has engaged in, attempted to engage in, or solicited another to engage in a homosexual act or acts"
2."That the member has stated that he or she is a homosexual or bisexual, or words to that effect"
3."That the member has married or attempted to marry a person known to be of the same biological sex."
"I couldn't live that double life," he says, "knowing that if I were to be a recruiter I would have to uphold that law that I didn't agree with."
So he made a tough decision, and after years of silence, drafted a letter to his commander, formally declaring that he was gay. He knew what this meant: he would be discharged.
"My five years in the reserves has been tolerable despite the anti-gay slurs frequently thrown around my unit," he wrote. "Many times I wanted to raise objections. Instead I remained silent to avoid getting marked as 'gay.' "
During the discharge process, he says, the Army asked him more than once to take back his letter, and told him it would simply be forgotten.
"How could I do that with integrity?" he says.
Smith was honorably discharged in 1997. Only recently, however, has he begun taking an active role against the policy. He recently acted in a short film, "Courage Doesn't Ask," which will be shown at the panel Wednesday, and he joined the Servicemembers Legal Defense Network speakers bureau. This will be his first public speaking engagement about the issue.
"There have always been gay and lesbian troops in the Army and the military," he says. "Whether they choose to disclose it or not, they're there. They're doing their job, and their doing it because that's what they believe in doing."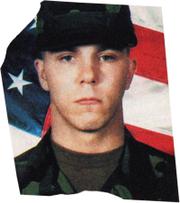 Barry Winchell, Army, Private First Class
It's coming up on eight years since Barry Winchell was murdered, but his stepfather still slips into the present tense when talking about him. Some things are too startling to grasp, even with time.
Winchell, 21, was beaten to death in his sleep with a baseball bat in the early hours of July 5, 1999, by a fellow soldier in Fort Campbell, Ky. He was slated to leave for helicopter training just a month later.
His roommate, Justin Fisher, 26, had been harassing him for months, and found a cohort in Calvin Glover, 18, a newcomer to the company. Both were excessive drinkers.
When Winchell began a relationship with Calpernia Addams, a transsexual showgirl who he met on a night out with fellow soldiers at a gay bar in Nashville where she danced, Fisher started slinging taunts and led other members of the company to call him names like "faggot."
Tall and muscular with blond hair and blue eyes, Winchell was gifted with a .50-calliber machine gun, had received two commendation medals and had been nominated for Soldier of the Month, says his stepfather, Wally Kutteles. He was a model soldier.
Winchell called Wally and his mother, Pat Kutteles, back home in Kansas City, Mo., every week or so, to let him know how things were going. He told them about Fisher, but didn't say the soldiers were calling him gay. He figured he could endure this bullying for a month before he went to helicopter training.
On July 3, 1999, Glover had been drinking and reached to knock a beer out of Winchell's hand. Winchell snapped and beat him up. Fisher taunted Glover the next day, reminding him that he lost a fight to a "faggot." That night, goaded by Fisher, Glover used Fisher's bat to smash Winchell's head in during his sleep.
The next day, Wally and Pat received a call from Winchell's commander saying the coupleneeded to fly to Nashville because Barry was in the hospital. When they got there, he was hooked up to a breathing tube, but he was gone.
Winchell's story soon hit every major national news publication, and prompted President Clinton to order a review of the "don't ask, don't tell" policy, blamed for the anti-gay atmosphere at Fort Campbell. Glover pleaded guilty and received a lifetime sentence. Fisher received 12 1/2 years on a plea bargain but was released last fall.
The Kutteles have since becomes advocates for the rights of gay soldiers in the military. They recently made a trip to Washington, D.C., to lobby Congress, and are involved with the Servicemembers Legal Defense Network.
As to whether Barry engaged in a sexual relationship with Calpernia Addams, "the only one who really knows is Barry," Pat says. "The point is that anyone can be pointed out and called gay, whether they are or not, and be murdered for it."