Photo Gallery
Style Scout: Erin Urich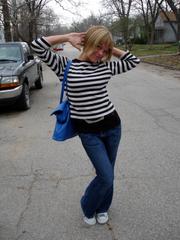 Erin Urich
Hometown: Pittsburg, KS
Age: 26
Time in Lawrence:five years
Occupation and/or major:geography major, Traveler, Entrepreneur, Aquarius
Where was/what doing when scouted?
Walking downtown to watch a game.
Favorite clothing store?
ATC, used clothes/thrift stores. My dad's vintage clothing store called Uncle Willie's in Pittsburg. It's more fun and more of a challenge to go to a thrift store because it's like a treasure hunt. It's more bang for your buck and involved with the idea of recycling.
Other stores you frequent?
The Merc and Checker's due to my crazy love for grocery shopping. My guilty pleasure, Target. And the Goodwill even though it's overpriced.
How would you describe your style?
Second-hand clothes or whatever is on sale. It varies from day to day, constant flux. Animal prints, bold stripes, polka dots, mix and match, eclectic. And I love accessories, the bigger the better.
Favorite trend for this season?
People wearing less clothes and moving more. Walking and biking instead of bundling up and driving.
Least favorite trend right now?
The "tryin' hard to look like you didn't try" look. Like people who spend half an hour on their hair to get it to look messy on purpose. It's not that I don't like it, it just makes me laugh.
Where do you get your haircut?
My boyfriend Austin, cut my hair, on a balcony at our hostel in Belize with some shit-dull scissors at the end of the year. My hair used to be really long-change is liberating.
Favorite coffee shop in Lawrence?
I make my rounds. I don't really have a favorite. Henry's, Mirth, La Prima Tazza, I try not to let coffee get to be too much of a habit.
Favorite bar in Lawrence?
The Replay, The Tap Room, and The Pig for their good vibes and fun people.
Is there anything you'd like to see more of in Lawrence?
More recycling, including at the bars! You'd think they could maybe even make some money off it, too.
Style = ?
An art form. A form of expression. There is no right or wrong. Everyone has style, just some people take more advantage of the possibilities of the art form.
Who's got style?
LAWRENCE!
Are you a happy American?
Of course not, but after being in Central America for 4 months, I realize I'm very lucky. We Americans take a lot for granted, even little things like hot showers are not a given everywhere.
Tell us a secret...
I've been wearing this outfit for the last four days.
Food or clothes?
I don't spend money on food or clothes, I spend my money on experience. I spend it on dancing, concerts, Worlds of Fun, and such. My favorite thing to do is save my money to travel so I can experience different places and different cultures.